The Rainforest Action Network reports that some of its members helped turn the ATMs into what they called "truth machines" using stickers that were "designed to look exactly like BoA's ATM interface."
[T]hese new menus offered a list of everything BoA customers' money is being used for, including investment in coal-fired power plants, foreclosure on Americans' homes, bankrolling of climate change, and paying for fat executive bonuses.
This isn't the first time in recent months that activists have challenged the supremacy of massive U.S. banks. In November, Bank Transfer Day offered a chance for customers of too-big-to-fail financial institutions to close their accounts and transfer their funds to local banks or credit unions.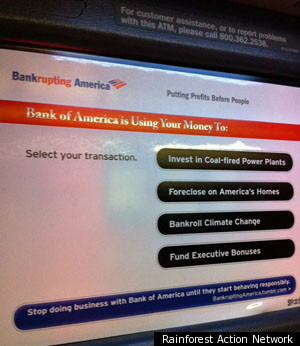 SUBSCRIBE TO & FOLLOW THE MORNING EMAIL
The Morning Email helps you start your workday with everything you need to know: breaking news, entertainment and a dash of fun. Learn more