'Absolutely Fabulous': Second 20th Anniversary Special Gets Premiere Date On Logo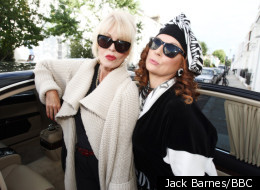 Sweetie, darling! Edina and her pill-popping friend Patsy are back! Jennifer Saunders (Edina) and Joanna Lumley (Patsy) return for an all-new, second "Absolutely Fabulous" 20th Anniversary special on Logo.
This is the second of three planned TV specials. The "Absolutely Fabulous 20th Anniversary Special" aired earlier this month, to stellar reviews, on both Logo and BBC America.
Here's how Logo describes the second "Ab Fab" special:
In the newest special, titled "Job," Edina (Saunders) takes on a celebrity client who wants to sing. When Edina discovers how awful her client's voice really is, she'll need to recruit some help from her other clients, Emma Bunton from the Spice Girls and Lulu, to help prepare the client for her upcoming debut.

The second "Absolutely Fabulous 20th Anniversary Special" airs Mon., Feb. 6 at 10:30 p.m. EST on BBC America and Logo. Below, check out some of TV's "Ab Fab" women, past and present, who have Eddy and Pasty to thank.
There's a laundry list of reasons why Jenna Maroney (Jane Krakowski) is one of Eddy and Patsy's TV children: She loves her good drunken scandal, offers to release her own sex tapes, uses her sexuality to get her way and threw away her big movie break in favor of keeping her real age a secret. Yes, Jenna Maroney is the most absolutely fabulous "30 Rock" character.

As the resident queen of fabulous on "Ugly Betty," Wilhelmina Slater (Vanessa Williams) shares the ladies' borderline pathological need to stay young, hip and current on all the hot trends -- Patsy's fashion magazine editor job title and Edina's flair for high fashion -- making her an "Ab Fab" TV love child of sorts. Plus, when her loved ones call her Willy, it's hard not to see it as a nod to grand dame Eddy.

Bravo's $500 million "Real Housewives" franchise has given its well-to-do castmembers a license to be lushes. Elaborate events every week of filming, national notoriety, endorsement deals on top of their hefty per-season salaries and higher ratings when the controversies get truly out of control, each city has seen its fair share of excess -- in fashion, lifestyle and substance abuse -- as well as some very mature hair-pulling cat fights. Eddy and Patsy would be proud.

True shopaholics start early, and while her friends were cheerleading and getting hooked on caffeine pills to study more (a very "Ab Fab" moment for Jessie Spano, we might add) Lisa's (Lark Voorhies) style was already a stand=out at Bayside. The feisty fashionista always wore the hottest fashions, once proclaiming: "I have a map of every mall from here to Tijuana." Lisa went to the Fashion Institute of Technology after graduation -- Patsy and Eddy would be proud.

Considering fellow high-powered career women Carrie, Miranda, Samantha and Charlotte were rarely without a Cosmo in hand and had the audacity to wear ensembles that left even New York's most fashionable slack-jawed, it's hard not to think of the fabulous foursome as stateside Eddy's and Patsy's. Although Carrie's (Sarah Jessica Parker) avant-garde ensembles are the most "Absolutely Fabulous" (as is her self-absorbed attitude), it's clear Samantha (Kim Cattrall) channels the Brits the most. From her Eddy-esque job as the owner of a PR company to her Pasty-inspired nymphomania, Ms. Jones belongs would fit right in.

If ever there was a class in how to be "Ab Fab," Lucille Bluth (Jessica Walter) would be the star student. Obsessed with her appearance, always dressed to the nines, verbally abusive to her children and a connoisseur of both pills and alcohol, the Bluth family matriarch was a powerhouse of bad behavior and quick one-liners. Naturally, we can't wait for her comeback either.

The Patsy to Cybill Sheridan's Edina, Maryann (Christine Baranski) stole every single scene she was in. Always with a drink in her hand and dressed to the nines in the latest '90s fashions, Maryann was quick with the snark and advice -- the best kind of hard-partying friend.

Always one to give poor Doug Funnie a hard time, Beebe Bluff the "Queen Bee" of Beebe Bluff Middle School (named after the purple-skinned, red-haired diva herself, of course). And since her father was the richest man in town, it also meant she was the most "Ab Fab" tween in all of Bluffington.

Being an "Absolutely Fabulous" woman means that you don't follow the trends -- you start them. Newport Beach's resident bitch Julie Cooper (Melinda Clarke) was never one to leave her McMansion without her Juicy Couture sweat suit (and her minty mojito). Much like Eddy with her daughter Saffy, Julie always thought she knew what was best for Marissa, even if it made little Coop absolutely miserable.

At Sunnydale High School, Cordelia (Charisma Carpenter) was the popular cheerleader that made Buffy Summer's life a living Hellmouth. Queen C and her fashionable clique, the Cordettes, ruled the halls of Sunnydale High. Cordy may have eventually become part of the "Scooby Gang," but she always kept her sharp tongue and cheeky attitude, i.e. a must for "Ab Fab" women everywhere.

She may not be popping pills and chugging cocktails these days, but that doesn't really make Queen B Blair Waldorf (Leighton Meester) any less of an "Absolutely Fabulous" young woman. She has the sharp tongue, eye for fashion and group of minions that make her the perfect Patsy to Serena van der Woodsen's Eddy. Sure, the Upper East Siders and "Gossip Girl" victims may be a bit more refined than our "Ab Fab" duo now, but give them a couple decades.