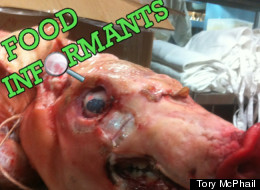 Food Informants is a week-in-the-life series profiling fascinating people in the food world. We hope it will give you a first-hand look at the many different corners of the food industry. Know someone who would make a great Food Informant? Tell us why.
One of the biggest college football games of the year was the BCS National Championship. Louisiana State University (ranked number 1) was pitted against rival University of Alabama (number 2), a match-up that also occurred earlier in the season, resulting in LSU's win. But for the championship round, things ended up a little differently. The competition wasn't just between Alabama and LSU though -- chefs had their reputations at stake as well. The Boudin vs. BBQ tailgate pitted Drew Robinson of Jim 'N Nick's Bar-BQ in Alabama against Chris Barbato's Café Adelaide in New Orleans.
The diary below chronicles Chef Drew Robinson from Jim 'N Nick's, he details how one preps for such a big barbecue feast on someone else's turf. At the same time as Drew was preparing his porky goodness, Tory McPhail, executive chef of Commander's Palace, one of New Orlean's most institutional fine dining restaurants, was preparing for an influx of guests in town for the game.
Read on to hear about how both chefs churned out an impressive number of meals, and to see if Alabama got bragging rights for more than just its football team. Note: Drew's diary appears first, followed by Tory's.
DREW ROBINSON
Wednesday, January 4
6:30am: I'm awake, but sick. Breakfast for the next few days is going to be a protein shake spiked with wheatgrass and vitamins.
9:00am: We have key operations people on a conference call to discuss Boudin vs. Barbecue execution. Smoking a pig is an endeavor, but doing it right long distance for our friends in Cajun country has us considering the variables more seriously.
10:00am: Hooking up with Alex from the inspiring Ideas In Food at Jim 'N Nick's. It's an awesome brainstorming session about the possibilities of creativity and minimizing food waste in the restaurant is our foundation for ideas.
12:00pm: We are embarking on a broth experiment. Every piece of pork skin, bone and fat just got covered in water and went into the smoker for a ten hour nap. Excited to see the outcome.
1:00pm: More experiments in broth making; all the pulled chicken carcasses are being covered with water and placed in the steamer. This is a reminder that not doing what you have been trained to do can often lead to new direction and discovery.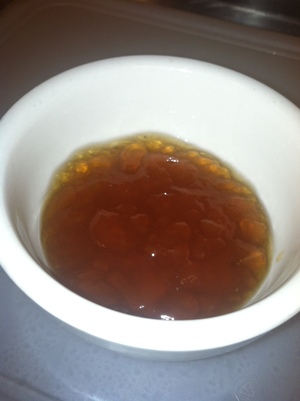 4:00pm: Why do conference calls happen at the worst times? It's time to coordinate what to do with all of the Berkshires we're going to take to NOLA for the Boudin vs. Bar-B-Q event. And yes, we want the heads.
7:00pm: After a great day I have to leave Alex. He's pondering how far he can go with the flavors of grilled parsley. Me, I have a stove to install.
Thursday, January 5
7:30am: Out the door and straight into calls about the NOLA trip. We have people all over trying to make sure this party is the most kicking thing that happens all year.
9:00am: NOLA prep gives way to prepping for new restaurants. Reviewing timelines and training documents reminds me just how much I'd rather be planning our escapades in the Big Easy.
11:00am: The butcher just rolled up with one of our Berkshires -- meat and fat look awesome! I can't wait to get this thing smoking tonight.
2:00pm: I just got back to the restaurant Alex and I worked in yesterday to check the smoked broth that we made yesterday. The clarity is like consommé and the flavor may be some of the most intense broth I've ever had; I want to cook collard greens in this stuff.
3:00pm: Stepping into a meeting with food scientists to try and figure out how to take the sauces we make every day and bottle them. The goal is to find a recipe that is shelf stable but all natural with minimal adjustments. For weeks we've been discussing the staggeringly fascinating bridge between science and cooking.
7:00pm: I'm back with the Berkshire and it looks great. After a heavy dry rubbing it is in for its long hickory sauna. Sweet dreams.
Friday, January 6
8:30am: I've been trying to shake a cold all week, so now I'm sitting in the doctor's office. Can't let this thing drag me down during the weekend in NOLA and at National Championship.
11:00am: We just put two different bacon recipes of the cure at Jim 'N Nick's in the smoker. Homemade bacon in the hip pocket will make a tasty little surprise at our tailgate in the Big Easy.
1:00pm: The Berkshire just came out of the smoker and it's freaking beautiful. I'm digging into the smoky, succulent belly meat for my first bite. After a taste test, the cured bellies are going in the smoker for the last magical step to become bacon. Most exciting moment of the day so far.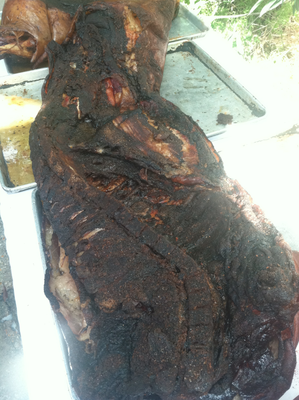 2:00pm: Sitting on final phone calls to ensure everything is lined up for success when we hit the road to the BCS game in NOLA tomorrow. Taking care of the minutia is not my favorite, but when we hit the road tomorrow all will be well.
4:00pm: The bacon is ready! The color and aroma of this stuff is incredible. I can't wait to get it cold to start slicing and frying. Bummer that it's not tomato season; no hope for a proper BLT.
6:00pm: Headed out from Jim 'N Nick's to get packed and rest for our departure to the Big Easy tomorrow. The party is almost here...
Saturday, January 7
5:00am: Starting early. We have to get the rig hooked up and the truck loaded so we can hit the road.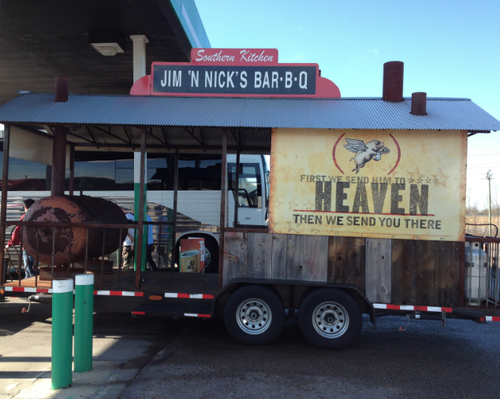 8:00am: The Jim 'N Nick's crew has loaded onto the bus with the rig and our food travelling close behind. We're a hard core Crimson Tide crew and part of our tradition when travelling to games is to start with crimson-colored Bloody Marys. Good thing I went heavy on the vitamins.
2:00pm: We have arrived. We're unloading supplies for the tailgate at Cafe Adelaide and moving onto Commander's Palace.
5:00pm: The rig is in position at Cafe Adelaide and all is set for the Boudin vs. Bar-B-Q cook-off tomorrow. Pigs are loaded and everything looks good; doors are locked and we head back downtown to see what becomes of our first New Orleans night.
9:00pm: The crew is treated to possibly the best food in the city at Herbsaint. The pork belly with beans, bacon, and pickled cabbage is giving me ideas. Afterwards, we head out looking for a chilled High Life and thinking little of when sleep will come to fuel us for our day tomorrow.
Sunday, January 8
8:30am: We're loading the smoker with ribs and chicken at Commander's. The pig from last night is looking great so far and we're going to bring all of the heat to compete with these guys -- they rock their food culture pretty hard and we want to make sure we represent well.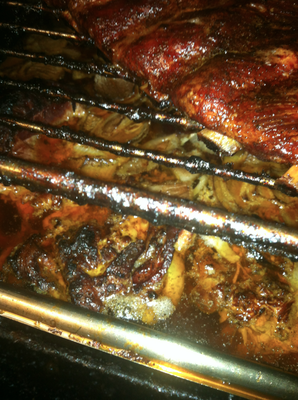 10:00am: Sunday morning Bloody Marys at Commander's on the sidewalk with some of our homemade bacon while we wait to serve our pork.
12:00pm: The pigs have been resting a while and we're going to put them back on the grill for our Sports Illustrated shoot so that these guys can see how real whole hog barbecue is done when it's Alabama style.
2:00pm: Andy Staples from SI is on the rig and we're talking pork, of course; he totally walked into the secret weapon. We're feeding him smoked cracklings and barbecued pork belly. It's not fair really. When you're munching on pig belly you lose all hope of control.
4:00pm: We totally won the Boudin vs. Barbecue show down. No doubt about it that it was an honor; Tory and the Commander's Palace crew do things the right way. It could have gone to either of us.
7:00pm: We relocated the rig downtown to Cafe Adelaide and are set up for our tailgate tomorrow with Chris and his crew. Whole hog and boudin will be the stars again as LeNell and Lu mix their libations to get everyone feeling easy. The pigs are on now we have some time to take in the Big Easy.
Monday, January 9
9:00am: BOOM! It's game day. We are ready to make cole slaw for the Barbecue vs. Boudin party down at Cafe Adelaide. Set-up is in full swing: pigs are in final stages of preparation, tables are being set, the bars are going up for LeNell and Lu, and the party permeates the air.
11:00am: It's game time for us. The tailgate is our last stand before we head to the game later, but we're looking sharp and the food is solid. There's no doubt about it that Chris' boudin and jambalaya from Cafe Adelaide is delicious, but we're representing Alabama pretty well, too.
2:00pm: Our line is pretty long with fans from both camps. I ask a girl dressed in LSU attire who she thinks is going to win and she looks at me like I've lost my mind. I apologize and say that I can tell by her shirt and she politely let me know that she was glad nothing was wrong with me.
4:00pm: We have served most of the pigs and only have a short time left; we should just about sell all of our food. It's a testament to the pig. While we run things down, a parade is kicking in across the street for the home team to get geared up for their LSU Tigers. Its fun, but we'll see what happens...
5:00pm: We break down. Service is done and so am I. Our crew knocks everything out rapidly so that we can get to the game. Along the way we knock out a few shots of the brown water so that we can be in the "proper frame of mind" to cheer our team to victory.
7:30pm: It is awesome to be in the stadium to watch the national championship.
12:00am: We're back in downtown NOLA after The Crimson Tide has won the largest ballgame in college football and we are taking it all in. Right now, there are no Honey Badgers, there is just Roll Tide Roll!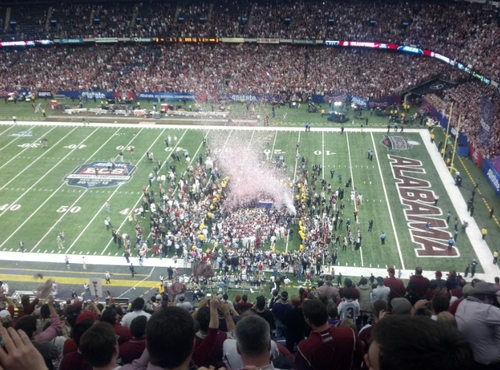 TORY MCPHAIL
Wednesday, January 4
9:00am: At Commander's Palace, the specialty produce truck pulls up with a delivery of blood oranges, red currents, chervil, brussels sprouts and swiss chard for this weekend's menus.
1:03pm: I spend some time rewriting brunch, lunch, and dinner menus in preparation for the BCS National Championship weekend. Then, I head to the kitchen to test some Mississippi grass-fed beef for a new brunch entrée. Yum.
3:45pm: More time at the computer, but this time I'm inputting descriptions for new dishes on the menu formats. I'd rather be in the kitchen.
5:40pm: Getting the prep together to build a 30 ft. fried shrimp po-boy tomorrow downtown with Chefs Greg Reggio, Duke Locicero, Michael Sichel and a few other friends.
7:06pm: Stopped by the grocery store on my way home to buy as much cool coffee as the human body can handle over the next 5 days. Must remember this is a marathon, not a sprint.
Thursday, January 5
9:15 am: I spend the morning building two, 30-foot Peace Maker Po' Boys -- half shrimp and half oyster -- at the official BCS Press Conference. Amazing what you can pull off when a group of talented chefs gets together.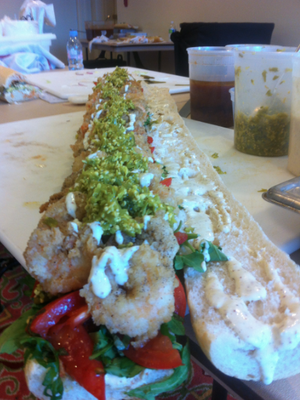 11:40am: I head back to Commander's kitchen to work through the busy lunch. Damn, I love this job.
4:30pm: Time to write my evening prep lists and continue detailing all our freshly delivered heirloom baby carrots -- these little guys are friggin' beautiful.
8:00pm: Started gathering the pig stretchers and banana leaf platters in preparation for our Cochon de Lait and barbecued oysters. It's a good weekend to eat in NOLA.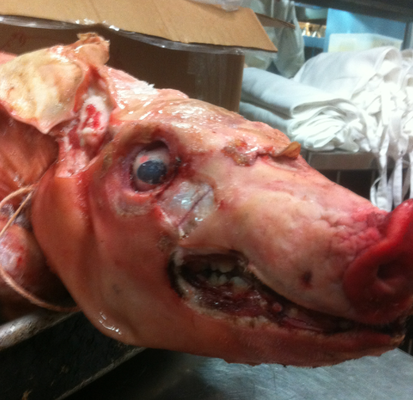 Friday, January 6
9:00am: I have a few morning meetings then a round of morning tasting at all the kitchen's stations.
3:30pm: I make a quick run to Caire Restaurant Supply to pick up more hardware for the busy weekend ahead. Football fans are a hungry crowd, so I don't want to get caught "in the weeds."
4:30pm: Arrive back at Commander's to start cooking for my guests at the Chef's Table tonight.
Saturday, January 7
1:35pm: Just sat down at my computer after pulling all of my morning cooks outside for a chat about the piss poor brunch performance and we discussed in detail our shortcomings as a group. The expectations for Sunday are crystal clear. Now, I'm spending some time tweaking tonight's dinner menu for a fully booked house.
3:40pm: Worked through a busy afternoon prepping for private parties and making 50 gallons of turtle soup -- damn this stuff is good, and popular!
7:15pm: We got crushed tonight in the kitchen with crazy amounts of tickets. They came in so quickly that they were hanging down to the floor on 3 occasions. You can tell it's party time in NOLA.
9:00pm: I'm soaking wet, tired, exhausted, and mentally drained after this slammed, packed, busy day. Ups and downs in the life of a chef.
Sunday, January 8
6:00am: Alarm is going off over and over again - 6 o'clock came too early today.
8:15am: Start with prepping for one of the busiest days of the year. We are over-booked so are hoping we get a few cancellations so we don't keep our guests waiting at the bar too long.
1:45pm: We have 2 big parties tonight and a bachelorette party at the chef's table in the kitchen. One dining room is all Alabama fans and another is all LSU fans. A 6 course tasting menu for 60 people will be a challenge to pull off, but I'm confident in my crew.
7:30pm: The tension between the LSU and 'Bama fans is beginning to escalate as everyone drinks more wine and cocktails. The bachelorette party is a blast to cook for -- lots of beautiful ladies having a great time in the kitchen is always a nice change.
8:00pm: I jumped into my LSU tiger mascot suit and bounced around the dining rooms to chant, clap, and celebrate with the football fans.
10:45pm: The bachelorette party done, the tiger suit off, jeans are back on, and I'm heading home for the evening - wow, what a day.
Monday, January 9
8:45am: Trying to get the kitchen clean, organized, and ready for a busy, busy lunch. Today, I need to get all my stuff done by 2:00 so I can help out my buddy Chris Barbato at Café Adelaide. We are throwing a huge tailgate party downtown at the Loews New Orleans.
6:30pm: Tailgate was great, so now I'm watching the game at the Rendezvous -- what a miserable experience.
10:15pm: I head to the Avenue Pub to get some late night food. Beer and comfort food are necessary after that game.
See more Food Informants below:
Food Informants(CLONED)(CLONED)
Bob Tuschman is the general manager/SVP of the Food Network. He previously served as senior vice president, programming and production for Food Network, heading up all programming aspects for the network. He was instrumental in discovering, developing and producing many of the network's biggest stars including Rachael Ray, Giada De Laurentiis and Guy Fieri, and led the network to record viewership levels. Prior to joining the Food Network, Tuschman worked at ABC News as a producer for Good Morning America, as well as on specials and numerous pilots. He also produced pilot, series and documentary projects for HBO, ABC, American Movie Classics and CNBC. Tuschman is a graduate of Princeton University and currently lives in New York City. Read Bob Tuschman's diary here.

Dorothy Neagle and Taylor Cocalis met while attending Cornell University in 2004, and immediately bonded over food -- namely, ice cream cones. While Taylor's studies eventually took her to Italy for a Master's degree in Food Culture, and Dorothy's work as an interior designer led her to New York City, they stayed in touch and eventually became neighbors in New York once again. Taylor was running the classroom at Murray's Cheese shop with unbridled enthusiasm when Dorothy discovered that her passion for environmentalism was stirring up an interest in food and agriculture. It didn't take long for the two of them to brainstorm an idea that would satisfy their interests in sustainability, food culture, and making a difference in other people's livelihoods. Good Food Jobs launched in October 2010. As of January 2012 the site has amassed over 16,000 registered followers and posted over 3,000 jobs. Read Taylor and Dorothy's diary here.

One of the biggest college football games of the year was the BCS National Championship. Louisiana State University (ranked number 1) was pitted against rival University of Alabama (number 2), a match-up that also occurred earlier in the season, resulting in LSU's win. But for the championship round, things ended up a little differently. The competition wasn't just between Alabama and LSU though -- chefs had their reputations at stake as well. The Boudin vs. BBQ tailgate pitted Drew Robinson of Jim 'N Nick's Bar-BQ in Alabama against Chris Barbato's Café Adelaide in New Orleans. The diary chronicles Chef Drew Robinson from Jim 'N Nick's, he details how one preps for such a big barbecue feast on someone else's turf. At the same time as Drew was preparing his porky goodness, Tory McPhail, executive chef of Commander's Palace, one of New Orlean's most institutional fine dining restaurants, was preparing for an influx of guests in town for the game. Read Drew and Tory's diary here.

Irene Wong is the Executive Producer of "Unique Eats" and "Unique Sweets," two hit series on the Cooking Channel. Irene's career in food television started in 1999 when she joined the Food Network and created and directed "Everyday Italian" with Giada De Laurentiis, "Ciao America" with Mario Batali, "My Country My Kitchen" and "Melting Pot." In 2006 she started her own production company, IW Productions LLC, which is based in New York City. She was the Co-Executive Producer and Director for several seasons of "Everyday Food," "Everyday Baking," "Mad Hungry" and "Martha Bakes." Read Irene Wong's diary here.

Ben Potts, 28, is the lead brewer at Dogfish Head Brewing & Eats in Rehoboth Beach, De. After Ben discovered craft beer, there was no turning back. His first forays into this world were Sierra Nevada Pale Ale and Bigfoot Barleywine, as well as Dogfish Head's Midas Touch and 90 Minute IPA. Talk about full circle! When a friend started homebrewing, he thought, "Hey, I can do this," and picked up his first kit. His first professional gig came about five years later. He was in art school studying to become a painter, but decided brewing might be a more achievable -- but equally creative -- career, so he dropped out and started volunteering at Dock Street Brewing Co. "I worked my ass off until they hired me as assistant brewer," he says. "Then I took over as head brewer in October 2008." Ben moved from Philadelphia to Rehoboth this fall to work at Dogfish Head's brewpub. Outside of the brewhouse, he enjoys hiking, camping, mountain biking, roller hockey, movies, fantasy novels, cooking and having a pint with friends and family. Read Ben Potts' diary here.

Brian Noyes left 25 years of magazine art-direction (Smithsonian, House & Garden, The Washington Post) to launch a rural bakery in the Virginia Piedmont hunt country 50 miles west of Washington, DC. Trained at the Culinary Institute of America in Hyde Park, NY, and at L'Academie de Cuisine in Maryland, he bought a red 1954 Ford pickup from designer Tommy Hilfiger, renovated a 1921 Esso service station in Old Town Warrenton, Va., and threw open the Red Truck Bakery doors in August 2009 just as the economy started to plummet. Rave reviews by The New York Times, Garden & Gun, Southern Living and other publications turned this three-chef bakery into a small town coffee stop with a big online presence, sending out hundreds of orders nationwide each month. He lives in Arlington, Va., with his partner Dwight McNeill and has a farmhouse 20 minutes from the bakery in Orlean, Va. where he usually stays during the week. Two bakers, CIA graduate Kevin Powers and Ryan Glendenning from the Restaurant School in Philadelphia, round out the kitchen staff, with Nicole O'Brien on sandwiches and granola. Read about Brian Noyes' week here.

John T. Edge writes a monthly column, "United Tastes," for the New York Times. He is a contributing editor at Garden & Gun and a longtime columnist for the Oxford American. His magazine and newspaper work has been featured in eight editions of the Best Food Writing compilation. He has been nominated for five James Beard Foundation Awards, including two M.F.K. Fisher Distinguished Writing Awards. Edge holds a master's degree in Southern Studies from the University of Mississippi. He is director of the Southern Foodways Alliance, an institute of the Center for the Study of Southern Culture at the University of Mississippi, where he documents, studies and celebrates the diverse food cultures of the American South. Read John T. Edge's diary here.

Chris Jones and Richie Farina are chefs at Moto, a fine dining restaurant in Chicago that focuses on innovative and futuristic cuisine. They are both contestants on this season of "Top Chef: Texas." After attending Johnson and Wales University, Farina, the executive sous chef, started cooking in several Boston restaurants, and then joined Moto in 2008. In his spare time, he trains in mixed martial arts, a mixture of Ju Jistu wrestling and boxing. Jones, got his start cooking in his grandmother's kitchen. After working his way up the ladder in several restaurants, Jones is now the chef de cuisine of Moto. He lives with his wife and young daughter, Savannah. Read Chris and Richie's diary here.

Sean Henry is the owner of Houndstooth Coffee in Austin, Texas. Not until graduating from the University of Texas at Austin with a degree in Radio, Television and Film, did Sean even begin drinking coffee. While working at a local grocery store, Sean began to explore the coffee world region by region. After the initial broad strokes of regional coffees, he began working at local cafes, learning the art of being a barista. At Houndstooth, Sean aims to provide customers with the sophisticated taste and presentation of a perfect cup of Joe. He not only finds value in a well-crafted cup, but in the coffee drinking experience as well. Read Sean Henry's diary here.

Jean K. Reilly MW is the Wine Director for the Morrell Wine Bar and the Wine Buyer at Morrell Wine Co. She is a 10-year veteran of the wine business and has worked in numerous parts of the trade. In 2010, Jean became this country's 26th Master of Wine, only the sixth American woman to hold this prestigious title. Jean's interest in wine began as a hobby while pursuing a career in corporate finance at Bank of Tokyo-Mitsubishi and Deloitte & Touche. Abandoning the corporate track in 2001, Jean plunged into wine full-time, traveling the vineyards of Europe and the U.S. After a stint as sommelier at a small French restaurant in Manhattan, she worked as a wine instructor for several culinary schools, including Schiller International University in Switzerland. From 2007 to 2008, she also served as the Wine Consultant for Hilton Hotels. Read Jean Reilly's diary here.

Todd Coleman is the executive food editor of Saveur magazine, where for six years he's run the food side of things, including recipe selection, and overseeing the test kitchen. He's also an accomplished photographer who props, styles and photographs the majority of Saveur's covers, as well as frequently shooting and producing stories both in studio and on location. A graduate of the CIA, he's worked in restaurants, has been a private chef, edited at Everyday Food, produced shows for the Food Network, and has photographed cookbooks like The Japanese Grill by Tadashi Ono and Harris Salat, and the forthcoming Katie Workman book The Mom 100. He lives in Brooklyn, loves the Strand bookstore, hoards photo lenses and is a fiend for Indian food. Read Todd Coleman's diary here.

Chef Stephen Kalil joined PepsiCo and Frito-Lay in 2007 as their first ever corporate chef. In his role, he leads and inspires product development through the application of "Culinology", the blending of culinary arts and food science and technology. He is based at Frito-Lay headquarters in Plano, Texas. Read Stephen Kalil's diary here.

Food maintains a nearly constant presence in the life of 34-year-old competitive eating champion Timothy Janus, known to his fans as Eater X. Ranked #3 in the world by Major League Eating, Janus spends many of his weekends on the road, competing in contests across the country and around the world. A seven-year veteran of the sport, Janus has competed in over 100 events, owns seven world records, and yet still looks pretty good in a pair of pants. At night, Janus is a waiter at a pizza shop in Manhattan's East Village. His life, he says, has been a very good adventure. Read Eater X's diary here.

Geoff Bartakovics, 34, is the co-founder and CEO of Tasting Table, the free daily email publication all about food & drink culture. Before starting Tasting Table, Geoff was a business manager in asset-backed finance at UBS Investment Bank, where he coordinated business activities among the fixed income trading desk and the bank's middle- and back-office functions. Geoff was formerly a business analyst at Deloitte Consulting. He attended The University of Chicago, from which he graduated with honors in English. He was a Fulbright Scholar in comparative literature and philosophy in Berlin and Hamburg. He's an obsessive dinner party entertainer and a serious home cook. Read Geoff's diary here.

Elizabeth Laseter, an aspiring food journalist, is a recent graduate of Johns Hopkins University and lives in Washington, D.C. She received her diploma in Writing and Art History and is now pursuing a Culinary Arts Degree at L'Academie de Cuisine in Gaithersburg, Md. The one-year program includes six months of learning techniques in the classroom and six months at an externship in a D.C. fine dining restaurant. Elizabeth documents her food adventures through two blogs, The Baltimore Food Rag and The D.C. Food Rag. She decided to attend culinary school after interning at Baltimore magazine and working with the food editor. Read Elizabeth's full diary here.

Jane and Terry Levan operate a 20-acre pastured poultry farm outside of Lexington, Texas called Dewberry Hills Farm, after the dewberry vines that grow wild on their land. They raise antibiotic- and hormone-free meat chickens for sale. Their chickens mostly live outdoors. The Devans call themselves "omnivores with a conscience;" Jane won't eat any meat unless she personally knowns who raised it and how it was processed. Jane and Terry began farming in 2003, after reading Fast Food Nation and The Omnivore's Dilemma. The pair had always wanted to farm, but they didn't want to follow the industrial agricultural model. Jane and Terry built a processing building on-site and became state certified so they could sell their birds commercially in May 2008. Read Jane's diary here.

"James" is an Apple employee. He works at Caffe Macs, the on-site cafeteria of Apple's campus in Cupertino, Ca. Reminiscent of Google's epic food offerings, Caffe Macs is pretty much a corporate food court dream-come-true. Read James' diary here.

Brooklyn-based Aaron Lefkove used to work in book publishing and as a freelance writer. After his office re-located to New Jersey, Lefkove decided he didn't want to do the commute. Lefkove and his business partner, Andy Curtin, had the idea for a Cape Cod-style seafood joint for awhile. One day at a barbecue, they decided to commit to opening a restaurant, Littleneck, Brooklyn's first and only classic New England-style beach side seafood shack. Besides working in restaurants growing up, Lefkove had no experience as a restaurateur. He acknowledges that the process has been a major learning curve, but so far, there haven't been any obstacles they couldn't get around. At first, he thought opening up a clam shack would be easier than finding a new job but it turns it that it is actually "WAY WAY WAY harder." Despite this being the "hardest, most stressful, most frustrating, most time consuming, most ambitious thing" he has ever done, it isn't nearly as hard as he thought it would be. Plus, he says he loves working for himself, working toward something he has "always dreamed about," and building something really exciting. Read Aaron Lefkove's diary here.

Jonathan Stich, 29, is a third generation farmer from Burlington, Wisconsin. He grew weary of the corporate world, went traveling and decided to become a farmer. After reading about how heirloom tomato grower Tim Stark in Pennsylvania sells his products to New York restaurants, Stich made the decision to spend a night in restaurants in Milwaukee and Chicago asking if they'd be interesting in buying local produce. Read more about Jonathan Stich's week here.

Erika Nakamura and Amelia Posada are the owners, managers and butchers in chief of LA's artisanal butcher shop Lindy and Grundy. (Erika is Grundy and Amelia is Lindy.) The two, who also live together and are a couple, opened their store on Fairfax last spring (profiled on HuffPost Food). Lindy and Grundy has already been feted as one of the most best butchers in Southern California -- and quite possibly its most sustainable. Read about a week in the life of Erika Nakamura and Amelia Posada's here.

Recently, inspired by a meeting at the San Francisco Food Bank, chef Karl Wilder started the food stamp challenge: living and eating on a food stamp budget. What began as a one week project has turned into a two-month long commitment. Wilder calculated that a family has $1.33 to spend per meal, and decided that when using oil and seasonings, the cost would be $1.22. In total, he has less than $4 to spend on food per day. He monitors his nutrition and caloric intake on FitDay. You can read more about his daily experiences at on his blog, Fusion On The Fly. Read about a week in the life of Karl Wilder here.

Chris Cosentino is the executive chef of San Francisco's Incanto, an offal-heavy (not sure what offal is? Check out our Whole Animal Guide here) rustic Italian restaurant located in San Francisco. While encouraging patrons to try different cuts of meat, Cosentino also champions eating locally. He's previously cooked at such renowned restaurants as Kinkead's and Chez Panisse, and cites Jean-Louis Palladin as a big influence on his cooking style. He also co-owns Boccalone, which sells various cured meats and house-made salami. To learn more about Cosentino, check out his website, Offal Good. Read about a week in the life of Chris Cosentino here.

"Jane," 24, has been working for Trader Joe's since 2007, though in 2009 she left for over a year to go work for Whole Foods. She did not like it there and returned to TJ's. At Trader Joe's, every employee does a range of tasks, but Jane's speciality is dairy. Below is her explanation of the pros and cons of the job: I like working for Trader Joe's because they pay me well and offer great benefits. They also respect me as an employee and make me feel like I'm useful and needed and not just another part-time employee that can be replaced (which has been the case at other retail jobs I've had). Trader Joe's is really good at hiring great people and I'm lucky to have so many wonderful co-workers. I don't like working at Trader Joe's because the work can be strenuous on my back and wrists. Being on a register for several hours at a time is tiring and somewhat soul crushing due to ignorant people who feel the need to be condescending to me because I work at a grocery store. I also feel that the company is becoming more and more corporate as it grows and it is beginning to have an impact on the enjoyability of being a part-time "crew member." I also work in a very busy store which causes the managers to stress out a lot and I don't enjoy being surrounded by it. Read about a week in the life of a Trader Joe's employee here.

Chef Nate Appleman is the Culinary Manager at Chipotle. This involves a range of tasks including developing new menu items, opening ShopHouse (Chipotle's upcoming Asian fast-casual chain) and furthering Chipotle's commitment to sustainable sourcing. A graduate of the Culinary Institute of America, Appleman was previously executive chef and co-owner of San Francisco's super popular Italian restaurants A16 and SPQR. Appleman moved to New York in 2010 to open Pulino's. After leaving, Appleman took his current position at Chipotle. He has received a James Beard award for Rising Star Chef, been anointed Best New Chef by Food & Wine and is the champion of Food Network's Chopped All-Stars. Read about a week in the life of Nate Appleman here.

Freeganism is a lifestyle in which one employs "alternative strategies for living based on limited participation in the conventional economy and minimal consumption of resources." Gio Andollo is a writer, artist, musician and freegan. Andollo became a freegan when he realized that artists don't get paid much, but he didn't like the idea of working a "crappy, part-time job" to pay the bills. So he found another way. Andollo performs on the subway for about 20 hours a week, typically in two-hour intervals. He makes $10 to $50 per shift and has a love/hate relationship with busking. Andollo will buy food, but very rarely. The majority of his food comes from trash touring, or dumpster diving. He's become increasingly concerned with the abuses inherent in current economic systems: waste of resources, exploitation of people, degradation of the environment, calloused treatment of animals, commodification of time, labor, even war (thus human life in wholesale). In addition to busking part-time, he writes songs, blogs and books about these issues. Read about a week in the life of Gio Andollo here.

Captain Jason Joyce is an eighth-generation resident of Swan's Island, Maine. He is a Coast Guard Licensed Captain and a registered Maine Tidewater Guide. He has done lobster and fish research with the University of Maine, the University of Massachusetts, the Gulf of Maine Research Institute and the Lobster Institute. Joyce is currently doing a lot of work with the Penobscot East Resource Center, which works to secure a viable future for the fishing communities of eastern Maine. Each week, he records HD video of lobstering that he gives to restaurants to educate customers about sustainable lobster fisheries in Maine. Captain Joyce is married to his high school sweetheart and they have four children. Learn more about Captain Jason Joyce here. Read about a week in the life of Jason Joyce here.

Martin Kastner is a serviceware designer extraordinaire/jack-of-all-design-trades for Grant Achatz's Alinea, Next and The Aviary. Kastner creates custom pieces that work with Achatz's elaborate and intricate food. Born in the Czech Republic, Kastner trained as a blacksmith and received an MFA in sculpture. (His thesis was about air). He met his American wife in Prague and moved to the US in 1998. In 2003, Kastner received an unexpected email from Grant Achatz, who had emailed a host of designers. Kastner was the only one to respond. They've partnered not only on serviceware, but also on web design, video and the Alinea cookbook. Kastner's other clients include L20 (an upscale, seafood-focused Chicago restaurant), Le Bernardin (Eric Ripert's homage to seafood) and Empellon (Alex Stupak's new Mexican restaurant in New York). Read about a week in the life of Martin Kastner here.