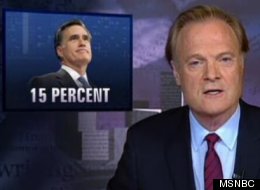 Lawrence O'Donnell had some fun with Mitt Romney's awkward comments about his taxes and income on his Wednesday show.
Romney got himself into a bit of trouble when he admitted that he pays an effective tax rate of 15 percent, and brushed off almost $375,000 in speaking fees last year as "not very much." He is also being pressured to release his tax returns. On Wednesday, he said he was planning to release his 2011 returns in April.
O'Donnell smelled a rat in this promise from the GOP front-runner. "That means he can write his tax return with political convenience in mind," he said. "He can manipulate it to pay a higher tax rate than he has been paying."
O'Donnell also noted that most presidential candidates release many years of tax returns, rather than just one. He said Romney would probably continue to "make the mistake" of only releasing his 2011 returns, and that Democrats would "continue to bash him" over this.
Finally, O'Donnell took aim at Romney's speaking fees comment, saying that what Romney called "not very much" was "wicked huge" to the rest of the world.
WATCH:
Visit msnbc.com for breaking news, world news, and news about the economy
Below, more of Mitt Romney's awkward gaffes:
Mitt Romney talks to humans(CLONED)(CLONED)
At a campaign stop this spring in Derry, New Hampshire, Mitt Romney pulled a gag that raised eyebrows. While posing for a photo with his arms around the waitresses at Mary Ann's Diner, Romney suddenly jumped forward, acting as if someone had pinched his hind quarters."Oh, my goodness gracious!" he exclaimed. The GOP presidential candidate later said he was "just teasing" and the gag is "kind of fun to do."

On the same Granite State visit, Mitt Romney stopped off at Blake's Restaurant in Manchester. On the way out he met with the diner's owner and cracked this egg: I saw a young man over there with eggs benedict. He had the eggs benedict with a hollandaise sauce and the eggs, there. And I was going to suggest to you that you serve your eggs with hollandaise sauce and hubcaps. Because there's no plates like chrome for the hollandaise! Get it!? The owner laughed politely.

Trying to make small talk with patrons at a New Hampshire diner, Romney asked a married couple sitting in a booth together, "You know each other?" Other Romney conversation nonstarters, via The Washington Post: To a man wearing a "Joe Gauci Landscaping" T-shirt: "You do some landscaping work?" To two older women who just came from the gym: "Are your knees, hips doing okay?" ... Romney seemed to be auditing one man: "What's happened to your financials the last couple of years?"

On the campaign trail in Florida, Romney and a small group of voters discussed unemployment and how to find a job in the struggling economy. The GOP presidential candidate worth more than $200 million chimed in, "I should tell my story. I'm also unemployed." The crowd laughed and asked if he was on LinkedIn. "I'm networking," Romney said, "I have my sight on a particular job."

In the now-infamous video from Romney's 2008 presidential bid, Mitt is seen meeting with voters at a Martin Luther King Day parade in Florida. After nervously approaching a crowd of youngsters and awkwardly weaving his arm into the huddle, he randomly blurted out, "Who let the dogs out? Whoo Whoo!" For the full effect, watch the YouTube video above.

At a town hall event at a senior center in New Hampshire, Mitt Romney asked the elderly audience if anyone was over 100 years old. The exchange, via the Daily Caller: "Anybody here over 100 years old?" Romney asked. Crickets. "Not yet, but we're getting there, right? We're on our way," continued Romney. "We're hopefully going to get there soon." "Well, not so soon. We hope to get there safe and sound."

In February 2010, Mitt Romney got into a scuffle on an airplane traveling back from the Winter Olympics in Vancouver. A Romney spokesman initially told reporters that a passenger became "physically violent" after Romney asked him to move his seat upright for takeoff. Rapper "Sky Blu from the group LMFAO later identified himself as the passenger, saying Romney loudly told him several times to straighten his seat. When Romney reached forward and grabbed Blu's shoulder, the rapper knocked Romney's hand away. From MTV: If Romney had asked nicely, Blu said he might have put his seat up, but since he was so rude ... Well, next thing you know, Blu said Romney reached out and put his hand on his shoulder and asked him again to put his seat up. Blu said, "And I didn't take it any further than that. I just wanted the man not to touch me; that's it."

At a campaign stop in Colorado, Romney mingled with patrons at a Mexican joint in Denver. From The Washington Post: At one table, a boy offered Romney a $1 bill that he had folded origami-style for good luck. The candidate happily accepted it, but then rifled through his wallet looking for money to give the boy in return. Romney had a $100 bill, but evidently did not want to give that away. An aide handed him a $1 bill, but Romney said that wasn't enough. Then, deep inside his leather billfold, Romney found a $5 bill. "We'll give you an Abraham Lincoln back," he said, handing it to the boy.

Mingling with voters at a campaign stop in Iowa, Romney ordered a plate of fried chicken, corn and baked beans. While chatting with the market's owner, Romney, ever the business executive, curiously referred to the meal as a "product."

Courtesy of Politico, this video shows Romney trying his hand at comedy during a campaign stop in New Hampshire. Romney talks to the crowd about how his four years in politics compare to his 25 years in the private sector, and how politicians get recognized in public. I was in the Newark airport, flying to Boston, and I was reading my newspaper and I heard someone shriek and I looked up and she was pointing at me. She had on a cowboy hat, cowboy boots; she was a Chinese exchange student. I knew she wasn't Texan because she had her jeans tucked into her boots. She pointed at me and she said, 'You're John Kerry!" And I said, "I sure am." For the full act, and the audience non-response, check out the video above.

Mitt Romney displayed some particularly aloof behavior when a passenger sitting next to him on a fight to Boston tried to strike up conversation, The New York Times reported Nov. 6. From the Times: According to Ms. McClanahan, about an hour into the flight -- which Mr. Romney mostly spent reading USA Today and using an iPad while wearing headphones -- she told him her idea for improving the American health care system: slashing overhead costs by switching to an electronic billing system. "He looked at me blankly and said, 'I understand,' then put his iPad headphones in and kept reading," she said. When another passenger asked Romney for a restarauant recommendation in Boston, he told her "I can't give you any .. You'll have to ask someone else," according to the article.

For 15 years Mitt Romney ran the private equity group Bain Capital. The successful financial company earned him millions. An Los Angeles Times article about Romney's career at Bain painted a picture of the businessman under strain. "In tense meetings, he sometimes perspired so heavily it became an office joke. Or he nervously flapped his tie and said, "Oooohhh, what do we do now?" former colleagues told the paper.

When Romney entered the 2008 presidential race, he released a 13-minute video of his family aimed at humanizing him. The video, titled "The Decision," went viral, but not for the reasons Romney wanted. The short film is narrated mostly by his wife Anne Romney, who comes across as charming, personable and engaging, while the rest of the scene gives off a cloying whiff of privilege, cloister and artificiality. Mitt sits down with his family to discuss the pros and cons of running for president, although Anne had already admitted that the decision had basically been made earlier, undermining the conceit of the filmed family gathering. Mitt, apparently unable to behave informally even with his family, whips out a white legal pad to take notes on his family's discussion. "Let me ask: How do you minimize the downsides?" the business executive asks his sons and daughters. Tagg Romney, who suggests he runs, has one warning for his pop: "The country may think of you as a laughing stock."