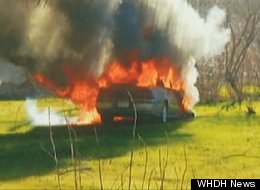 A man rescued an elderly woman from a burning car Saturday afternoon after she crashed into a tree near his home in Bridgewater, Massachusetts, reports WCVB.
Michael Casey, 46, was working on some home improvements when he saw a car come barreling past his neighbor's yard into his own, notes the Easton Journal.
With little time to spare, the man used a slate and a hammer to break the window of the woman's 2002 Chevrolet.
"I had to smash the window and get her out of there," Casey told Channel 7 WHDH News.
Casey then pulled 87-year-old Jane C. Butler from the car just moments before the vehicle was engulfed in flames.
Butler is said to be in good condition and recovering at a local hospital, according to a report from Enterprise News.
Butler's son personally thanked Casey for saving his mother from the vehicle.
Bridgewater Fire Captain Joseph Cairns told the Easton Journal that Butler apparently lost control of her car due to a medical condition.

In a similar incident last September, a group of bystanders lifted a motorcyclist from underneath a burning car on a Utah highway.
That same month a man punched through a windshield to save a woman from a enflamed vehicle in Florida.