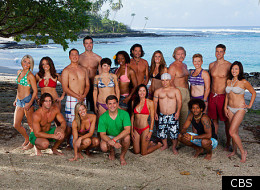 Eighteen new contestants will compete for $1 million in Season 24 of "Survivor."
In "Survivor: One World," the 18 new contestants, including an ex-NFL wife, a model and a college student, will be split in two tribes of nine based on gender: the Salani Tribe and the Manono Tribe. The tribes are named after the islands in Samoa. It wouldn't be a new season of "Survivor" without a twist: The two tribes will live together on the same beach and potentially share resources. Be on the lookout for possible inter-tribe alliances.
The new season -- with Jeff Probst returning as host -- kicks off on Wed., Feb. 15 at 8 p.m. EST on CBS.
Take a look at the new cast below.
"Survivor: One World" Cast
"Survivor: One World" cast will be divided in men vs. women.

Jay Byars, 25, is a model currently living in Gaffney, South Carolina.

Monica Culpepper, 41, is an ex-NFL player's wife currently living in Tampa, Florida.

Christina Cha, 29, is a career consultant currently living in Hollywood, California.

Michael Jefferson, 30, is a banker currently living in Seattle, Washington.

Jonas Otsuji, 37, is a sushi chef currently living in Lehi, Utah.

Chelsea Meissner, 26, is a medical sales rep currently living in Charleston, South Carolina.

Kat Edorsson, 22, is a timeshare rep currently living in Orlando, Florida.

Sabrina Thompson, 33, is a high school teacher currently living in Brooklyn, New York.

Greg Smith, M.D., 64, is a plastic surgeon currently living in Houston, Texas.

Alicia Rosa, 25, is a special education teacher currently living in Chicago, Illinois.

Bill Posley, 28, a stand-up comedian currently living in Venice, California.

Leif Manson, 27, is a phlebotomist currently living in San Diego, California.

Troy Robertson, 50, is a swimsuit photographer currently living in Miami, Florida.

Kourtney Moon, 29, is a motorcycle repair person currently living in Austin, Texas.

Kimberly Spradlin, 29, is a bridal shop owner currently living in San Antonio, Texas.

Matt Quinlan, 33, is an attorney currently living in San Francisco, California.

Colton Cumbie, 21, is a college student currently living in Monroeville, Alabama.

Nina Acosta, 51, is a retired LAPD officer currently living in Clovis, California.