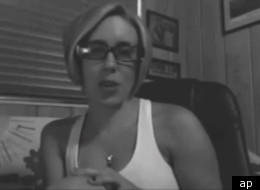 Rumor has it that Casey Anthony has resettled in southeastern Florida's Treasure Coast and she's already getting job offers and special -- yet unfriendly -- deals from the locals.
Anthony's whereabouts have been a mystery since she was acquitted of murdering her daughter, Caylee, in July. In recent days, however, reports indicate that the 25-year-old moved to Port St. Lucie or nearby Palm City.
The welcoming management of strip club Body Talk in Port St. Lucie put a message on the nudie bar's marquee saying "Hey Casey We Are Hiring," according to TV station WTSP.
It's a serious opportunity, said the manager, adding that Anthony seems to be qualified, perhaps a reference to infamous photos of her competing in a hot body contest while her daughter was allegedly missing.
A travel agent also has a standing offer for Anthony too, but it's because he's unhappy that she's supposedly surfaced in the area. Go With God Travel agent Brian Scheuble will book a free, one-way ticket to anywhere in the world for Anthony if she agrees not to return to Florida, according to The Orlando Sentinel.
As an alternate option, Scheuble told news outlets that if Anthony agreed to attend the March for Life rally in Washington, D.C. he'd pay for an airline ticket and hotel room.
Speculation over Anthony's new address shifted to Palm City following a Daily Beast article claiming that a church there is giving her sanctuary and that its pastor has become her spiritual counselor.
Cross Church pastor Steve Camp didn't confirm or deny that Anthony joined his flock, but the article's reporter said it was "conspicuous" that "no trespassing" signs ringed the property.
Mild demonstrations from opponents materialized near the church, according to WPTV, with people brandishing signs saying "Hide Your Kids." Passersby who support Anthony yelled from their cars that she's innocent, the station said.
Anthony, who was convicted separately of check fraud in Orlando, must live in Florida while she serves probation for a year.
SEE PHOTOS FROM THE CASEY ANTHONY FILE:
Casey Anthony Personal Photos
The bombshell trial of Casey Anthony captivated the nation's attention. The Florida mother, pictured in this photo from her Photobucket.com account, was found not guilty of murdering her two-year-old daughter, Caylee.

Amidst all of the hoopla surrounding the trial, some of Casey Anthony's personal photographs were released. Several of Anthony's photographs were used as evidence.

Prosecutors alleged that Casey Anthony killed her daughter, then misled authorities who were searching for the toddler. But her attorneys insisted that Caylee drowned in the family's swimming pool. The defendant's lawyers claimed that after years of abuse, Casey Anthony felt unable to reveal the truth.

Prosecutors attempted to cast Casey Anthony as a party girl -- revealing that she took part in a "Hot Body" contest just four days after she claimed her daughter drowned in her family's pool.

Lawyers showed jurors photos of Casey Anthony partying, like this image, which was posted on the defendant's Photobucket.com account.

Casey Anthony reportedly told investigators that her daughter had been kidnapped by a nanny, but during the trial her attorneys claimed the child drowned.

One question that remains unanswered is the identity of Caylee Anthony's father. Casey Anthony reportedly told friends that the child's father was a "one night thing."

But her lawyers have floated a theory involving incest. Casey Anthony's attorneys pressed an FBI witness to tell jurors that the agency conducted a paternity test on the defendant's brother, Lee Anthony. The test came back negative.

Investigators also conducted a paternity test on Casey Anthony's father, George Anthony, which also came back negative.

Tests also revealed that Jesse Grund, a man Casey Anthony once dated, was not Caylee Anthony's father.

Casey Anthony's family said they knew something was amiss when they detected a foul odor coming from the back of the defendant's car in July, 2008.

The trunk of the car actually contained a bag of trash, but prosecutors claimed that Caylee Anthony's body decomposed in the rear of the vehicle before it was moved to another location.

An insect expert for the defense stated that the body didn't decompose in the car because there wasn't any evidence of bugs that are often attracted to remains.

Caylee Anthony's remains were discovered near the family's home in December, 2008.

Prosecutors alleged that Casey Anthony killed her daughter by placing duct tape over her mouth. Duct tape was discovered wrapped around the todder's skull when the child's remains were recovered.

Casey Anthony was indicted on October 14, 2008, on charges of first-degree murder.

The Casey Antony trial became the year's biggest legal event. Spectators lined up every morning to get tickets to the trial. In one case, attendees got into a fistfight over access to the courtroom.

The case became one of the most monumental trials in Florida's history.

Some photos of Casey Anthony and Caylee Anthony were classified as evidence.

Jury selection for the Casey Anthony trial began on May 9, 2011.

Alongside capital murder, Casey Anthony was also charged with aggravated child abuse, aggravated manslaughter of a child and misleading law enforcement in the case of the death of her daughter, Caylee Anthony.

The prosecution sought the death penalty.

Meet Don Gennaro Annunziata. He was at the sentencing protest in front of the Orange County Courthouse. Don said he is a 38-year-old window washer from Orlando.

Bachelor number two is Tim Allen, a 24-year-old resident of Orlando, Fla.