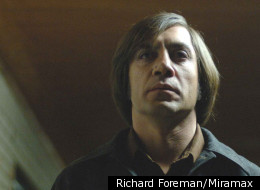 Author Cormac McCarthy's novels have won the Pulitzer Prize, routinely hit the top of the bestseller lists and have been made into Academy Award-winning adaptations -- But at the age of 78, McCarthy's trying out a new kind of writing.
The Wrap reports that McCarthy will write his first screenplay for a movie tentatively called "The Counselor," centering on a lawyer who gets pulled into the shady underworld of drug dealing. McCarthy isn't the first author to go to Hollywood -- William Faulkner, Dorothy Parker, Joan Didion and many other acclaimed writers all tried their hand at screenwriting at some point in their careers.
But McCarthy's reasons for becoming a screenwriter are unlikely to resemble those of novelists before him, for whom the task was considered somewhat soulless; a necessity to pay the bills. McCarthy's role as screenwriter seems instead, more akin to the work playwrights like Tom Stoppard and Tony Kushner have done in recent years, on films like "Shakespeare in Love" and "Munich."
But novel writing is necessarily a more solitary pursuit than either playwriting or screenwriting, which both require collaborators like the director, the designers and the actors to bring the author's words to life, as author Richard Price pointed out. While a play might find itself altered during the rehearsal practice, a screenplay modified to fit new needs as they arise on set, the novel is handed down directly to the reader to consume as is (excepting editors, of course).
Preserving any sense of authorial autonomy while also satisfying the Hollywood businessmen has proved difficult for many writers who've gone west. No less than F. Scott Fitzgerald found himself rejected, over and over again, despite his obvious talent with words.
We've compiled some of the best responses different authors have had to their stint in Hollywood -- and few of them are flattering. Read on below:
Authors Who Went To Hollywood
Asked whether writing for the movies is a compromise, Faulkner answered, "Always, because a moving picture is by its nature a collaboration, and any collaboration is compromise because that is what the word means--to give and to take." On writing screenplays vs. writing novels, he said, "If I didn't take, or feel I was capable of taking, motion-picture work seriously, out of simple honesty to motion pictures and myself too, I would not have tried. But I know now that I will never be a good motion-picture writer; so that work will never have the urgency for me which my own medium has." [From The Paris Review interviews]

Fitzgerald, who was in Hollywood around the time Faulkner was, had less success. The author of "The Great Gatsby" only ever received screenwriting credit on one movie, despite working on countless others. ''He did not know how to connect the pipes so the water could flow," director Billy Wilder said of the author. Dorothy Parker recalled a director who told him, "Pay you. Why, you ought to pay us," going on to say, "It was terrible about Scott; if you'd seen him you'd have been sick. When he died no one went to the funeral, not a single soul came, or even sent a flower. I said, "Poor son of a bitch," a quote right out of The Great Gatsby, and everyone thought it was another wisecrack. But it was said in dead seriousness. Sickening about Scott. And it wasn't only the people, but also the indignity to which your ability was put."

Parker spent some time on the West Coast herself, co-writing the script for the Oscar winning "A Star is Born," and eventually ending up blacklisted for her left-wing politics. "Hollywood money isn't money. It's congealed snow, melts in your hand, and there you are. I can't talk about Hollywood. It was a horror to me when I was there and it's a horror to look back on," she said in an interview, adding, "Garbage though they turn out, Hollywood writers aren't writing down. That is their best. If you're going to write, don't pretend to write down. It's going to be the best you can do, and it's the fact that it's the best you can do that kills you." [From The Paris Review interviews]

Chandler, whose novel "The Big Sleep" was made into the iconic noir starring Humphrey Bogart, also had a vibrant career in Hollywood, working on scripts for "Double Indemnity" as well as "Strangers on a Train." Despite his relative success compared to some of his compatriots, Chandler wasn't exactly drinking the Kool-Aid. "There is hope that a decayed and makeshift system will pass, that somehow the flatulent moguls will learn that only writers can write screenplays and only proud and independent writers can write good screenplays, and that present methods of dealing with such men are destructive of the very force by which pictures must live," he wrote in an essay, adding "And there is the intense and beautiful hope that the Hollywood writers themselves - such of them as are capable of it - will recognize that writing for the screen is no job for amateurs and half-writers whose problems are always solved by somebody else."

This British novelist, best known for a twelve-volume work called "A Dance to the Time of Music," briefly attempted to work in the movies in the 1930s. This, according to Powell, was not so unusual. "In those days it was a natural progression: You wrote a novel or two, became a scriptwriter, and then if you were lucky, went to Hollywood and cleaned up there," he said. But he didn't exactly enjoy it. "I absolutely loathed it--admittedly it was a very low form of scriptwriting--but I really couldn't have disliked anything more," he said. [From The Paris Review interviews]

Over 60 movies have been made based on work by the British writer Graham Greene. He wasn't impressed by the films, however. "Hollywood made a bad film of nearly every book I did," he said in an interview. He also adapted his own novels, including "The Third Man" and "Our Man in Havana." He had a better opinion of these movies. "I'm afraid the only good films made of my work have been made by myself," he said. Greene related an experience with producer David O. Selznick that captured his time in Hollywood. "'Can't you think of another title? Who do you think is going to see a film called 'The Third Man'? I mean, I'm not a writer -- you are -- but how 'bout something like, you know, 'Night in Vienna'?" Selznick reportedly said to him.

Nabokov never wrote screenplays for the money. But when Stanley Kubrick adapted "Lolita," the Russian emigre stepped in to help adapt. But few of Nabokov's words made it into the actual film. Of the movie, he said, "Although there are just enough borrowings from it in his version to justify my legal position as author of the script, the film is only a blurred skimpy glimpse of the marvelous picture I imagined and set down scene by scene during the six months I worked in a Los Angeles villa. I do not wish to imply that Kubrick's film is mediocre; in its own right, it is first-rate, but it is not what I wrote." Spoken like a novelist. [From The Paris Review interviews]

Price, who's written novels like "Lush Life" and "Clockers," has worked extensively in film, writing films like "The Color of Money," "Shaft," and even contributing to the HBO show, "The Wire" as well as creating the concept for Michael Jackson's "Bad" video. But Price is careful to recognize the difference between the two arts. "Writing novels is a very solitary occupation. When you're done, it's all yours. Screenwriting is anything but solitary, you're working with directors, actors, studios, agents and you have no control over that. You have a social world; you have a connection with other people that writing novels won't allow you. Screenwriting is not healthy writing. You don't control what you're trying to say about the world; other people do it for you. So, for a real writer, I think you want to be a novelist because it's you and nobody can affect that," he said in an interview.

Didion, who hailed from California originally, moved to Hollywood with her husband John Gregory Dunne (who was himself, a screenwriter). Since then, she's worked on a number of screenplays, including a script for an adaptation of her book "Play It As It Lays," which is itself set in Hollywood. (Sidenote: Like Dorothy Parker, Didion worked on "A Star is Born" -- the 1976 version). Though her extended (cynical) thoughts on the movie business can be found in "The White Album," Didion summed up her feelings succinctly in a 2004 interview. Of screenwriting she said, "It's not writing. You're making notes for the director--for the director more than the actors."

"Out of Sight," "Get Shorty," "3:10 to Yuma" and the current show "Justified" are all based on Elmore Leonard's work. And Leonard himself worked on screenplays from 1970 to the early nineties, when he gave it up. "I never got the opportunity, when I was writing screenplays, to work with a good director, so he and I could steer it to exactly where we wanted it," he said in an interview. "So I decided in 1993 that 'I'm not writing anymore screenplays.' That was just a lot of work."

Two of Ishiguro's novels -- "The Remains of the Day" and "Never Let Me Go" -- have been made into successful films. Ishiguro did not write either screenplay, but he's done a few, like "The White Countess." But screenplays don't seem to be his calling. In an interview, he lists some of his distractions as "screenplays I didn't really care about, journalism, travel books, getting my writer friends to write about their dreams or something." His main drive is instead "to write the books I had to write."