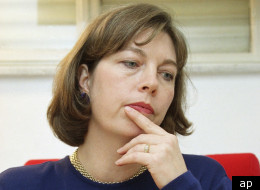 WASHINGTON -- After 20 years of marriage to Newt Gingrich, his ex-wife Marianne has said she knows enough secrets to end his presidential campaign. She'll get her chance to on Thursday night, when a lengthy interview she gave to ABC airs on national television.
But if Marianne Gingrich really intends to show American voters what she knows about her ex-husband, she'll need to do more that just repeat the same sad relationship stories she has already told to numerous print journalists.
As Gingrich surged to the front of the Republican field in South Carolina on Thursday, however, that's precisely what Marianne did in an advance clip, explaining how Newt Gingrich proposed an "open marriage" situation to her as their relationship crumbled in 1999. ABC called the well-trodden story the most "provocative" statement of the two-hour interview.
But wait, not even Gingrich himself disputes that he was a conniving, unfaithful spouse! On the contrary, he offers himself up as an example of Christian redemption any time journalists, rivals, or voters ask about his "baggage."
And while more examples of what a bad husband Gingrich was might make for good viewing, Marianne knows far more important things about Newt that she hasn't told anyone before, and that would go well beyond the philandering to help voters understand a complicated candidate. Below are three important topics American voters should know about, and only Marianne can tell them. Of course, she probably won't, but listen carefully and she may drop some new clues.
1. How Newt Gingrich mis-handles money
One of the things Marianne has said repeatedly is that the couple was perpetually broke, leaving her desperate for money to pay their bills. While his first wife initially handled the bills, Marianne took over the management task when she married Gingrich. This included Newt's personal debt, his alimony and child-support payments, financing for his campaigns, a rental apartment and an expensive lifestyle in Washington. Over 20 years, they amassed no savings, and when the House Ethics Committee fined then-Speaker Gingrich a record-breaking $300,000 penalty in 1997 for violations, there was nothing to pay it with. "We didn't have anything," she has said. Today, Gingrich spends millions on jewelry at Tiffany & Co., takes Greek cruises, and flies in private jets. Still spending lavishly, only wealthier now that he's entered the private sector.
2. Gingrich's mystery mea culpa book and his 1997 breakdown
Gingrich is known to have had two periods of dark depression while he was in office, one in 1979 and another in 1997, both of which were so severe as to prompt action by friends and colleagues. In '97, following his ethics scandal Marianne says Gingrich began writing a book apologizing for his misdeeds, but she and his congressional staff destroyed it before it could be published. Gingrich grew more erratic over the course of the year to the point where he "wasn't functioning," and eventually Republican leaders staged a formal intervention. Marianne has never touched on what Gingrich was sorry for in his book, or what he was really like to be around in private during that year. Given the immense stress and the 24-7 nature of the presidency, these are fair questions to ask.
3. What drives Marianne to protect Newt even as she damages his campaign
It's obvious from print interviews and from what Marianne holds back from the press that she still has a solid affection for Gingrich, or at the very least, a strong sense of protectiveness. While this doesn't fit naturally with ABC's portrayal of her as a "bitter" ex-wife, it also makes Marianne's decision to talk about their marriage in the first place seem even stranger, especially given how much it could hurt Gingrich in conservative South Carolina. Moreover, once Marianne does start talking, she leaves out key details of the couple's breakup, like how Newt repeated over and over during couples' therapy, "I can't handle a Jaguar right now, all I want is a Chevrolet." By that point he had been seeing Callista Bisek -- now Mrs. Gingrich -- for six years, so it's easy to imagine who's who in Gingrich's mind.
These may not be easy subjects to tackle, but they're important ones, and Marianne is only person who can do it. If she does, she could reveal crucial elements of what Gingrich might be like in the oval office.
CLICK below for a quick slideshow of Newt Gingrich's many women.
Affairs To Remember - Newt Gingrich 1959-Present
While still a junior in high school, Newt Gingrich began an affair with his high school geometry teacher, Jackie Battley, in 1959. He was 16 at the time, and she was 23. The official story is that the pair began dating when Gingrich turned 18, but people who know him well, including his ex-wife Marianne Gingrich, who spoke to Esquire, say he was 16.

Gingrich had affairs with numerous campaign volunteers during his first two unsuccessful bids for a House seat from Georgia, in 1974 and '76, according to multiple sources. A former campaign staffer, Dot Crews, told Vanity Fair that Gingrich's dalliance during his 1974 campaign was common knowledge among the staff. L.H. "Kip" Carter, Gingrich's campaign treasurer at the time, put it less delicately. "We'd have won in 1974 if we could have kept [Gingrich] out of the office, screwing her on the desk." Carter also recounted the following incident excerpted from Vanity Fair, to more than one media outlet: "We had been out working a football game -- I think it was the Bowdon game-- and we would split up. It was a Friday night. I had Newt's daughters, Jackie Sue and Kathy, with me. We were all supposed to meet back at this professor's house. It was a milk-and-cookies kind of shakedown thing, buck up the troops. I was cutting across the yard to go up the driveway. There was a car there. As I got to the car, I saw Newt in the passenger seat and one of the guys' wives with her head in his lap going up and down. Newt kind of turned and gave me his little-boy smile. Fortunately, Jackie Sue and Kathy were a lot younger and shorter then." Offered the chance to dispute Carter's account in a separate interview in Mother Jones, Gingrich declined, telling The Washington Post, "I am not going to argue every point of that story, but I will say that it painted a picture of me that is essentially untrue."

Anne Manning, became romantically involved with Gingrich during his '76 campaign. The curly-haired young Englishwoman, then married to another professor at West Georgia, Tim Chowns, was an avid volunteer in Newt's Carrollton office. "I did have a relationship with him," she discloses for the first time, "but when it suited him, he would totally blow you off." In the spring of 1977, she was in Washington to attend a census-bureaus workshop when Gingrich took her to dinner at a Vietnamese restaurant. He met her back at her modest hotel room. "We had oral sex," she says. "He prefers that modus operandi because then he can say, "I never slept with her." Indeed, before Gingrich left that evening, she says, he threatened her: "If you ever tell anybody about this, I'll say you're lying." This excerpt is from Gail Sheehy's compelling 1995 profile of Gingrich titled "The Inner Quest of Newt Gingrich," written for Vanity Fair. Gingrich has yet to dispute it, and his campaign declined a chance to refute it this week. Generally, rather than deny accounts such as this one of his extramarital activities, Gingrich and his spokesman will brush them off. "I'm not going to get into those details or the questions about 1974," he told Mother Jones in a 1984 profile, "I think there is a level of personal life that is personal." Nevertheless, Gingrich has grown much more cautious around reporters since his early days in Washington. It's a lesson he told Esquire he learned the hard way, after spending three days with a reporter who convinced his staffers to discuss Gingrich's extramarital affairs openly, and who witnessed Gingrich yelling at a secretary. Gingrich recalled that when he later told conservative columnist Robert Novak how much access he granted the journalist, Novak replied, "What the fuck were you thinking?" The fallout, Gingrich said, was "terrible," but he had only himself to blame, "because I relaxed."

In 1978, Gingrich beat Democrat Virginia Shapard in a bitter election to fill an open Georgia congressional seat. During the campaign, Gingrich was criticized for running an advertisement that claimed Shapard would break up her family and move to Washington if she won. The ad showed a photo of the Gingrich family alongside a photo of Shapard's family. Under the Shapard photo was a line that read "If elected, Virginia will move to Washington, but her children and husband will remain in Griffin [Ga.]." By contrast, Gingrich's photo blurb promised that "When elected, Newt will keep his family together." The irony of the "Family" ad is that by 1978, Gingrich's marriage to Jackie Gingrich was in deep trouble, and knowledge of his extramarital affairs was common among friends and staffers. Shapard told Mother Jones later that, "As the days dwindled down in the end of the campaign, [my] campaign workers had an unofficial pool going on to see how long it would take him when he got to Washington to dump [Jackie]."

As his marriage collapsed, Gingrich entered a period of dark depression in 1979-'80, during which he drank heavily and has admitted he contemplated suicide. Recalling the period more than a decade later, he said "I ultimately wound up at a point where suicide, or going insane, or divorce were the last three options." Luckily for Gingrich, in January of 1980 he met 28 year-old Marianne Ginther. The married congressman proposed to her within weeks, despite the fact that he had yet to file for a divorce from Jackie. "He asked me to marry him way too early," Marianne said later. "I should have known there was a problem ... It's not so much a compliment to me. It tells you a little bit about him." One of her close friends at the time, Betty Sekula, sensed trouble early on. "Newt was indifferent to Marianne right from the beginning," she told Vanity Fair. "It was [about] him, not us."

Gingrich told his wife Jackie that he wanted a divorce in April of 1980. Unbeknownst to his wife, Gingrich had already proposed to Marianne Ginther, his soon-to-be second wife. The ensuing divorce was ugly, all the more so after a political opponent accused Gingrich of having served Jackie divorce papers while she was hospitalized with cancer. The allegations were based on a hospital visit Gingrich made in September of that year with their two daughters to visit Jackie, who had been diagnosed with cancer in 1978 and was recovering from surgery. Earlier this year, Gingrich's daughter, Jackie Gingrich Cushman (pictured here), finally gave her own account of the now infamous hospital visit this spring, saying her parents were already "getting divorced," at the time. Nevertheless, the myth of a callous politician who divorced his wife on her deathbed in order to marry his mistress persists, fanned by the political and personal enemies Gingrich has made during his career. In the meantime, Jackie Gingrich is alive and well and living in Georgia.

Gingrich's 1981 marriage to Marianne Ginther showed signs of trouble from the start. For one, the couple was constantly short on funds, the result of maintaining two households, paying down debts, and campaigning constantly on Newt's $70,000 salary. Moreover, longtime Gingrich staffer Dolores Adamson told Vanity Fairthat Marianne struggled to adjust to life in politics. "Well, I don't want to be unkind to her, but Marianne didn't know how to dress. She was smart enough, I think, but she was somehow a little naive ... In staff meetings, she'd go away in tears, because she didn't really understand. She would just be totally frustrated and confused." For her part, Marianne says that she "made it very clear [that] I wasn't happy with certain behaviors" in her new husband. She even gave him a book, "Men Who Hate Women & The Women Who Love Them." By 1984, the couple was regularly spending months at a time apart from each other. "Newt always wanted to be somebody," Marianne said in Esquire last year. "That was his vulnerability, do you understand? Being treated important. Which means he was gonna associate with people who would stroke him, and were important themselves. And in that vulnerability, once you go down that path and it goes unchecked, you add to it."

Gingrich met then 28 year-old Callista Bisek in 1993, a year before he assumed the nation's third-highest office, as Speaker of the House. Bisek was a shy, disciplined young woman from rural Wisconsin, whose friends were stunned when she told them she was dating a married man. Once Gingrich became speaker, he and Callista were regularly spotted together in Washington, prompting Vanity Fair's Gail Sheehy to igiver her top billing on a list of Newt's "female admirers" in 1995. Bised was described then as "a former aide in Congressman Steve Gunderson's office, who has been a favorite breakfast companion [for Gingrich]."

For Marianne Gingrich, 1997 marked the beginning of the end of her marriage. That year, Gingrich was reprimanded and fined $300,000 by the House Ethics Committee, the culmination of a four-year investigation of his campaign financing. Sixteen years into their marriage, the couple's finances had still not improved, and the task of raising $300,00 seemed overwhelming. Marianne told Esquire, "We didn't have anything, just a house that was fully mortgaged." Gingrich resigned from the House in November of 1998, forced out after widespread GOP losses in the 1998 mid-term elections. Following his resignation, Gingrich's behavior increasingly erratic, and in May of '99 he told Marianne he wanted out. During a joint counseling session, Maryanne said Gingrich repeatedly compared her to a Jaguar sports car. "'I can't handle a Jaguar right now,'" he would say, "'All I want is a Chevrolet.'" Asked whether she was willing to tolerate Gingrich's ongoing affair with Callista Bisek to preserve their marriage, Marianne refused. She recalls asking her husband how he could justify giving speeches on family values, while he was "doing what he was doing." She told Esquire that he replied "It doesn't matter what I do. People need to hear what I have to say, and there's no one else who can say what I can say. It doesn't matter what I live."

Nineteen years after he proposed to the young Marianne Ginther while he was still married to Jackie, Gingrich again proposed while still married, this time he asked for Callista Bisek's hand. "He'd already asked [Callista] to marry him before he asked me for a divorce," Marianne said last year. "Before he even asked." Gingrich and Callista were married in August of 2000. In the ensuing decade, they have produced numerous documentaries together and co-authored books on religion and conservative political ideals. During an interview last year, Gingrich said "Callista and I kid that I'm four and she's five, and therefore she gets to be in charge because the difference between four and five is a lot."