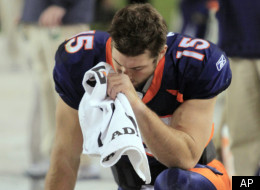 Where would be the last place you'd expect to bump into Tim Tebow?
'Cause celebrity website TMZ found him there, if you picked Sin City.
See TMZ.com for more details.

According to the website the Broncos quarterback was spotted walking through the Bellagio hotel yesterday with his brother and a friend after seeing the Cirque du Soleil show, "O."
The quarterback's rep told TMZ he was only there for one day and that he's been spending most of his time in rehab trying to recover from the injuries he sustained during the Patriots game. He was reportedly in town to do another Nike collaboration, and 9News reports that he may return to give sermons at a local Las Vegas church. Fans may recall that his Nike shoe line sold out in just five minutes in Aug. 2010, and we're betting that his sermons are no less popular.
Regardless, when asked how the athlete would be spending his free time, his rep responded in typical Tebow fashion: "He's looking forward to going to church."
Yet hearing that Tebow--who once told USA Today that his one vice was vanilla ice cream--was in Las Vegas, Busted Coverage (Eds note: NSFW) wrote that they'd be willing to hook up Tebow with tickets to the AVN porn convention going on in, also typical, Sin City fashion.
LOOK: Fan in Las Vegas met Tebow in Nike Town.
@ELISHA22HENSEY

Elisha Hensey