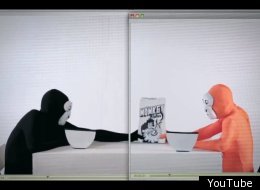 We're going to ahead and call the disappearance of the music video a big fat myth.
Thanks perhaps nearly-universally to YouTube, music videos are being churned out at an amazing pace (it seems hardly a day goes by without a new "shocking" and "sexy" Rihanna video). We spanned the internet to distill the golden from the God-awful, and proudly present another ten of our favorite artistic music videos.
What makes an "artistic" music video, you ask? The criteria are that the visuals must have an aesthetic or technological appeal that goes beyond a simple telling of the story. For Scottish band Django Django, frenetic animation created through a random process is the name of the game, while Modeselektor use something more precise to take it to the next level.
For this edition we dug deep to find videos that exemplify new and innovative approaches to the medium. From brain-melting animation to exquisitely shot narratives, here's our latest batch of music videos we can't stop watching. Please let us know what you think in the comments section below.
Music Videos We Can't Stop Watching
As a nod to their art school days in Edinburgh, up-and-comers Django Django went nuts with the video for their single, "Default." Director Dan Brereton printed out all 4,000 stills from the footage and had band members feverishly paint over the images to complete the stop motion short. The result is colorful and chaotic.

The Stepkids premiered their video for "Suburban Dream" back in November, but we can't stop watching their Chris King-animated video. The three piece "electro soul" outfit released their self-titled debut album on Stones Throw Records in September.

It's been awhile since we've heard from the French pop behemoth, but "Pepito Bleu" finds Sebastien Tellier more grandiose than ever before. It's like Avatar, Zardoz and Serge Gainsbourg rolled into one over-the-top spectacle.

The mischievous electronic duo return with this visually stunning display of imagination. Modeselektor are known for their thrilling live performances, but the added visual innovation really brings the duo's output to the next level.

The techno-pop auteur Matthew Dear chose to go abstract with the video for his new single "In The Middle (I Met You There)." Featuring vocals from Drums singer Jonny Pierce, the weird and woozy video will leave you in a trance. The clip serves as a moving history of modern abstract art, with hints of abstract expressionism and color field painting happening simultaneously.

The infectious dance anthem from the new Melbourne duo, Parachute Youth, has us boogying in our seats. The clip for "Can't Get Better Than This" was shot in Burkina Faso. The vivid location and cinematic cuts create a captivating narrative.

It's almost more of a behind-the-scenes look than a music video, but even if Ryan Leslie filmed himself peeling string cheese we would still watch. In this clip for "5 Minute Freshen Up," the mega producer invites one lucky fan and her fiends to a studio session. We're brimming with jealousy.

Though it's not a new jam, Maceo Plex's "Vibe Your Love" still makes us feel all warm and cuddly on the inside. The accompanying clip directed by Bernard Pucher resonates so strongly that we're starting to appreciate stucco walls again.

Though the song is breezy and relaxing, the video for The Internet's "Fastlane" is anything but. Syd Tha Kid of Odd Future fame and an accomplice go on a Thelma & Louise-style rampage, wrecking havoc in the desert. Warning: This video contains graphic content.

It's arguably pretty easy to love the video for Real Estate's "Its Real." Anything that prominently features rambunctious canines having a blast is a winner in our book. So it gets a little creepy when they're underneath the sheets, we still think it's all in good fun.