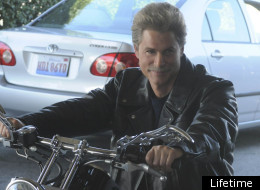 While we don't necessarily condone expletives, there's one five-letter word that TV characters use to make a point.
Adding "bitch" to the end of a quote can punctuate a comment in a way an exclamation point simply cannot. It can instill fear and, in other cases, it can lead to laughter.
In Lifetime's latest TV movie, "Drew Peterson: Untouchable," Rob Lowe donned a bushy mustache, silver pompadour and uneasy grin to play the title role of the police-sergeant-turned-accused-murderer. And when the trailer hit the web at the end of 2010, his "I'm untouchable, bitch" quote had many cracking up ... and not like he does on "Parks and Recreation."
Audiences will finally get to see Lowe as the mustachioed Peterson this weekend when the full-length feature airs on Sat., Jan. 21. In its honor, we thought it was time to look back on the small screen "bitch"-fest phrases we've loved hearing.
From Bunk on "The Wire" to Luke on "The O.C." (of course), click through the slideshow below to relive them, bitch.
On the first season of The WB's "The O.C.," Luke and Ryan did not exactly get off on the right foot after Luke feared the new boy in town was moving in on his girlfriend Marissa. This led to an epic beachfront beat down and the quote that became a tagline for the TV show and has lived on even after the show died.

The golden days of Dave Chappelle's "Chappelle Show" gave us so much enjoyment, but nothing comes close to Chappelle's Rick James impersonation. It gets better: The real Rick James sanctioned it ... bitch.

Hotshot agent Ari Gold is one of TV's biggest jerks, but that's sort of why we love him. Bros everywhere have him and "Entourage" to thank for the feud-ending embrace that he used to placate his frenemy E.

The first -- but not the last -- Garden State-bound lady on this list chose to introduce herself with one word in particular in "Jersey Shore's" opening credits, which are still used in its current fifth season. Surprisingly, that word is not "poof" or "smush."

Marshall Eriksen on "How I Met Your Mother" is many things. He's a good friend, a husband, soon-to-be dad and -- in an effort to convince Barney he's the better catch -- he maintains he's also cuddly, bitch.

What's Jesse Pinkman's favorite word? The "Breaking Bad" character has a a serious potty mouth and clearly favors throwing around one term in particular whenever he can.

When Frank trains Dee for a boxing match against the daughter of his old rival on "It's Always Sunny in Philadelphia,: the two get into a verbal spar before fists are thrown. Brianna's first jab --"You look like a holocaust victim in pageant make-up" -- is met with a serious carnivorous response from Dee.

On the critically-acclaimed HBO series "The Wire," Bunk was quite the competent and moral Baltimore police detective who often had one question for his fellow officer Jimmy McNulty.

The battle between sisters-in-law Melissa Gorga and Teresa Giudice made for one epic season of Bravo's "The Real Housewives of New Jersey." When they reconvened for the reunion episode, Teresa equated Melissa with the devil thanks to her ensemble and then offered some more choice words.

Spike and Buffy's relationship on "Buffy the Vampire Slayer" was a roller coaster ride for fans, and although the two ended up in love, they didn't always like each other. When she ran into him while looking for information about a mysterious orb outside an abandoned building and asks what he's doing there, she gets quite the response.

In a new Lifetime original movie, "Drew Peterson: Untouchable," Rob Lowe dons accused murderer Peterson's signature mustache, silver pompadour and uneasy grin to play the lead role. He also has the honor of uttering a line to give cred to the title, but not much else.
"Drew Peterson: Untouchable" premieres Sat., Jan. 21 at 8 p.m. EST on Lifetime.