Kiefer Sutherland And His 'Touch' Co-Stars Preview Their Powerful New Fox Show (VIDEO)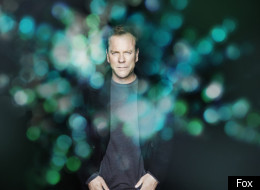 Most people see the world the same way, but there are a special few who see so much more. Kiefer Sutherland is back on Fox -- in his old "24" timeslot, no less -- with a new drama called "Touch" that explores the stories of those people that can see the art, the mathematics and the physics in everything around us. ("Touch" has a special preview Wed., Jan. 25 at 9 p.m. EST on Fox, before it officially premieres Mon., March 19, 9 p.m. EST.)
After being widowed on Sept. 11, Martin Bohm (Sutherland) quit his high-powered career to spend more time with his 10-year-old son Jake (David Mazouz). Jake has been misdiagnosed with autism because he doesn't make eye contact, doesn't like to be touched and has never spoken a single word. But he is trying to communicate with his father, just in a very unconventional way.
When Jake starts obsessing over a series of numbers -- numbers that eventually turn up in the strangest of places -- and climbing cell phone towers, the authorities are brought in to decide whether he'd be better off in a special facility. Clea Hopkins (Gugu Mbatha-Raw) is assigned to Jake's case, but it isn't until he surprises her with insight into her own life that she realizes he has a very special gift.
I sat down with Sutherland, Mazouz and Mbatha-Raw to get their take on the show (which brought me to tears several times in a single episode), including how the other stories of people like Jake all over the world will be interwoven and highlighted each week.
Watch below and tell us: Will you watch "Touch"?