Weight Loss Success: Spring Cha's 75-Pound Weight Loss 'Was The Best Present Ever'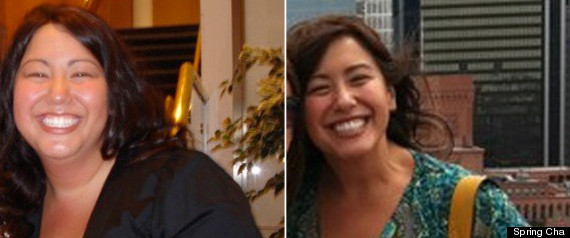 Got a success story of your own? Send it to us at success.stories@huffingtonpost.com and you could be featured on the site!
Name: Spring Cha
Age: 28
Height: 5'10"
Before Weight: 250 pounds
How I Gained It: For as long as I can remember -- probably since the first grade -- I have been on the heavier side of normal. Being overweight felt comfortable to me. Exercise and healthy eating were never appealing; I ate what I wanted, when I wanted, and didn't think twice about it.
After graduating from college, I lived by myself and worked late nights as a nurse. I was sad to be away from the school environment and ate at late hours of the night. I put on the pounds then and let my size reach a level that I never thought I'd reach. Shopping for plus-size clothes became a regular occurrence, and I would progressively have to purchase larger and larger sizes as the years went by.
Breaking Point: In January 2008, I had agreed to try out exercising and eating healthier with two fellow co-workers, but I wasn't that motivated. It wasn't until the second week of January that I got one of the biggest wake-up calls of my life. I was in the middle of graduate school orientation when I got a call telling me that my dad had had a heart attack and needed emergency quadruple bypass surgery to save his life. My life stood still when I got that news. I remember driving down a long highway on my way to the hospital, feeling this was a sign for me to take control of my own life. I was so scared -- I didn't know if my dad would make it through surgery. I told myself on that ride that I needed to make a change.
My dad luckily made it through surgery and had a speedy recovery. I remember going to the grocery store on the day of his discharge, picking out foods that would be heart-healthy for him, and making a conscious decision that I had to start shopping this way for myself as well. I knew I had to take care of my health in the same way I would take care of my dad or one of my patients.

How I Lost It: I set a goal for myself to reach a weight within the normal body mass index (BMI) for my height. It would mean I had to lose 75 pounds. I set a timeline for a year and planned to make small changes in my diet and exercise without overdoing it. I took baby steps in my diet changes. I started out by shopping at the grocery store when I wasn't hungry. I gradually cut out a lot of my frozen pizzas and ice cream bars and replaced them with whole-wheat bread, salmon and frozen fruit. I ate off of smaller plates and put lots of pre-measured snacks in sandwich bags.
I started watching "The Biggest Loser" to gain inspiration from people who were going through the same struggles and challenges that I was. I went to my work's fitness center and worked on cardio -- mainly the elliptical and treadmill -- and got some videos on strength training. I started taking the stairs instead of the elevator, and I parked my car farther away in parking lots to get more steps in. I realized that exercise in the beginning was a lot like showering: It wasn't something that I necessarily wanted to do, but something that I needed to do, and when it was over, I felt refreshed!
At the end of 2008, on Christmas morning, I woke up, stepped on my scale, and found that I met my year-long weight loss goal of 75 pounds. It brought me to tears -- it was the best Christmas present ever. I went on to do activities that I never dreamed would be possible. I completed the P90-X fitness regimen, did rock climbing, yoga and step aerobics, ran my first 5K, did a Warrior Dash and ran two half-marathons. I have more energy than I ever imagined my body could have. I am able to shop for clothes at any store and have them fit in a way I never dreamed of. I genuinely feel that I have a new chance at life, and that new beginnings and opportunities are at my fingertips. This was a monumental goal that I was able to achieve, but it took a lot of hard work, and I faced a lot of my fears. I feel like anything in life is possible now.
After Weight: 175 pounds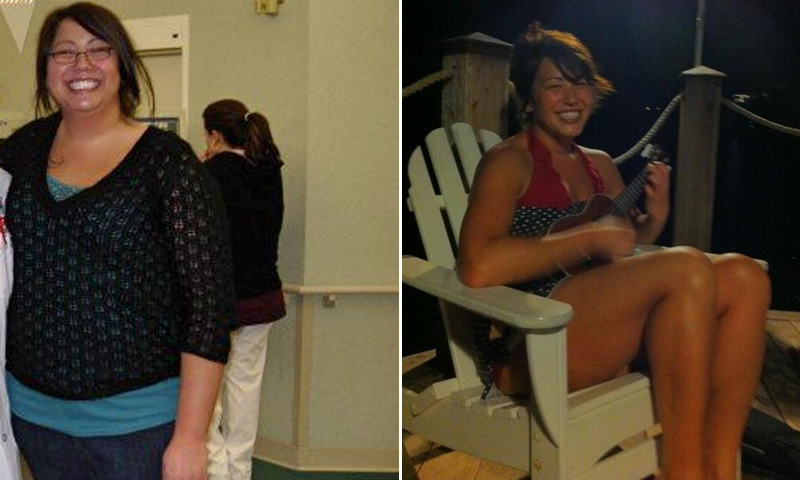 For more on weight loss, click here.
Check out more of our inspiring weight loss stories below:

Loading Slideshow
John BEFORE

<a href="http://www.huffingtonpost.com/2014/07/17/i-lost-weight-john-henderson_n_5515251.html" target="_blank">Read John's story here.</a>

John AFTER

<a href="http://www.huffingtonpost.com/2014/07/17/i-lost-weight-john-henderson_n_5515251.html" target="_blank">Read John's story here.</a>

Christina BEFORE

<a href="http://www.huffingtonpost.com/2014/07/14/i-lost-weight-christina-liendro_n_5485541.html" target="_blank">Read Christina's story here.</a>

Christina AFTER

<a href="http://www.huffingtonpost.com/2014/07/14/i-lost-weight-christina-liendro_n_5485541.html" target="_blank">Read Christina's story here.</a>

DeAnna BEFORE

<a href="http://www.huffingtonpost.com/2014/07/07/i-lost-weight-deanna-taylor_n_5379433.html" target="_blank">Read DeAnna's story here.</a>

DeAnna AFTER

<a href="http://www.huffingtonpost.com/2014/07/07/i-lost-weight-deanna-taylor_n_5379433.html" target="_blank">Read DeAnna's story here.</a>

Paul BEFORE

<a href="http://www.huffingtonpost.com/2014/07/10/i-lost-weight-paul-jay-birch_n_5474633.html" target="_blank">Read Paul's story here.</a>

Paul AFTER

<a href="http://www.huffingtonpost.com/2014/07/10/i-lost-weight-paul-jay-birch_n_5474633.html" target="_blank">Read Paul's story here.</a>

Kourtney BEFORE

<a href="http://www.huffingtonpost.com/2014/07/03/i-lost-weight-kourtney-luster_n_5406288.html" target="_blank">Read Kourtney's story here.</a>

Kourtney AFTER

<a href="http://www.huffingtonpost.com/2014/07/03/i-lost-weight-kourtney-luster_n_5406288.html" target="_blank">Read Kourtney's story here.</a>

Danielle BEFORE

<a href="http://www.huffingtonpost.com/2014/06/30/i-lost-weight-danielle-gilmore_n_5379289.html" target="_blank">Read Danielle's story here.</a>

Danielle AFTER

<a href="http://www.huffingtonpost.com/2014/06/30/i-lost-weight-danielle-gilmore_n_5379289.html" target="_blank">Read Danielle's story here.</a>

Pamela BEFORE

<a href="http://www.huffingtonpost.com/2014/06/26/i-lost-weight-pamela-arias_n_5405713.html" target="_blank">Read Pamela's story here.</a>

Pamela AFTER

<a href="http://www.huffingtonpost.com/2014/06/26/i-lost-weight-pamela-arias_n_5405713.html" target="_blank">Read Pamela's story here.</a>

Sherlonda BEFORE

<a href="http://www.huffingtonpost.com/2014/06/23/i-lost-weight-sherlonda-tyrus_n_5310512.html" target="_blank">Read Sherlonda's story here.</a>

Sherlonda AFTER

<a href="http://www.huffingtonpost.com/2014/06/23/i-lost-weight-sherlonda-tyrus_n_5310512.html" target="_blank">Read Sherlonda's story here.</a>

Justin BEFORE

<a href="http://www.huffingtonpost.com/2014/06/16/i-lost-weight-justin-willoughby_n_5310166.html" target="_blank">Read Justin's story here.</a>

Justin AFTER

<a href="http://www.huffingtonpost.com/2014/06/16/i-lost-weight-justin-willoughby_n_5310166.html" target="_blank">Read Justin's story here.</a>

Kerry BEFORE

<a href="http://www.huffingtonpost.com/2014/06/19/i-lost-weight-kerry-hoffman_n_5310330.html" target="_blank">Read Kerry's story here.</a>

Kerry AFTER

<a href="http://www.huffingtonpost.com/2014/06/19/i-lost-weight-kerry-hoffman_n_5310330.html" target="_blank">Read Kerry's story here.</a>

Lacy BEFORE

<a href="http://www.huffingtonpost.com/2014/06/12/i-lost-weight-lacy-lane_n_5276296.html" target="_blank">Read Lacy's story here.</a>

Lacy AFTER

<a href="http://www.huffingtonpost.com/2014/06/12/i-lost-weight-lacy-lane_n_5276296.html" target="_blank">Read Lacy's story here.</a>

Marqkria BEFORE

<a href="http://www.huffingtonpost.com/2014/06/09/i-lost-weight-marqkria-mcmiller_n_5226557.html" target="_blank">Read Marqkria's story here.</a>

Marqkria AFTER

<a href="http://www.huffingtonpost.com/2014/06/09/i-lost-weight-marqkria-mcmiller_n_5226557.html" target="_blank">Read Marqkria's story here.</a>

Gina BEFORE

<a href="http://www.huffingtonpost.com/2014/06/02/i-lost-weight-gina-digregorio_n_5153436.html" target="_blank">Read Gina's story here.</a>

Gina AFTER

<a href="http://www.huffingtonpost.com/2014/06/02/i-lost-weight-gina-digregorio_n_5153436.html" target="_blank">Read Gina's story here.</a>

Sarah BEFORE

<a href="http://www.huffingtonpost.com/2014/05/26/i-lost-weight-sarah-swagler_n_5119632.html" target="_blank">Read Sarah's story here.</a>

Sarah AFTER

<a href="http://www.huffingtonpost.com/2014/05/26/i-lost-weight-sarah-swagler_n_5119632.html" target="_blank">Read Sarah's story here.</a>

Emil BEFORE

<a href="http://www.huffingtonpost.com/2014/05/29/i-lost-weight-emil-oprisa_n_5113935.html" target="_blank">Read Emil's story here.</a>

Emil AFTER

<a href="http://www.huffingtonpost.com/2014/05/29/i-lost-weight-emil-oprisa_n_5113935.html" target="_blank">Read Emil's story here.</a>

Nikki BEFORE

<a href="http://www.huffingtonpost.com/2014/06/05/i-lost-weight-nikki-hauck_n_5160077.html" target="_blank">Read Nikki's story here.</a>

Nikki AFTER

<a href="http://www.huffingtonpost.com/2014/06/05/i-lost-weight-nikki-hauck_n_5160077.html" target="_blank">Read Nikki's story here.</a>

Lauren BEFORE

<a href="http://www.huffingtonpost.com/2014/05/22/i-lost-weight-lauren-richmond_n_5111063.html" target="_blank">Read Lauren's story here.</a>

Lauren AFTER

<a href="http://www.huffingtonpost.com/2014/05/22/i-lost-weight-lauren-richmond_n_5111063.html" target="_blank">Read Lauren's story here.</a>

Darrell BEFORE

<a href="http://www.huffingtonpost.com/2014/05/19/i-lost-weight-darrell-mctague_n_5104908.html" target="_blank">Read Darrell's story here.</a>

Darrell AFTER

<a href="http://www.huffingtonpost.com/2014/05/19/i-lost-weight-darrell-mctague_n_5104908.html" target="_blank">Read Darrell's story here.</a>

Jessica BEFORE

<a href="http://www.huffingtonpost.com/2014/05/12/i-lost-weight-jessica-johnson_n_5002531.html" target="_blank">Read Jessica's story here.</a>

Jessica AFTER

<a href="http://www.huffingtonpost.com/2014/05/12/i-lost-weight-jessica-johnson_n_5002531.html" target="_blank">Read Jessica's story here.</a>

After BEFORE

<a href="http://www.huffingtonpost.com/2014/05/15/i-lost-weight-amanda-clay_n_5070828.html" target="_blank">Read Amanda's story here.</a>

Amanda AFTER

<a href="http://www.huffingtonpost.com/2014/05/15/i-lost-weight-amanda-clay_n_5070828.html" target="_blank">Read Amanda's story here.</a>

Miesha BEFORE

<a href="http://www.huffingtonpost.com/2014/05/05/i-lost-weight-miesha-avery_n_4988688.html" target="_blank">Read Miesha's story here.</a>

Miesha AFTER

<a href="http://www.huffingtonpost.com/2014/05/05/i-lost-weight-miesha-avery_n_4988688.html" target="_blank">Read Miesha's story here.</a>

Rachel BEFORE

<a href="http://www.huffingtonpost.com/2014/05/08/i-lost-weight-rachel-reso_n_4913990.html" target="_blank">Read Rachel's story here.</a>

Rachel AFTER

<a href="http://www.huffingtonpost.com/2014/05/08/i-lost-weight-rachel-reso_n_4913990.html" target="_blank">Read Rachel's story here.</a>

Shelly BEFORE

<a href="http://www.huffingtonpost.com/2014/04/28/i-lost-weight-shelly-matthias_n_4980658.html" target="_blank">Read Shelly's story here.</a>

Shelly AFTER

<a href="http://www.huffingtonpost.com/2014/04/28/i-lost-weight-shelly-matthias_n_4980658.html" target="_blank">Read Shelly's story here.</a>

Ernie BEFORE

<a href="http://www.huffingtonpost.com/2014/05/01/i-lost-weight-ernie-lauro_n_4904095.html" target="_blank">Read Ernie's story here.</a>

Ernie AFTER

<a href="http://www.huffingtonpost.com/2014/05/01/i-lost-weight-ernie-lauro_n_4904095.html" target="_blank">Read Ernie's story here.</a>

Dave BEFORE

<a href="http://www.huffingtonpost.com/2014/04/21/i-lost-weight-dave-douglas_n_4815846.html" target="_blank">Read Dave's story here.</a>

Dave AFTER

<a href="http://www.huffingtonpost.com/2014/04/21/i-lost-weight-dave-douglas_n_4815846.html" target="_blank">Read Dave's story here.</a>

Meredith BEFORE

<a href="http://www.huffingtonpost.com/2014/04/24/i-lost-weight-meredith-white_n_4867161.html" target="_blank">Read Meredith's story here.</a>