As Santorum closed his speech focusing on building strong family values, a gay rights activist said: "Except when you're gay" and threw a handful of glitter in the air.

Members of the Occupy Charleston group joined in with chants of "Rick, Rick, Rick, bigot, bigot, bigot" and singing "Santorum, Santorum, you're a bigot."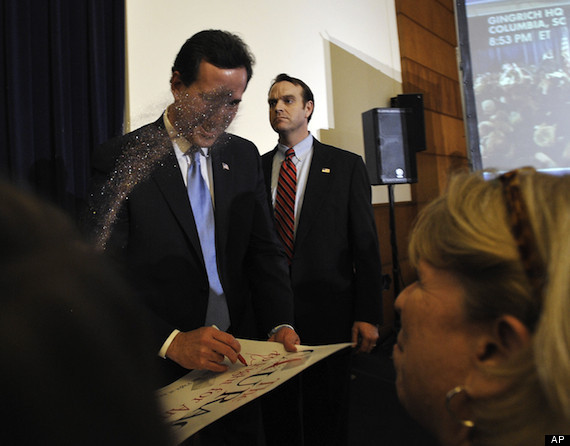 Lindsey Boerma, a reporter for CBS News and The National Journal, tweeted a picture of the glitter mid-air from another perspective:
This isn't the first time Santorum has been the target of glitter. At an event in Iowa in December, a man who yelled "Stop the hate, taste the rainbow" threw glitter at the former Pennsylvania senator.
And Real Clear Politics reported on Thursday, just two days before the South Carolina primary, that people protesting Santorum's stance on social issues at a rally in Mt. Pleasant, S.C. threw glitter at the candidate.
FOLLOW HUFFPOST