While some celebrities shivered over in Park City, Utah, Hollywood's A-list donned their best black dresses and hit the Beverly Hilton on Saturday night. Brad, Angie and more walked the red carpet of the 23rd annual Producers Guild Awards, yet another event in the months-long marathon that is this awards show season.
While it was no shock that "The Artist" took top honors, as it did at the Golden Globes, we were surprised by the fashion choices -- namely, Angelina Jolie's.
The "In the Land of Blood and Honey" director eschewed her stiff, stylized Golden Globes look (remember that tight silver dress and severe hair?) for a softer, sultry style: a black lace cut-out gown with a high slit, paired with a loose, relaxed hairstyle.
The overall look recalled Angie's sexier 2011 Golden Globes turn, when she wore her hair down against a glittering Versace dress.
But we also can't help but notice that she also looked a bit like Kate Middleton, who wore her brunette waves with a show-stopping black lace gown just a few weeks ago.
Angie wasn't the only one inspired by Kate last night: a whole slew of stars picked black for the red carpet. Check out Angelina, Jessica Chastain, Sofia Vergara and more celebs at the Producers Guild Awards -- who had the best look of the evening?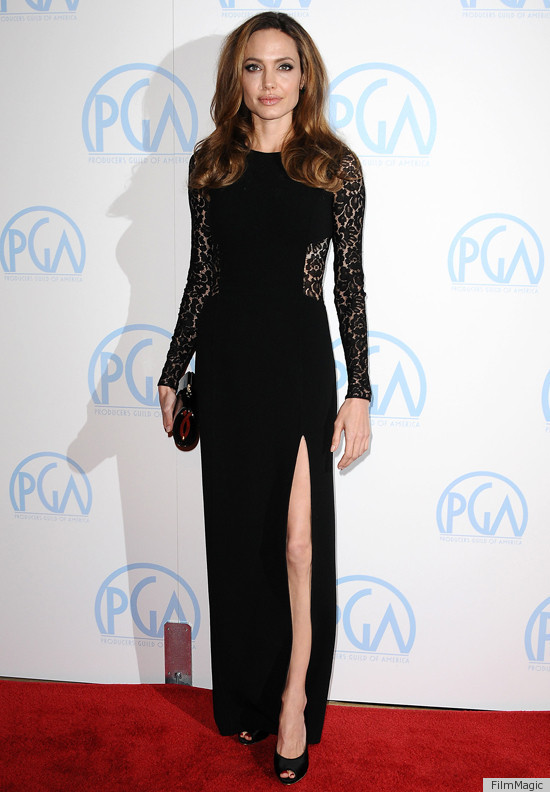 PHOTO GALLERIES
PRODUCERS-GUILD-AWARDS