Celebrities Hit The Beach, Have Fun In The Water (PHOTOS)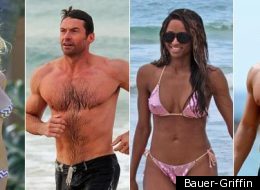 While many people are hunkering down and bundling up to keep warm during these long winter months, some celebrities hightail it to warmer climates.
We don't blame you if you get a twinge of jealousy while looking at these stars as they frolic on the beach and catch some killer waves -- it looks like tons of fun if you ask us. Let's not even get started on these stars' enviable figures.
Escape your winter blues, if only for a moment, and check out photos of stars having some fun in the sun below: