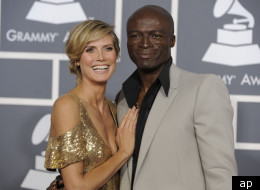 After seven years of marriage, Heidi Klum and Seal announced late Sunday that they are officially calling it quits.
The couple seemed blissfully in love throughout their marriage, with Klum once telling Oprah Winfrey, "I have the most romantic husband." They renewed their vows every year and have three biological children together -- plus Seal adopted Klum's eldest daughter from a previous relationship.
It's unclear what went wrong in the relationship -- though TMZ reports that Seal's temper may have driven a wedge between the pair. But even some of the couple's friends are scratching their heads over this split -- and so are we!
Whatever the reason, we're hoping that the star couple will rekindle their love.
Below, five other celebrity couples we wish were still married.
We Wish They Weren't Divorced
The nearly seven-year marriage of Kate Winslet and Same Mendes came to an end in 2010. The couple were publicly loved, particularly after Winslet affectionately called her husband "babe" at the Golden Globes.

Ethan Hawke and Uma Thurman split in 2004 after six years of marriage and two children together. Hawke has spoken highly of his ex-wife following their divorce, calling her a "phenomenal" mother. We loved this couple in "Gattaca."

Courteney Cox and David Arquette called it quits in 2010 after 11 years of marriage. Though the alleged cause of their split was an unfulfilling sex life, the stars have remained close friends. Recently, Cox told People that Arquette is her "very best friend."

It could have been Ashton Kutcher's alleged affairs, the 15-year age gap between him and ex-wife Demi Moore, or Moore's insecurities about the relationship. But whatever the cause, the couple called it quits in 2011 after six years of marriage. Their public affection (mostly on Twitter) and seemingly problem-free relationship with Moore's ex, Bruce Willis, and their children, made onlookers sorrowful when the pair announced their split.

After more than 40 years of marriage, Al and Tipper Gore made the surprising decision to split in 2010. Some have suggested that their tough marriage began to crumble when life finally settled down, others have said their interests simply began to diverge, while still others have alleged that Al Gore was cheating.