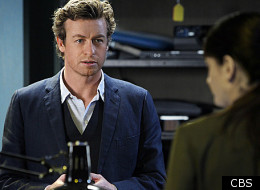 With so many police procedural dramas on TV, how do you keep things interesting? For starters, give your small screen detective more than a just a badge and mustache.
Over the course of the years, TV has seen its fair share of unconventional detectives. From fake psychic consultant Patrick Jane on "The Mentalist" to the blood-sucking title investigator on "Angel" to a feather-haired female trio, fighting for an unseen boss on "Charle's Angels," take a look at some of our favorite quirky crime busters below.
Patrick Jane (Simon Baker) is an independent consultant for the California Bureau of Investigation on "The Mentalist" (syndicated, Mondays, 8 p.m. EST on TNT), even though he's not at all an officer of the law. Despite his lack of legitimate paranormal abilities, the combination of his faux psychic medium skills and his previous gig as a con man leads to some unorthodox crime-solving techniques. But his efforts aren't all ill-intentioned: Patrick hopes to one day bring Red John, the murderer of his wife and daughter, to justice.

Perhaps the reason Neal (Matt Bomer) makes such a great detective is because he knows the criminal mind inside-and-out. Of course, that's easy to do when you're one of the most wanted criminals out there. Neal is a charming, highly-intelligent mastermind who keeps his friends close and his enemies closer. "White Collar's" resident sly fox may work with the FBI now, but he's always one piece of stolen artwork away from reverting back to his old, con artist ways.

A spunky teen sleuth? You don't get more unconventional than that! Veronica Mars (Kristen Bell) did more for the police than they'd like to admit. She solved a murder that rocked the entire town, figured out who was responsible for a bus crash that took the lives of many students and stopped a serial rapist. And those were just the big cases. That's one ambitious teen detective.

Since we're still mourning the loss of HBO's "Bored to Death," let us take a moment to remember the gloriously unqualified investigative efforts of one Jonathan Ames (Jason Schwartzman). After reading a Raymond Chandler detective novel, struggling author Jonathan posted an ad on Craigslist, deeming himself an unlicensed private eye. But thanks to his knack for finding missing people and outing cheating significant others, his side project continued to grow and even gave him new writing material. Of course, it also led to him being kidnapped and getting framed for murder, but you win some, you lose some.

Despite the fact that he was chock-full of phobias, Adrian Monk (Tony Shalhoub) was one of TV's most successful detectives during his eight-season run on USA Network, which came to an end in 2009. Sure, he was completely paranoid, stricken with OCD, and scared of more than 300 things, ranging from heights to harmonicas (guest star Sarah Silverman's character once counted); but those fears and that attention to detail were actually what helped him solve difficult cases.

Jill, Kelly and Sabrina (Farrah Fawcett, Jaclyn Smith and Kate Jackson, respectively) were the original angels -- with a few rotating replacements through the years. The women graduated from the police academy, but ended up fighting crimes on the private side, working for the Charles Townsend Agency. Their heard-but-never-seen boss Charlie kept them busy with new cases each week, which they always solved in the most stylish clothes, of course.

They certainly weren't the slickest private investigators around, but Hank Dolworth (Donal Logue) and Britt Pollack (Michael Raymond-James) might have been the most persistent gumshoes ever seen in San Diego. The show's catchphrase was, "Too small to fail," but these small timers' hearts were big. By stubbornly refusing to drop cases that implicated much more powerful men, the unexpectedly effective duo managed to shake up things up all over town. But what we miss most about this one-and-done season was the great chemistry between the show's perfectly matched leads.

A vampire detective? That sounds like the premise for the worst TV show of all time. But in the hands of co-creators Joss Whedon and David Greenwalt, the detective endeavors of well-meaning vamp Angel (David Boreanaz) and his eccentric crew became a fascinating study into the meaning of loyalty and the cost of personal growth. And if you get past the show's shaky first season, you'll be rewarded with some of the best serialized storytelling in the Jossverse.

"Moonlighting" reinvented the buddy cop genre by adding some simmering sexual tension to the mix. Maddie Hayes (Cybill Shepherd) and David Addison (Bruce Willis) were an odd-couple of private detective partners: Hayes was a former model and Addison was a fun-loving former LA detective. The show provided laughs, drama and plenty of sexy stakeouts.

There's a reason "Psych" is USA Network's longest-running series on air, and it probably has something to do with the chemistry between the psychic crime-solving duo, Shawn (James Roday) and Gus (Dule Hill). Shawn is a psychic consultant for the police. The only catch? He pretends to be a psychic. It's really his impressive memory and observational skills that help him crack the tough cases. And his buddy Gus? He's just along for the ride -- and to make sure Shawn doesn't get himself into too much trouble.

Best-selling mystery novelist Castle (Nathan Fillion) could've lived a lush life in that loft of his off Derrick Storm's money forever; but a case of writer's block and a love for living on the edge landed him at the NYPD, tailing Det. Kate Beckett (Stana Katic) for inspiration. He doesn't get paid for tagging along to crime scenes, but being a pro at writing crimes has made him quite adept at solving them: Now the Nikki Heat novels -- based on Beckett, of course -- are his new money-maker.