Celebrity Travel: The Famous Faces Of Tourism Ads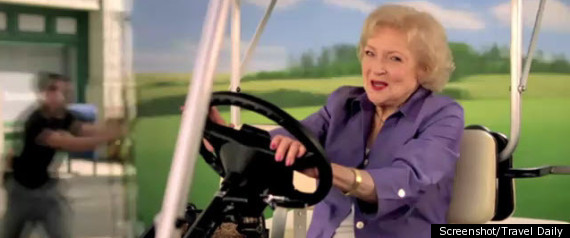 When we reported that actor Michael Fassbender's first gig was going nude for SAS airlines, we wondered how many other celebrities had lent their talents to the travel industry. As it turns out, there were quite a few.
Some ads are packed with the famous and infamous: Who hasn't seen the California crew of celebrities shilling for the Golden State? Others are equally memorable if a little more subtle, like those soothing Pure Michigan ads voiced by Tim Allen. On the other hand, we didn't expect to spot Little Richard in a spot for Branson, Missouri.
It's not just about location location location, either. Case in point: William Shatner's Priceline Negotiator -- may he rest in peace.
Here are a few famous faces and voices we were able to round up. Can you think of another celebrity that advertised for the travel biz? Let us know in the comments below!
Loading Slideshow
California: Kim Kardashian, Betty White

One of many milti-celebrity California ads, this installment features the likes of Kim Kardashian, the Jonas Brothers, Michael Chiarello, Jason Mraz and Betty White.

Philadelphia: Oprah Winfrey, Bill Cosby

This 1998 Philly spot features the voices of Oprah Winfrey, Bill Cosby and Ken Burns. Wonder if that celebrity travel guide is still available.

Vancouver: Michael J. Fox, Kim Cattral, Ryan Reynolds

Long and a tad dramatic, this Vancouver 2010 ad features British Columbians Michael J. Fox, Ryan Reynolds, Erick McCormack, Kim Cattrall, Steve Nash, and Sarah McLachlan.

Michigan: Tim Allen

Tim Allen is the voice of the "Pure Michigan" series of ads.

Tennessee: Keith Urban

Australian Keith Urban shares with us his adoptive home of Tennessee.

Branson, Missouri: Little Richard

In this apparently never before seen commercial, music legend Little Richard shows some love for Branson.

Barbados: Rihanna

It's no surprise that musical siren Rihanna's ad for her home of Barbados would be both beautiful and feature a catchy song.

Balearic Islands: Rafael Nadal

Tennis star Rafael Nadal, who hails from the Balearic island of Mallorca, Spain, appeared in this ad for the islands of Mallorca, Menorca, Ibiza and Formentera.

Walt Disney World: The 'Cosby' Family

Walt Disney World in Florida got the star treatment in the '80s with this ad featuring the famous TV family.

Turkish Airlines: Manchester United

Soccer players from England's Manchester United team acted in this goofy safety video for Turkish Airlines.

American Airlines: Kevin Spacey

Part of a new advertising campaign launched in late 2011 by American Airlines, this ad shows Kevin Spacey in three characters and as himself.

Priceline: William Shatner

William Shatner is well known in the travelsphere as the Priceline Negotiator. Sadly, though, he was <a href="http://www.huffingtonpost.com/2012/01/19/priceline-kills-off-willi_n_1215916.html" target="_hplink">killed off in a bus accident</a>.