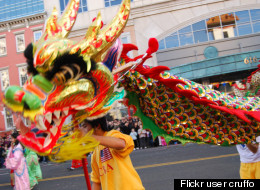 WASHINGTON -- The most important day in Chinese culture, Chinese New Year, kicked off Jan. 23 and families across the area will continue to celebrate the holiday through Feb. 6. It's the Year of the Dragon, considered to be the luckiest year in the Chinese zodiac. As always, the New Year is a colorful, raucous event filled with fireworks, special foods and gifts of money sealed in red paper envelopes.
What's less well-known is that it's also the New Year's for several other Asian communities, including those from Korea and Vietnam. Although customs and exact dates may vary slightly, it's the most important and popular holiday in these countries as well.
[SCROLL DOWN TO FIND CHINESE NEW YEAR RESTAURANT SPECIALS...]
How do people in the D.C. area observe these many festive events? The Huffington Post caught up with a few locals to dish about how they celebrate.
Rockville resident Eugene Hwang's family hails from Taiwan, but for many years they have maintained a series of traditions from their homeland since settling in the Maryland suburb more than 20 years ago. Typically, Hwang's family prepares dishes numbering exactly 10 -- a lucky number in Chinese culture.
Among them is a fish plate that remains uneaten until the second day of the New Year. "It's more for praying to the 'fish god' to provide us with plenty of fish the coming year," explained Hwang. "Fishes back then [when my family lived in Taiwan] were our livelihood." The family together says aloud the phrase nian nian you yu, which means "may there be fish every year."
They also prepare dumplings that, in place of the typical pillowy white dough, are covered in thin egg skins representing ancient Chinese coins. A real quarter is hidden in one of them; tradition says whoever finds it will be prosperous in the coming year. The traditional red envelopes, which Hwang said are bestowed on children still in school, contain amounts of either $60 or $120 -- more lucky numbers.
Denise Nguyen now lives in the Mt. Pleasant neighborhood of D.C., but her family is scattered around the state of Virginia since moving there from Vietnam. Nguyen knows a little something about tradition -- she was half of the team behind Capitol Hill's modern Vietnamese restaurant Ba Bay, named for and inspired by her grandmother, which shuttered in November.
The New Year is an important holiday in her family for many reasons, some of which may ring especially true this year. "Not only do we celebrate the idea of a clean slate," she said, "but it's a day where you honor your ancestors, and loved ones who have passed."
Each household in her family, which includes those of two uncles and five aunts, spends the entire day cooking up extensive and entirely vegetarian feasts. The Nguyens are Buddhists, which means including deceased relatives in the celebration. Two tables are set -- one for the living and one for elders who have passed on. Each seat has a place setting that includes a cup for tea, a cup for wine, flatware and bowls, "as if you were having a dinner party and they are all coming over to eat with you."
Everything is highly ritualized -- the way one washes beforehand, the way the meal is prepared, the manner in which the table is set up, the arrangement of flowers and candles. "It's a type of mediation," Nguyen explained. "Nothing is rushed... the point is to do it perfectly. In fact, we keep separate flatware and plates, chopsticks just for this ritual."
Once the table is filled with food, candles and incense are lit and the family welcomes and thanks their ancestors. Then it's time to feast.
"Vietnamese people love to prepare too much food," Nguyen joked. "I would end up eating delicious and elaborate vegetarian food for about three days."
Looking for a way to celebrate the Chinese New Year? Click through the below slideshow for restaurants (and a festival!) offering special dishes and menus celebrating the Year of the Dragon. You can also catch a Chinese New Year parade featuring colorful dragons on Jan. 29 in Chinatown starting at 2 p.m.
Photo by Flickr user cruffo.
Lest you feel bored by a single event, Ping Pong Dim Sum has decided to go into overdrive in the party department. There's a whole slew of events to choose from at the eatery's Chinatown and Dupont Circle locations. Among them: A "Green Dragon Party Brunch" on Jan. 29th and Feb. 5th -- wear something green and get 15 percent off your entire bill; a "Lady Dragon Night" on Jan. 24 and Jan. 31 -- ladies get a free glass of Champagne; and a "Red Dragon Party" on Jan. 28 and Feb. 4. -- from 10 p.m. until midnight, those dressed in red get a complimentary martini from the Ping Pong After Dark menu. There's also a $70 prix fixe menu for two that features a bunch of holiday-themed dumplings and other dishes, plus dancers are slated to randomly show up through Feb. 6. Read more about it here.

On Jan. 24 and 25 respectively, Toki Underground chef Thang Le and guest Scott Drewno (who helms the kitchen at The Source) will present two eight-course tasting menus that put a modern spin on traditional Chinese New Year fare. There'll be two seatings each night, at 6 and 8 p.m. Reserve your seat ($65 a person) by calling 202-388-3086. TBD dishes a bit about the dinners, though warns that it might be difficult to snag a seat. It's already sold out, but feel free to put your name on the wait list.

If you couldn't snag a seat at head chef Scott Drewno's pop-up dinner at Toki Underground, better journey to The Source for a five-course tasting menu in honor of the Year of the Dragon. The courses are inspired by a slew of dragons: The fire dragon (lobster dumplings), water dragon (roasted loup de mer), wood dragon (applewood smoked peking duck) and more. Dinner is $125 per person or $175 with wine pairings and will be offered through Feb. 3.

Zentan's four-course prix fixe menu runs for $47.10 -- in honor of this year in the Chinese calendar, 4,710. The menu designed by chef Susur Lee and executive chef Jaime Montes De Oca features dishes like Berkshire pork and shrimp dumplings with swatow Chili, Zentan's signature 19-ingredient Singapore slaw (above), and crispy red snapper with chili black bean sauce. It's being offered through Jan. 28.

Asia Nine is getting in on the Chinese New Year game with a "Kiss of the Dragon"-themed four-course prix fixe dinner featuring items like crispy taro with seasoned crispy fried shrimp and sweet sesame sauce; wok-fired seafood "dragon" seafood with stir-fried vegetables and herbs atop egg noodles; and sweet ginko sesame rice balls for dessert. The dinner is $35 a head and started on Jan. 23.

The Asian Community Service Center's fifth annual Chinese New Year celebration goes down Jan. 28 and will feature beautiful dances from a host of Asian cultures celebrating the New Year, foods from all over Asia and exhibitions from the community. It's being held from 10 a.m. until 7 p.m. at Luther Jackson Middle School in Falls Church, Va., and admission is free. We're not exactly sure what they'll be serving up, but pictures from past years feature lots of bubble tea, dumplings and sticky rice. Just get a load of this food court.