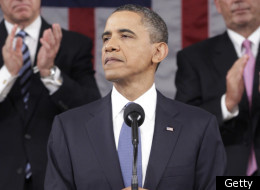 President Barack Obama will deliver this year's State of the Union speech to a joint session of Congress on Tuesday night.
HuffPost's Jen Bendery reports on what the president can be expected to say in his remarks:
Obama's third State of the Union address, which airs on all major networks at 9 p.m. EST, will map out a vision for boosting the economy and strengthening the middle class, based on four pillars, White House press secretary Jay Carney said in a Monday briefing. Those pillars are American manufacturing, American energy, skills for American workers, and American values. The president also will adopt a tone that ran all through a speech he gave in Kansas last month -- one that many are equating with a historic speech that Teddy Roosevelt gave in 1910 -- that carries a strong message about social and economic equality.
Indiana Gov. Mitch Daniels will deliver the Republican response to the president's address. Meanwhile, former presidential candidate Herman Cain will give a Tea Party rebuttal to the speech.
Check out the live blog below for the latest updates.
HuffPost's Ryan Grim reports:
Senate Majority Leader Harry Reid (D-Nev.) said Tuesday night he would support legislation to end insider trading among members of Congress and saw no reason why the bill couldn't become law this year.

President Barack Obama called on Congress during his State of the Union address to swiftly pass legislation barring legislators from investing in companies whose business is affected by matters before the two chambers.

"Well, I think people should have enough sense not to do it without legislation, but I will support legislation," Reid told a handful of reporters after the speech.
Click here to read more.