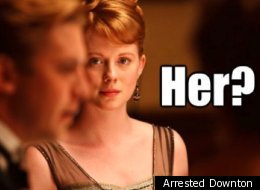 Wednesday is upon you, as is a fresh batch of steaming-hot time wasters to help your afternoon go by a little faster. So if figuring out your Blues name and watching people roll a huge tire down a hill isn't quite high-grade enough of a distraction for you, rest easy now. This list is here.
As always, be sure to vote for your favorites and let us know if you come across any awesome new time-wasters that you think we should feature.
7 Sites You Should Be Wasting Time On Right Now (PICTURES)
White Out News takes the normal, boring headlines and makes them something far more interesting with the power of Liquid Paper.

Comedian Andrew Hamer has a daily calendar filled with "Life's Little Instructions," but he's decided to modify them a little bit.

Love Deal With It Dog, but wish that the sunglasses were slowly lowering themselves on to your face? Wait no longer!

Downton Abbeyonce can move over, cause there's a new Downton Abbey blog in town, and they're combining Arrested Development quotes with Downton Abbey stills to some surprisingly great results.

With the rising popularity of aspirational lifestyle sites like Pinterest, Aggresive Whimsy looks to take things down a couple notches. You know, the usual way. With sarcasm.

Give anyone you want those signature Bieber locks by uploading a photo to Bieber It. You'll look like a dreamy teen in no time.

A blog full of lovely landscape photos with witty captions for the Mennonite in us all.