Babies Born With Intuitive Grasp Of Physics, Scientists Say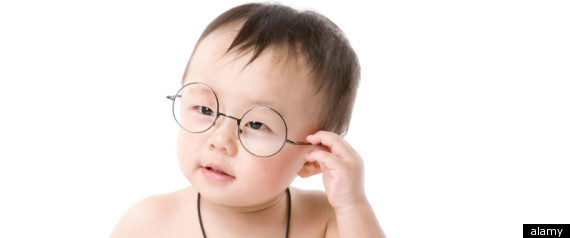 Joseph Castro, LiveScience Staff Writer
01/24/2012 06:22 PM EST
LiveScience
Infants as young as 2 months old already have basic knowledge of "intuitive physics," researchers report in a new study.
Most studies into infant cognition employ eye-tracking technology — psychologists can tease out what an infant is thinking and what she considers to be unexpected by following her gaze in different scenarios. This method, called violation of expectation, involves showing babies photos, videos or events that proceed as expected, followed by others that break everyday rules. If the infant understands the implicit rules, he or she will show little interest in an expected situation, but will stare at images of a surprising event.
But at what point in their development do babies begin to understand how the physical world works?
"We believe that infants are born with expectations about the objects around them, even though that knowledge is a skill that's never been taught," Kristy vanMarle, an assistant professor of psychological sciences at the University of Missouri, said in a statement. "As the child develops, this knowledge is refined and eventually leads to the abilities we use as adults."
To come to this conclusion, vanMarle and her colleague, Susan Hespos, a psychologist at Northwestern University, reviewed infant cognition research conducted over the last 30 years. They found that infants already have an intuitive understanding of certain physical laws by 2 months of age, when they start to track moving objects with both eyes consistently and can be tested with eye-tracking technology.
For instance, at this age they understand that unsupported objects will fall (gravity) and hidden objects don't cease to exist. In one test, researchers placed an object inside of a container and moved the container; 2-month-old infants knew that the hidden object moved with the container.
This innate "physics" knowledge only grows as the infants experience their surroundings and interact more with the world. By 5 months of age, babies understand that solid objects have different properties than noncohesive substances, such as water, the researchers found.
In a 2009 study, a research team (which included Hespos) habituated 5-month-old infants to either a blue solid or a blue liquid in a glass cup, which appeared to be the same when at rest. They tipped the glasses left and right, and poured the contents into other glasses, allowing the infants to form ideas about how the substances worked. Infants habituated to the liquid (but not the solid) weren't surprised that straws could penetrate it, but were confused when straws couldn't penetrate the blue solid. The opposite happened with infants habituated to the solid.
Hespos and vanMarle also learned that babies have rudimentary math abilities: Six-month-old infants can discriminate between numbers of dots (if one set held twice as many dots as the other), and 10-month-old infants can pick out which of two cups holds more liquid (if one cup held four times as much liquid as the other). Also at 10 months of age, babies will consistently choose larger amounts of food — such as crackers — in cups, though only if there are no more than three items in any cup.
While infants appear to be born with intuitive physics knowledge, the researchers believe that parents can further assist their children in developing expectations about the world through normal interactions, such as talking, playing peek-a-boo or letting them handle various safe objects.
"Natural interaction with the parent and objects in the world gives the child all the input that evolution has prepared the child to seek, accept and use to develop intuitive physics," vanMarle said.
The study was published in the January issue of the journal WIREs Cognitive Science.
Copyright 2011 LiveScience, a TechMediaNetwork company. All rights reserved. This material may not be published, broadcast, rewritten or redistributed.
Related on HuffPost:
7 amazing things you probably didn't know about babies:
Loading Slideshow
Their Baby Cuteness Doesn't Predict Adult Attractiveness

A study published in the journal <em>Infant Behavior & Development</em> revealed that the standard "<a href="http://www.google.com/url?sa=t&rct=j&q=&esrc=s&source=web&cd=1&ved=0CCQQtwIwAA&url=http%3A%2F%2Fwww.youtube.com%2Fwatch?v%3DXTV8bOv3Jhs&ei=0uLBToKrMuPu0gHkmNH0BA&usg=AFQjCNFtutJJhlTFZJ2fm-cmsDo46XMpzw" target="_hplink">You Must Have Been a Beautiful Baby</a>" has little to do with reality. When 253 college students were asked to rank photos of the same individuals as infants and young adults (without being told who was who), there was <a href="http://bodyodd.nbcnews.com/_news/2011/08/31/7542626-must-have-been-a-beautiful-baby-maybe-not" target="_blank">no relationship between how cute the students found the babies and how attractive they found the grown-ups</a>.

They're Good At Sharing

No, really, it's true. It doesn't matter how many times you've heard the shout "Mine!" -- research shows babies can sense fairness at 15 months. During one study at the <a href="http://www.washington.edu/news/articles/babies-show-sense-of-fairness-altruism-as-early-as-15-months-1" target="_hplink">University of Washington</a>, 47 babies observed videos of an experimenter distributing milk and crackers to two people. When one recipient received more food than the other, the babies paid more attention. That means they had expected a fair distribution. The researchers also found that babies who did notice unfairness were more likely to share their own toys.

They Read Minds

OK, so they're not exactly psychic. But a <a href="http://www.sciencedaily.com/releases/2011/11/111101130204.htm" target="_hplink">recent study</a> from the University of Missouri found that babies just 10 months old are starting to follow the thought processes of others. Yuyan Luo, an associate professor of developmental psychology who conducted the study, tells The Huffington Post, "Babies, like adults, when they see something for the first time -- when something is surprising -- they look for a long time. It shows [they recognize] something is inconsistent." It's called the "violation of expectation," she explained. When babies are surprised by something or notice something unexpected has happened, they tend to gaze at that thing longer. In Luo's research, babies watched actors consistently choose object A (such as a block or a cylinder) over object B. When an actor then switched to object B, the babies stared for about five to six seconds longer, meaning they recognized the change in preference.

They're A Little Bit Racist

Don't judge a book by its cover. Treat all people the same. We're all equals. These are sentiments parents strive to teach their kids from a very young age. And they should. Starting, like, immediately. Researchers at the University of Sheffield in the United Kingdom found that babies at three months <a href="http://www.world-science.net/exclusives/060212_racefrm2.htm" target="_hplink">begin showing a preference for the faces of people of their own race</a>. But not all hope for equality is lost. The same study showed that babies who are exposed to people of all different races are less likely to develop bias at such an early age.

The Rhythm Is Gonna Get Them

Researchers from Brigham Young University found that five-month-old babies can <a href=" http://news.byu.edu/archive08-oct-babymusic.aspx" target="_hplink">identify an upbeat song as being different from a series of sad, slow songs</a>. In other words, they are happy. They know it. They will clap their hands. Or stare longer, as the case may be. The experimenters showed babies an emotionless face while music played. When they played a new sad song, the babies looked away. When the music pepped up, the babies stared for three to four seconds longer.

They Can Tell The Good Guy From The Bad Guy

Babies have a sense of morality at six months old, <a href="http://www.dailymail.co.uk/news/article-1275574/Babies-know-difference-good-evil-months-study-reveals.html" target="_hplink">say Yale researchers</a>. During the Yale study, babies watched a puppet show in which a wooden shape with eyes tried to climb a hill over and over again. Sometimes a second puppet helped him up the hill, and other times a third puppet pushed him down. After watching the act several times, the babies were presented with both puppets. They showed a clear preference for the good characters over the bad ones by reaching to play with the good puppet.

They Can Read Lips ... Kind Of

Dr. Janet Werker of the University of British Columbia, who studies how babies perceive language, found that if a mother spoke two languages while pregnant, her infant could <a href="http://www.livescience.com/13016-bilingual-babies-brain-language-learning.html" target="_hplink">recognize the difference</a> between the two. And they don't even have to be spoken out loud. Werker's research found that infants four to six months old can <a href="http://www.nytimes.com/2011/10/11/health/views/11klass.html" target="_hplink">visually discriminate two languages</a> when watching muted videos of someone speaking both.