A super-hard ridge pattern inspired by scorpions takes the sting out of erosion in a new paper published in the American Chemical Society journal, Langmuir. A group of scientists, looking to create a material that prevents the sort of erosion that happens to helicopter blades, fans and turrets, found an effective geometric patten modeled after the hard shells of certain scorpions.
Yellow fattail scorpions, whose bodies are adapted to desert environments, don't get beaten up by sandstorms nearly as much as other species would. This makes them the perfect model for experimental efforts to prevent damage from the impacts of many tiny particles.
According to the abstract of the paper, by Han Zhiwu et al.,
"Results showed that the desert scorpions used special microtextures such as bumps and grooves to construct the functional surfaces to achieve the erosion resistance...The result demonstrated that the microtextured surfaces exhibited better erosion resistance than the smooth surfaces."
The team used advanced computational modeling techniques to simulate the fluid movement of small particles, and came up with a deceptively simple result. According to a written statement, "Their results showed that a series of small grooves at a 30-degree angle to the flowing gas or liquid give steel surfaces the best protection from erosion."
Look closely at the image below; you can see the outline of a scorpion's body and legs. The ridged parts of the shell are blue and the flat parts are white, and the intricate rippling pattern can be clearly noticed.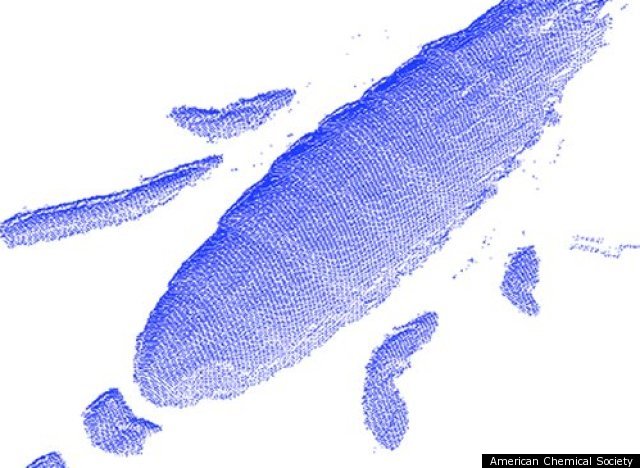 The technology may be able to be applied to all sorts of things that spin or speed, although don't expect to see ceiling fans with tiny scales any time soon.
Click below to see more examples of 'biomimicry,' or applied biological adaptations.
SLIDESHOW: 15 Lessons From Nature On How To Live Healthier, Happier And More Sustainably
One early autumn day, David Oakey and his design team at the carpet manufacturer InterfaceFLOR strolled through a deciduous forest with Dr. Dayna Baumeister, co-founder of Biomimcry 3.8. The walkers noticed repeating patterns on the forest floor. Up close, they saw shapes, leaves and reflections. When they stepped back, the random landscape turned into a sort of uniform chaos. By replicating nature's randomness, the carpet manufacturer reduced its waste and its toxic legacy. Matching the color of a standard carpet is difficult, as each dye lot can vary noticeably. This can mean tossing out replacement runs or producing material that is never needed. But now, instead of uniform carpets identical in every square foot, InterfaceFLOR is making tile with a slightly different pattern and color, so that the whole blends into an intentionally variable pattern. Any tile spilled upon or damaged could be easily replaced, with old tiles recycled into the production of other tiles. "Nature makes only what she wants, where she wants and when she wants. No waste on the cutting-room floor," writes Janine Benyus in her book, "Biomimicry: Innovation Inspired By Nature."

The growing knowledge of how a morpho butterfly or peacock displays vivid colors offers alternatives to chemical dyes and pigments, which often contain toxic heavy metals. The surface of the creatures' delicate wings or feather fibers plays with the wavelengths of incoming light, similar to how light goes through prism.

Recent research has demonstrated that a spider can spin its silk with one-thousandth the energy that it takes to produce the typical synthetic fiber. One of its secrets: the ability to produce silk at ambient temperatures. At the same time, arachnid's product is stronger and tougher than its synthetic counterparts. The findings, according to Fritz Vollrath, a zoologist at The University of Oxford, point to the potential for energy savings. Vollrath, co-author of a paper describing the finding in the January issue of Advanced Materials, adds that the only solvent needed in the spider's processing is water -- none of the "nasty to very-nasty chemicals" that traditionally infiltrate fiber manufacturing.

The epidemic erosion of America's topsoil may not be immediately obvious: increasing application of agricultural fertilizers and pesticides offsets the immediate consequences of long-term tilling, lack of diversity in plants and the prior use of fertilizers and pesticides, says Wes Jackson, president of The Land Institute, a Kansas-based sustainable agriculture research group. He calls the reliance on these fossil fuel-derived products a "kind of chemotherapy for an essentially cancerous condition of the landscape." Over the last 10,000 years, civilizations were built on topsoil, he explains. But when that soil eroded, so did the civilization. A natural prairie, on the other hand, simply runs on sunlight. Instead of fertilizers, the land uses biological nitrogen fixation. A strong root system protects it from floods and droughts. And with greater diversity of plants, a prairie showcases greater chemical diversity and fewer pests. Insects that target a specific plant will waste energy buzzing around to find it, explains Jackson, leaving less energy available to produce sperm or eggs. Further, prairies and the rest of natures' land-based ecosystems feature perennials that don't need to be replaced every year. But today's grains are all annuals, thanks in part to humans' manipulative hand. Jackson's idea: "Why not develop perennial grains and then put them in mixtures that would mimic the structure of prairies?"

The scaly surface of shark skin is naturally antimicrobial -- easily sloughing off barnacles or bacteria. Sharklet Technologies is now mimicking this microscopic pattern to create products that could be easily cleaned. The concept may prove particularly useful for hospitals, minimizing the need for harsh cleaners or antimicrobial agents that can lead to antibiotic resistance.

The grooves of the Thorny Devil effortlessly collect water from rain, dew, even soil moisture -- against gravity. Capillaries carry the water from the desert lizard's skin to its mouth. A similar strategy may provide more clean water to the 1 billion people estimated to lack the vital resource.

Builders might want to take a few lessons from the Macrotermitine termite. The inside of the insect's mound manages to stay a constant 87 degrees Fahrenheit, even with outside temperatures fluctuating from the 30s to 100s. (This is the ideal temperature for the fungi that termites cultivate.) Modeling buildings after the same design -- which relies heavily on tunnels, chimneys and the use of wind to create pressure fields -- saves energy, as evidenced by the Eastgate Center in Zimbabwe.

With inspiration from cold-loving creatures such as the Antarctic ice fish and Upis beetle, researchers are coming up with potent antifreezes that are less likely to pollute waterways. The beetle, a native of Alaska, can survive at temperatures as low as -70 degrees Fahrenheit, notes John Duman, a biology professor at the University of Notre Dame. Applications for the insect antifreeze could range from the cryopreservation of cells and tissues, to the protection of pipes and agricultural crops. "If you could get something like antifreeze on the wings of an airplane, you could keep ice from forming," adds Duman.

The leaves of the lotus (or water lily) are covered with tiny bumps that naturally deflect dirt and water. This remarkable ability to stay clean and dry has long made the leaf a symbol of purity in many religious circles. Now, industry is mimicking the plant's structure to help produce water-repellent and self-cleaning surfaces, from clothing to cars.

The 40,000 muscle bundles inside an elephant's trunk have inspired a robotic arm capable of smooth, tightly controlled and wide-ranging movement. It's incredibly strong too, despite being built with simple components and neither steel nor iron. In addition to aiding people who are handicapped, the bionic arm could be used for applications in medicine and agriculture.

While a dog may frequently be responsible for dirtying clothes, man's best friend is also inspiring better washing machines and dryers. Rapid shaking quickly dries wet fur -- and appears to be more effective than the standard spin cycle.

Researchers at Oregon State University have been studying the movements of a variety of animals -- from humans to birds to our four-legged friends. And they're finding some consistent principles across all legged locomotion, according to Jonathan Hurst, a robotics expert at the university. Those principles could be used in building prosthetic limbs that work better with the biomechanics of the human body. The U.S. military's Defense Advanced Research Projects Agency (DARPA) has also funded Hurst's team to build an human-scale two-legged robot that can run and walk. Within the next 10 years, the technology could be helping soldiers carry more equipment over longer distances.

The body of the woodpecker takes a pounding. Thankfully, evolution has built the bird so that it can take it: the curved body shape and tail act as a bracing spring, while an oversized and fully-supported beak protects the brain. These insights may lead to shock-absorbing helmets, buildings designed to withstand earthquakes and jackhammers that cause less impact on construction workers.

The streamlined shape of the kingfisher's beak allows it to glide gracefully into water without any splash. And now, evolution's handiwork is providing a useful model for more fuel-efficient vehicles and planes. It's also speeding up trains. In Japan, the kingfisher-inspired Shinkansen Train travels at a 200-mile-per-hour clip with minimal noise.

By observing the behavior of chimpanzees, scientists are gaining insights into potential new drugs. Our human cousins, it turns out, have an uncanny ability to self-medicate -- picking and consuming natural antibiotics, painkillers and contraceptives. Chimps have even been caught rolling bad-tasting Aspilia leaves in their mouth before swallowing, much like a human pill.