State Of The Union 2012: Take Action On Nation's Most Pressing Problems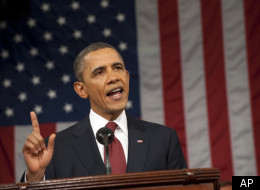 President Obama highlighted one primary problem in his annual State of the Union address Tuesday night.
He identified economic inequality as "the defining issue of our time."
"No challenge is more urgent. No debate is more important," the President stated. "We can either settle for a country where a shrinking number of people do really well, while a growing number of Americans barely get by. Or we can restore an economy where everyone gets a fair shot, everyone does their fair share, and everyone plays by the same set of rules. What's at stake are not Democratic values or Republican values, but American values. We have to reclaim them."
Obama also reiterated his call for the "Buffett Rule," pointing out that billionaires should be taxed at higher rates by pointing out that Warren Buffett's secretary pays a higher effective rate than he does. Meantime, he pointed to the the still-steady lineup at the unemployment office, the need for quality teachers and returning military members who need support, among other issues.
"Do we want to keep these tax cuts for the wealthiest Americans?" he asked. "Or do we want to keep our investments in everything else, like education and medical research; a strong military and care for our veterans? Because if we're serious about paying down our debt, we can't do both."
As proven before, when Americans turn ideas into action, they can help solve problems in their own communities. Check out our suggestions for taking action to address the most pressing issues raised in last night's State of the Union.
SLIDESHOW:
Economic and job woes have pushed many formerly middle class families into a bracket the government defines as poor. In places such as Mississippi, with the nation's highest poverty rate of 22.4 percent, families continue to lean on nonprofits. And with a 1 in 6 hunger rate, resources such as food pantries face an unprecedented demand. "We are seeing many more seniors, but we're also seeing many more families with children," Doreen Wohl, executive director of New York's West Side Campaign Against Hunger, told the Huffington Post. "People are coming as a last resort. They've exhausted all other resources." Take action by volunteering at a local food bank or donating to support families in your community. Find opportunities at Feeding America or Meals on Wheels.

For the first time in nine years, there are no troops fighting in Iraq, which means more attention than ever needs to be paid to the organizations that address the issues these men and women face when they return home. When it comes to bringing down the 13.1 percent veteran unemployment rate, Hire Heroes USA connects its clients with job-search and placement resources. For those living with visible and invisible wounds, such as post-traumatic stress disorder and traumatic brain injuries, the Disabled Veterans National Foundation provides wounded veterans with the services they need to heal and transition back into society.

While owning a home is the foundation of the American dream, that's a challenging priority to fulfill when nearly half of all Americans have hit poverty or low-income levels. Despite such record-breaking figures, Habitat for Humanity continues to perpetuate its belief that "every man, woman and child should have a decent, safe and affordable place to live," by building homes for those in need in the U.S. and worldwide.

If you're fortunate enough to be gainfully employed, give back to your community by sharing your talents through pro-bono and skill-based service. A number of nonprofits need volunteers to help grease their gears. Donate your web design skills to a crisis center or your legal knowledge to a social service organization. Take action by checking out sites such as Catchafire or A Billion + Change, which match professional skills with nonprofits that need help addressing issues in underserved communities nationwide.