Teen Beating Video Has Teens Concerned About Their Safety At School, In Community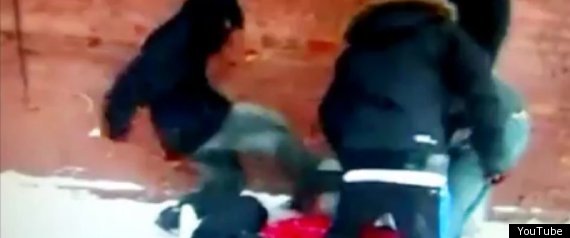 About the authors: Julianne is a senior at Elk Grove High School and Erik Martinez and Salomon Navarro are senior and sophomore students, respectively, at Curie High School. All students are reporters for The Mash, a weekly teen publication distributed to Chicagoland high schools.
Friends posting videos and sharing information online is now considered the norm, but the line between what is and isn't appropriate to share isn't always clear. While the YouTube generation has reaped the benefits of social networking, it has also shown a taste for violence in its social media, some teens and psychology experts say.
A video of a 17-year-old Curie senior that showed him being kicked and punched repeatedly in a Bridgeport alley near James Ward Elementary School on Jan. 15 went viral and, within days of the assault, led to the arrest of seven Chicago-area teenagers, some turned in by their parents. An eighth teen, the brother of one of the previous suspects, was arrested on Monday.
The video showed six boys attacking the victim as he pleads for them to stop. The group also stole his wallet with $180 and his Nike shoes, according to prosecutors.
Melissa Quintana, a sophomore at Kelly, said she was shocked to see the video.
"(The victim) was so defenseless," she said. "This shouldn't even be considered a fight; it was an attack."
The two brothers who have been arrested currently reside in Arlington Heights, but are former residents of Armour Square, near where the attack took place. The other suspects live in Chicago.
Two 16-year old boys, three 15-year old boys and a 15-year old girl­—who lured the victim into the alley and who, police say, recorded the video—were cited with juvenile delinquency petitions and charged with robbery and aggravated battery.
On Tuesday, Judge Terrence Sharkey ordered them to be confined at home on electronic monitors. The teens also won't be allowed to use cellphones or leave home, except to attend school, but one of the attorneys representing the teens told the Chicago Tribune that all of them had been suspended for 10 days. They also could be expelled from Chicago Public Schools.
Raymond Palomino, 17, is the only suspect being charged as an adult. A judge set bond at $100,000 on Jan. 18. Palomino was turned in by his father, Michael, a Cook County sheriff's deputy, after comments online identified him by name. A Cook County judge refused to lower Raymond Palomino's bond, and he was being held in protective custody as of press time on Tuesday.
After the video was posted on YouTube, it instantly grew into an Internet sensation, garnering sparks of controversy and a public outcry of disbelief.
Curie senior Martha Razo had one question: "How could people do that?"
Dr. Steven Meyers, a clinical psychologist and professor at Roosevelt University, said this type of violence usually occurs because of a related event: A simple glare or provocative look can be taken as an insult. "Often times, the response doesn't seem proportional to the initial incident," he said. "For example, some perpetrators responding to a verbal insult with physical aggression."