Guy Fieri Eating In Reverse: 'Conan' Transforms Food Television (VIDEO)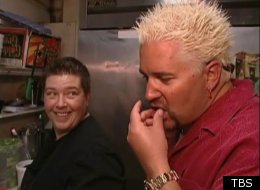 Thought you'd seen all the tropes of food television? In their continued efforts to deliver "revolutionary, ground-breaking" TV, Conan and friends demonstrate that there's a better way to show guys eating things. Behold, Guy Fieri eating in reverse.
Said Conan, "You haven't seen it before, and you will never see it again."
[Via Eater]
To see Fieri eat forwards, check out the video below: