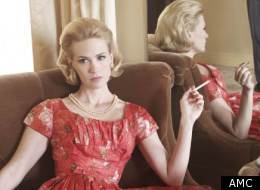 If you love everything from "Mad Men" and "New Girl" to "Jersey Shore" and "Real Housewives," you're not alone. Now we know stars really are just like us in their TV-watching habits, after getting some of the biggest names on the small screen to confess what they watch on TV.
January Jones can't watch anything longer than 30 minutes ever since giving birth to her son Xander (does that mean she won't watch the upcoming season of "Mad Men")?; "Raising Hope" funny lady Martha Plimpton has gotten into a comedy that's so dark, she jokes that it makes her suicidally depressed; and "Touch" star and "24" vet Kiefer Sutherland followed his old boss' work and got into "Homeland."
But which half of a famous TV couple forgot to mention her husband's hit show? We've got that in our video above, plus a TV legend professes her love for "Toddlers & Tiaras," and another Emmy-winning TV diva doing her best impersonation of a botox-ed Kyle Richards from the "Real Housewives of Beverly Hills."
We also put together a gallery below of stars talking TV, so sit back, click through, watch and enjoy!
What TV Stars Watch On TV
"God, I watch a lot of crap ... Beverly Hills 'Housewives.' I really love 'New Girl' and 'Modern Family.' I try to watch a lot of comedy -- I can't watch anything that's over half an hour lately because the baby always wants something. 'Jersey Shore' just started up again, too ... my taste is very, uh, unrefined."

"These days I'm watching a lot of 'Pippa Pig' and I'm watching a lot of 'Yo Gabba Gabba.' I can sing any 'Yo Gabba Gabba' song if you're up for it. [Laughs]"

"I watch 'Real Housewives' of any city. 'Atlanta' might be my favorite just 'cause Kandi's my favorite housewife of all of them. What else do I watch? 'New Girl,' 'Up All Night' and I'm loving 'SNL' lately. I've gotten back into 'SNL' ... I would love to [host 'SNL']. Are you kidding me? I think that's everybody's dream, but I don't know if anybody would let me. [Laughs] A girl can dream."

"'Top Chef'! I don't like this current season as much because they're moving around a lot. I'm also really liking Don Cheadle's new show, 'House of Lies.' And I love 'Homeland.' I love that show!"

"I've become obsessed with 'American Horror Story.' People are kind of scared of it, and I get it because it's scary. But I'm totally into it. My wife got me into 'Dancing With the Stars.' It's a slippery slope."

"All of my favorite shows are scripted, except for 'MythBusters,' which is not scripted, but continues to be just about the best show on television. My daughter, who's 11, contends that I'm not cool because I've never been on 'MythBusters.' She doesn't care what else I do because I have failed to appear on that show, so I'm not cool. It burns. It stings a little bit, but what can I say? I'm a huge BBC fan -- I just love British scripted television programs. Every once in a while, something will happen to make me fall in love with television, and it's usually English. I love 'Doctor Who.' In fact, at my daughter's school, there's been a huge resurgence in that show. There's a 'Doctor Who' Club, and it's just become a huge phenomenon all of the sudden."

"I'm a huge HGTV addict. I really am. I like those transformations."

"I love what's going on with cable. I think that they've really pushed the envelope with story telling, but to be honest, I've been pretty busy lately, and I don't have a lot of time. I do want to check out 'American Horror Story' though. I hear it's great. 'Nip/Tuck' really travelled from genre-to-genre within a single episode, so I've always known that [Ryan Murphy] could do anything ... He loves people to doubt him so that he can prove them wrong. I doubted him, too! And he proved me wrong."

"I film all the time, 12-18 hours a day, so I don't really have much time to watch TV. If I do, I like to watch reruns of 'Friends' or 'Seinfeld,' shows that are kind of easy-peasy to watch. One reality show I love to watch is 'Toddlers & Tiaras.' There's another show called 'Little Miss Perfect' and I made Lamar watch it and he was like, 'What is wrong with these people!?' It's just so sad to see how much makeup and spray tans and eyebrow waxing that these four-year-olds get! It's crazy, but that's my guilty pleasure that I watch."

"I watch a lot. I just started watching 'Downton Abbey,' and it's great. I think I want to be Carson [in the "Which 'Downton Abbey' Character Are You?" quiz] -- he's so good! So sad! We watch a lot of comedies, too -- 'Modern Family' is the best, and I'm still watching 'The Office.'"

"I loved ['Homeland']. I loved it. Actually, at our Showtime party, I superfanned a couple of the cast members. I had to tone it down a bit ... but I really wanted [Brody] to blow up [in the Season 1 finale]. [Laughs] Sorry, I really did. I know he pressed the button ... but I would rather suspend my belief in reality and say like, 'Oh, the plate got stuck and he didn't die because his head wasn't blown off, but he did blow up the rest of the room.' You know what I mean?"

"I just finished watching 'Boardwalk Empire,' which I thought was brilliant. I'm a big fan of 'The Wire' and 'The Sopranos.' We get such amazing TV from America."

"Did 'Alcatraz' start already? Because I want to jump on that. 'Lost' blew my mind, and I was late to that party! I didn't watch it originally, but then when I was on tour [with the national touring production of 'West Side Story'], I had all of this free time during the day and after shows. I watched all six seasons on Netflix in about two weeks. The people in my cast did not see me for two weeks. That's all I was doing. I was obsessed with 'Lost,' so I can only imagine that I'll be obsessed with 'Alcatraz.'"

"'Modern Family'! Our lead-in show, by the way ... [Laughs] I love 'Modern Family.' You know what else is really good? 'Tabatha's Salon Takeover.' Dude, that shit is dope."

"I like 'Sons of Anarchy,' I like 'Dexter' ... I was watching 'Californication' and my buddy Evan Handler from the 'Sex and the City' days, he's on that show. I watch 'Jeopardy' every night with dinner. I have a little contest while having dinner -- there will be 'Jeopardy' playing and my lady friend and I will be having a contest to see who's smarter. And I always lose. [Laughs]"

"[Coby Bell and I] watch Lawrence Welk when we have time off together. I'm not even kidding. I mean, Coby is supposed to be a hipster, so what's he doing watching Lawrence Welk?" [Editor's note: Bell will not confirm or deny his Lawrence Welk obsession.]

"'Jersey Shore'! I absolutely love it. I love Snooki. I just watched the Italy season. Listening to Snooki is incredible. She's brilliant. I like 'Teen Mom' as well."

"I'm a really big 'Real Housewives' fan. Love 'Beverly Hills,' love 'Atlanta' ... I watch all of that. And 'Toddlers & Tiaras.' My boyfriend and I were 'Toddlers & Tiaras' last year for Halloween. He was a pageant mom and I was a toddler."