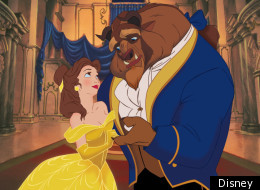 "Beauty And The Beast" is definitely making a comeback and it's headed for your TV set.
Recently, The CW ordered a pilot based on the early '80s CBS series "Beauty and the Beast," which starred Linda Hamilton and Ron Perlman. According to The Hollywood Reporter, it will be a modern retelling of the classic love story with procedural twist.
And riding the success of its fairy tale-centric series, "Once Upon A Time," ABC announced this week that it has ordered a pilot based off the traditional tale of "Beauty and the Beast." Entertainment Weekly reported that the project is described as "a fantastical re-imagining of the classic fairy tale set in a mythical, dangerous world wherein a beautiful and tough Princess discovers an unlikely connection with a mysterious beast."
So who wouldn't be looking to get their paws on one of these pilots? From the title characters to the flamboyant candlestick who wants us to be his guest to a piece anthropomorphic chipped porcelain, we cast the stars that we think would do these Disney favorites justice.
Click on the slideshow below to see who we chose!
'Beauty And The Beast' TV Show Casting
While we've enjoyed her big screen work, the "Unfabulous" star would sure be enchanting as Belle. We know Emma Roberts can sing and she has no problem playing a tad nerdy, which would be perfect for book-loving Belle.

Lily Collins might already be playing a Disney princess in "Mirror Mirror," but that shouldn't stop her from taking on the role of Belle. Bring this current "it girl" to the small screen, stat!

"Pretty Little Liars" star Lucy Hale has the starlet thing down pat: She's played a damsel in distress and certainly stepped up in the face of danger (ahem A ahem). Plus, she's got the whole Disney look going for her and in case you didn't watch the one-and-done season of "American Idol" spin-off, "American Juniors," she has quite the set of pipes.

If there's anyone who could play a troubled, yet lovable Beast, it's "Friday Night Lights" pro Taylor Kitsch, who played troubled, yet lovable Tim Riggins for five seasons. He may be trying to start a big-budget film career at the moment -- with Disney's "John Carter" -- but his home will always be on the small screen.

We know that Joseph Morgan can play a CW bad boy like no other, but there's something about Klaus on "The Vampire Diaries" that makes viewers want to root for him. Similar to Beast, he may have started off being grumpy and mean, but he's slowly transformed into someone more sympathetic, someone capable of feeling -- and caring. And with Klaus' story line seemingly up in the air, Morgan could be looking for a new TV gig come Fall. Plus, he's British, which automatically makes him sound more royal.

He already has experience playing one type of Beast in "X-Men: First Class," so we think that English actor Nicolas Hoult could totally pull this Beast off just as well -- fur included. Plus, we know he can play someone rough-around-the-edges. Just look up Tony Stonem from "Skins" and tell us what you think. He also gets bonus points for singing!

It's easy to imagine all of the girls in town lusting after Ian Somerholder and his crazy eyes. After three seasons of not getting the girl of his dreams on "The Vampire Diaries," he'd make the perfect Gaston, lusting after Belle, the one girl he wants but can't have. Not to mention, he's already got the hair -- and he knows how to play a good villain.

After years of playing a vampire in the "Twilight Saga," we need to see Kellan Lutz play the bad guy. Sure, we know that he can fight and tear the heads off some werewolves, but can he really be mean? We'd love to see it. And after the "Twilight" fever dies down, what else will the former Calvin Klein model do?

Channing Tatum may be busy trying to be Hollywood's next go-to leading man, but we think he'd make a great Gaston. The circumference of his neck alone is proof! Not to mention that we know he's got some serious dance moves. The upcoming film "Magic Mike" is based on his life ... when he was a male stripper.

Though most of the world knows him as the Emmy-winning stoic psychiatrist Dr. Niles Crane on "Frasier," David Hyde Pierce actually has the stage experience and musical talent (see his Tony-winning appearance in "Curtains") to pull off the charming, singing, dancing candlestick.

The fact that playing Lumiere could potentially burn off Russell Brand's Beast-like hair (finally!) is only part of the reason why he would be great in the part. Brand's twisted sense of humor and his vocal abilities-- as demonstrated in his recurring film role of Aldous Snow -- would be much-appreciated on "Be Our Guest."

It's been too long since we've seen Sacha Baron Cohen on the small screen as "Ali G." Though playing Lumiere would mean wearing fire instead of Fubu-esque attire, considering this man can transform himself into anything (i.e. "Borat" and "Bruno"), we think he can do it.

We don't believe in the "Seinfeld" curse. In fact, if Julia Louis-Dreyfus can make a TV comeback in HBO's "Veep", then so can Jason Alexander! And we know that he's good at playing himself -- "Curb Your Enthusiasm," anyone? -- but we think he'd make a great clock.

Robin Williams is a Disney pro, and not to mention, he got his start on TV in the cult hit "Mork and Mindy." And we've all seen "Mrs. Doubtfire," so we know that he's a master when it comes to accents. Plus, we miss him, so this would be the perfect time to introduce a whole new generation of kids to the comedic genius that is Robin Williams.

It's been a while since we've seen Jack Black -- aside from his cameo in "The Muppets" -- but we just can't forget the greatness that was "School of Rock." We'd like to see him make a hysterical TV comeback, preferably playing Cogsworth the clock. Black has a knack for physical comedy, so those fights between Cogsworth and Lumiere could get pretty rough-- but it's all in the name of comedy!

"Raising Hope" MVP Cloris Leachman would bring a lot to the table as Mrs. Potts, besides her multiple Emmys and Oscar. She'd be a saucy, madcap heartwarming take ont the teapot matriarch.

Who better to play the heart and soul of "Beauty and the Beast" than America's sweetheart, Betty White? Exactly.

Annie Potts would give Mrs. Potts a sassy flair. Plus, come on. Annie Potts. Mrs. Potts. You see what we're getting at.

Since the Jonas Brothers have been exploring their separate paths, their youngest sibling Frankie (aka "Bonus Jonas") has been lying low. But the 11-year-old actor -- who appeared in his brothers' Disney Channel movie "Camp Rock 2" and lent his voice to the animated movie "Ponyo," alongside Miley Cyrus' little sister Noah -- is due for some of the spotlight. And playing "Chip" would be the perfect vehicle for that.

He may be ditzy as Luke on ABC's hit sitcom "Modern Family," but 13-year-old Nolan Gould is quite the talent: He's a member of Mensa (his IQ is 150) and he plays the double bass. Of course, "Beauty and the Beast's" chipped teacup doesn't really need those skills, but clearly, Gould can handle the part.

Thomas Horn, the current star of the Oscar-nominated "Extremely Loud and Incredibly Close," is getting his big break at 14. But in 2010, he won nearly $32,000 on "Jeopardy!," which helped Horn get the audition for the movie that's making him a star. Since earning the role and subsequent praise, he's been racking up awards and playing a mainstream, beloved character like "Chip" would do him (and us) some good.

The former "King of Queens" star, who is now known for playing Charlize Theron's semi-sidekick in "Young Adult," would be perfect to play Gaston's sidekick, LeFou. Surely, the so-called "fool," who's actually not as foolish as he looks, is right up his alley.

After mastering the role of the constantly bumbling brother-in-law to-be Alan in the "The Hangover" franchise, Galifianakis could bring the same humor -- but more PG of course -- to playing Gaston's lovable lackey.

We love him on "It's Always Sunny In Philadelphia," but it's time DeVito return to some children's fare, like one of our favorites, "Matilda." Now, 15 year later, he's lending his voice to "The Lorax" on the big screen and while he's at it, he should go for LeFou, too.

Just look at them. Based on the looks along, David Crosby is Maurice.

Jerry Stiller has a lot of experience playing a dad on TV. He'd give "Beauty and the Beast" a nice dose of humor, but he's got the drama chops, too.

Alan Dale seems to be on every show ever, but as a villain. We sort of saw his softer side as Caleb on "The O.C.," he'd make for a very rugged Maurice. Plus, he's earning fairy tale TV experience on "Once Upon A Time" already.