Chicago Weekend Plans: Otters, PJs And The Polar Plunge (1/27-1/29)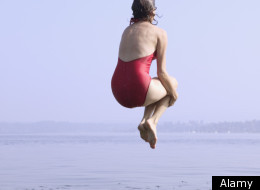 If you've been trudging through January with the thought of Chicago summer events as the light at the end of your tunnel, now may be the time to find yourself some short-term consolations. (If Drew Peterson can laugh at himself--er, Rob Lowe's version of himself--you can power through with a jam-packed weekend of diversions).
To distract yourself from your agonizing countdown until Chicago can sneak an in-person peek at Cayucos, or to keep yourself wisely away from nail guns, hit up some of this weekend's events in and around the city.
ALL WEEKEND
Snow Days
This snow standoff has gone far enough--get your fill of flurries at this year's Snow Days Chicago, the annual snow-sculpting competition held at Navy Pier. International snow pros will be creating larger-than-life sculptures on site, and dog sleds, kid-friendly activities and more will help pass the time as the ornate scenes come together.
Where: Navy Pier Gateway Park, 6000 E. Grand Ave., Chicago
When: 11 a.m. - 6 p.m. Sunday, Jan. 29
Price: Free
Winter Music Festival 3
Just because it's too cold to boogie barefoot in Grant Park doesn't mean you have to trudge through this season without a fest. Pop into Uncle Fatty's Rum Resort to catch 25 bands and seven DJs rock back-to-back at the Winter Music Festival 3. Each night features unique drink specials and guarantees a jam-packed entertainment schedule.
Where: Uncle Fatty's, 2833 N. Sheffield Ave., Chicago
When: 8:30 p.m. Friday, Jan. 27 and Saturday, Jan. 28
Price: $5
FRIDAY
Loving Conversations
Valentine's Day is coming up, are you and your psyche ready? Learn more about yourself and your love style with "Loving Conversations," a salon-style mixer at the Silver Room. Open to singles of all lifestyles, complimentary wine will be served to get the conversation flowing.
Where: Silver Room, 1442 N. Milwaukee Ave., Chicago
When: 7:30 p.m. - 9:30 p.m. Friday, Jan. 27
Price: Free, donations requested
Shedd Aquarium
You won't be able to catch a glimpse of this little stunner yet, but there are still plenty of fish in the tank at the Shedd Aquarium, which opens its doors to Illinois residents for free this weekend. Check out Waters of the World and the Caribbean Reef, and maybe show some love to Cayucos' cousins.
Where: Shedd Aquarium, 1200 S. Lake Shore Drive, Chicago
When: 9 a.m. - 5 p.m. Friday, Jan. 27
Price: Free
SATURDAY
"Call Her Savage"
Like your girl power with an old-school finish? Exhausted all the "Boardwalk Empire" in your Netflix queue? Block Cinema is screening the 1932 film, "Call Her Savage," an over-the-top celluloid gem that showcases one of Bow's most notable characters. Watch Clara Bow wow as Nasa "Dynamite" Springer, a socialite gone wild against a backdrop of Depression-era Chicago.
Where: Block Cinema, 40 Arts Circle Drive, Evanston
When: 2 p.m. Saturday, Jan. 28
Price: $6
Lakeview Polar Plunge
This could be Chicago's mildest winter for a while--take advantage, and maybe win a few bets, by participating in the Lakeview Polar Bear Club's Polar Plunge. Help fundraise for kids struggling with life-threatening illnesses, then thaw out and celebrate at Sedgwick's Bar & Grill for a $30 all-you-can-drink party with plenty of toasty appetizers.
Where: Oak Street Beach, 1000 N. Lake Shor Drive, Chicago
When: 12 p.m. Saturday, Jan. 28
Price: $30
SUNDAY
Pajama Brunch
Breakfast, like early-morning punditry, cartoons and in-bed snacking, is infinitely enjoyable if you can get through it without having to change out of your PJs. Look no further than organic eatery Nana, which welcomes the just-out-of-bed diners this Sunday for a Pajama Brunch, complete with breakfast specials like chicken and waffles and a prize for the best PJs on display.
Where: Nana, 3267 S. Halsted St., Chicago
When: 8 a.m. - 3 p.m. Sunday, Jan. 29
Price: Varies
Chinese New Year Parade
Celebrate lunar new year and kick off the Year of the Dragon in style with marching bands, elaborate floats, the traditional lion dance and a 100-foot-long paper dragon made with silk and bamboo at the 2012 Chinese New Year Parade. Plan to make a day of it; you know you won't make it out of Chinatown without a meal and some shopping under your belt, too.
Where: Wentworth and 24th St., Chicago IL
When: 1 p.m. Sunday, Jan. 29
Price: Free