Getting Married In Arizona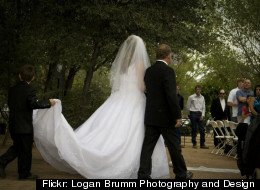 Planning a wedding is a big undertaking, to be sure. But sorting out the legal paperwork before you say "I Do" can be even more challenging. To help get you organized before your Big Day, The Huffington Post has put together a comprehensive, state-by-state guide to getting married. Here, read on for everything you need to know about getting hitched in Arizona. --Barbie Carpenter
Residency Requirement And Waiting Period
Couples do not have to be Arizona residents to apply for a marriage license, and there is no waiting period.
Age Requirement
The legal age to marry in Arizona is 18. Individuals ages 16 and 17 can marry with parental consent. Marriage of an individual younger than 16 requires both parental consent and the approval of a state Superior Court judge. The consent of just one parent is sufficient; in the cases of divorce, the parent with legal custody must provide the consent. In order for a Superior Court judge to grant a marriage license to individuals younger than 16, the couple must complete premarital counseling. In addition, the Superior Court judge must ensure that the minor is entering the marriage voluntarily and that it is in the minor's best interest to marry. The judge can establish other requirements, such as ensuring the minor stays in school, as well.
Marriage License
Couples can apply for an Arizona marriage license at their county clerk of the Superior Court. Both parties must be present to apply for the marriage license. Arizona marriage licenses are valid for one year and cost $72.
Legal Documentation
Couples must bring a government-issued ID to verify their identity. They also will have to provide their Social Security number.
Minors ages 16 and 17
must also submit a state-issued birth certificate and a
notarized parental consent form
. Alternatively, minors can bring their parent to sign the form in person at the clerk's office. Minors younger than 16 must present the court order that permits the marriage. The state does not require a copy of a divorce decree for remarriages.
Witnesses And Officiants
Members of the clergy, judges and justices of the peace can perform marriages in Arizona. Two witnesses 18 or older must attend the wedding ceremony and sign the marriage license, along with the officiant, bride and groom. The officiant then returns the signed marriage license to the clerk of superior clerk that issued it.
Same-Sex Marriage
Same-sex marriage is not legal in Arizona;
Article 25-101
of the Arizona Statutes describes same-sex marriage as "void and prohibited." In 2008, Arizona voters passed
Proposition 102
, which amended the state constitution to define marriage as a union between a man and a woman.
Did You Know?
Arizona allows
couples to enter a covenant marriage
. Couples must submit a written statement that "marriage is a covenant between a man and a woman who agree to live together as husband and wife as long as they both live." The state grants divorce to couples in a covenant marriage in just eight circumstances, including if one spouse committed adultery, went to prison or became abusive. The state prohibits marriage between first cousins, unless both of the
first cousins are 65 or older
, or if one or both first cousins are younger than 65 and one or both cannot reproduce and have approval from a Superior Court judge.
See the full set of laws and regulations regarding marriage in Arizona.
A name change following marriage in Alabama can be a hassle. It's a good idea to start by getting certified copies of your marriage certificate, filing a name change petition, then changing your name on your driver's license and vehicle registration. Name changes must also be submitted to your employer, as well as the Social Security Administration and the U.S. passport agency. Also consider changing your name on voter registration forms, bank accounts, credit cards, frequent-flier accounts and utilities providers.
Learn more about getting married in each of the 50 U.S. states here.