Getting Married In Maryland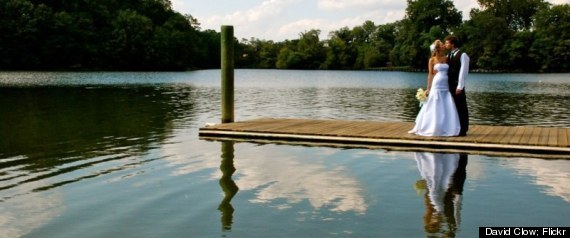 Planning a wedding is a big undertaking, to be sure. But sorting out the legal paperwork before you say "I Do" can be even more challenging. To help get you organized before your Big Day, The Huffington Post has put together a comprehensive, state-by-state guide to getting married. Read on for everything you need to know about getting hitched in Maryland. --Marnie Kunz
Residency Requirement And Waiting Period
Marriage applicants do not have to be residents of Maryland to get married in the state. Wedding license applications must be filed in the county where the wedding will take place. There is a 48-hour waiting period for licenses. A marriage license becomes effective at 6 a.m. on the second calendar day after the license is issued.
Age Requirement
The legal age to get married in Maryland is 18. Applicants who are 16 or 17 may apply for a marriage license with consent from a parent or guardian or a certificate from a physician verifying that the woman to be married is pregnant or has given birth to a child. A 15-year-old may marry with parental or guardian consent and a certificate from a physician stating that the woman to be married is pregnant or has given birth.
Marriage License
Marriage license fees vary from county to county but usually fall within the $37 to $75 range. Marriage licenses can be obtained at the
circuit court clerks' office
in the county where the marriage will occur or
Baltimore City
. Licenses are valid for six months. At least one partner must be present to obtain a marriage license. An exception is
Cecil County
, where both applicants must apply. For nonresidents of Maryland who cannot be present at the court in the county where marriage will occur, a
Non-Resident Marriage Application
is available online. Applicants can fill out the form and contact the court for further instructions.
Legal Documentation
The photo IDs and Social Security numbers of both partners must be presented with the marriage license application. Acceptable forms of ID include a driver's license, passport, birth certificate or military ID. If either applicant has been married previously, a divorce decree or information on deceased spouses must be presented.
Witnesses And Officiants
A religious official, judge, clerk of the circuit court or an appointed, designated deputy clerk of the circuit court can officiate weddings in Maryland. Witnesses are not required.
Same-Sex Marriage
Maryland does not allow same-sex marriage but does have limited
domestic partnerships
for same-sex couples. In 2008, the Maryland General Assembly passed two bills that allow same-sex couples to have domestic partnerships, which grant medical benefits similar to those of spouses. Under the
terms
, couples must live together for six months and verify their union with three documents, including a will, driver's license listing a common address and proof of a joint bank account.
Did You Know?
Maryland also recognizes domestic partnerships between opposite-sex couples, with the same benefits and requirements as same-sex couples. Maryland does not allow common-law marriages.
See the full set of laws and regulations regarding marriage in Maryland.

A name change following marriage in Maryland can be a hassle. It's a good idea to start by getting certified copies of your marriage certificate, filing a name change petition, then changing your name on your driver's license and vehicle registration. Name changes must also be submitted to your employer, as well as the Social Security Administration and the U.S. passport agency. Also consider changing your name on voter registration forms, bank accounts, credit cards, frequent-flier accounts and utilities providers.

Learn more about getting married in each of the 50 U.S. states here.