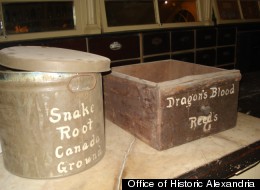 ALEXANDRIA, Va. -- Fun fact: In colonial times, Unicorn Root was used to treat flatulence and to cure other stomach ailments.
Unicorn root is used today for protective witchcraft spells. Also, to cure flatulence and other stomach ailments.
Two upcoming "Wonders of Science" presentations will teach you all about 18th century uses of Unicorn Root, Dragon's Blood -- used as a varnish and as toothpaste -- and so much more.
Alexandria's Stabler-Leadbeater Apothecary Museum will be hosting the demonstrations.
What makes this especially great, aside from the possibility of ridding the world of flatulence, is that the demonstrations are presented by McLean High School's historical reenactment society. Did you even know that McLean High School had a historical reenactment society?
"Wonders of Science" will be at the Apothecary Museum (105-107 S. Fairfax St., Alexandria) on Feb. 4 and March 24.
The Apothecary features hundreds of curious collection items, like poison bottles and Unicorn Root.

The Apothecary's archival materials include prescription and formula books, ledgers, orders and invoices, some with the names of famous customers like Martha Washington, Nelly Custis and Robert E. Lee.

Visitors to the Apothecary will discover how herbs and botanicals like Snake Root and Dragon's Blood were used.

Large glass vessels known as show globes, associated with pharmacies since at least the 17th century, were filled with different colored water and placed in a prominent location at the apothecary.

The Apothecary has an outstanding collection of shop furnishings, bottles and equipment like scales and mixing bowls used in preparing medicines

The Stabler-Leadbeater Apothcary first opened for business in Alexandria in the 1790s, remained open during the Civil War but closed in 1933 during the Depression.
RELATED VIDEO: A video about "Project Enlightenment," McLean High School's historical reenactment society.