Occupy Super Bowl 2012: Protesters In Indianapolis March Before Giants Take On Patriots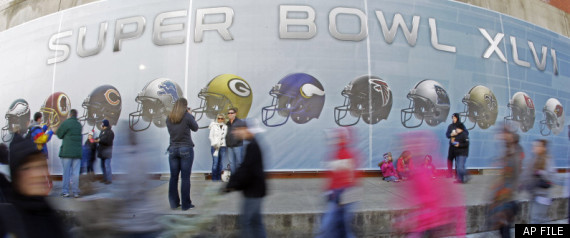 By CARRIE SCHEDLER, Associated Press
INDIANAPOLIS -- A mix of union members and Occupy protesters from across Indiana marched through Super Bowl Village on Saturday in opposition to the state's proposed right-to-work legislation.
(CLICK HERE FOR THE LATEST OCCUPY UPDATES)
About 75 marchers weaved through packed crowds at the pre-game street fair in downtown Indianapolis in the first of what could be several such protests before the big game Feb. 5 at Lucas Oil Stadium. The protesters chanted "Occupy the Super Bowl" and carried signs that read "Fight the Lie" and "Workers United Will Prevail."
Saturday was the second straight day of right-to-work protests in the Super Bowl Village. About 40 people picketed the opening of a zip line in the Village. The 800-foot zip line allows participants to clip onto a wire about 100 feet off the ground and glide almost two blocks.
Most onlookers stared in silence as the protesters walked past them, but some like Jason Leibowitz of Jamestown were upset about their outing being interrupted. "There's a place and a time for this," Leibowitz said. "This isn't it."
Organizers of the march say the protests will likely continue if Indiana Gov. Mitch Daniels signs the divisive bill into law this week.
Supporters of the legislation, mostly Republicans, insist the measure helps create a pro-business climate that attracts employers and increases jobs. Opponents say the measure only leads to lower wages and poorer quality jobs.
Before Saturday's march, Occupy Purdue organizer Tithi Bhattacharya, a professor at Purdue University, led a rally in front of the Statehouse that included union workers, Occupy protesters, two representatives and a state senator among the speakers.
Most emphasized that while the right-to-work legislation appears likely to pass following Wednesday's House vote approving the bill, that doesn't mean an end to protests.
"If the governor signs, I want to shame him out of this state," said Heath Hensley of Occupy Anderson. "He doesn't want us screwing up this Super Bowl."
State Senator Jean Breaux, D-Indianapolis, called the bill evidence that Republican legislators are not in touch with the needs of working-class voters. "If you voted Republican in the past, stop," Breaux said.
Hensley, Breaux and other speakers urged protesters to convince their friends and family members to vote out anyone who decided in favor of the bill.
Another Statehouse protest is planned for Monday's Senate hearing on the bill, and Bhattacharya said that if the bill passes, there will be plenty of angry people who may keep protesting through game day.
The Super Bowl between the New York Giants and New England Patriots is expected to draw more than 150,000 visitors to Indianapolis.
"Upsetting the Super Bowl – I couldn't care less," protester Lou Feldman of Lafayette said. "This is about my life and my family. Maybe it will make some people notice."
Via HuffPost Miami:
When an Occupy Miami member offered evicted protestors vacant apartments in a building he owns in Downtown Miami's Overtown neighborhood, it seemed like the perfect solution: the 'Peace City' space would provide headquarters for the movement and shelter a small faction of the group's most vulnerable members. But it hasn't gone well. Other tenants say the building has become a cesspool of drug use and violence while non-resident Occupy Miami members are trying to distance themselves from the 'radicals' -- all while the two factions are wrestling for control over Occupy Miami's social media sites and future plans.
The feud between the Overtown occupiers and more mainstream members has only gotten worse. The two factions are now battling for control of Occupy Miami's social media sites. The movement's main Twitter account recently announced it had been "hijacked by a small, non-consensus group of radical members." The Occupy Miami Facebook page was also temporarily hacked by someone inside Peace City. Meanwhile, the Overtown occupation is slowly driving away more moderate members.

"This is a black eye on the Occupy movement," says Shannon Reaze, an Overtown community organizer and Occupy Miami supporter who is now helping tenants move out of Paz's building. "The violence and drugs going on here are way outside of what I thought Occupy stood for. This place is destabilized."

...The supposedly hard-core activists here spend their days drinking and getting high. And as Peace City devolves into lawlessness, the most committed occupiers are leaving. Local landowners and politicians want the place shut down, while cops are suspicious. Yet as long as Paz wants the protesters around, nothing short of a demolition order can keep them out.