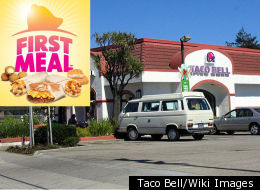 Taco Bell released their "first meal" (read: breakfast) menu in 10 Western states this week, including California and Arizona. The menu includes three varieties of burritos, along with fried balls of cinnamon-flavored dough, stuffed with cream. While full information on the breakfast items isn't yet available (and they won't make their way across the country until 2013), it's an unexpected entry into the fast-growing convenience breakfast market. According to HuffPost Food:
Breakfast has become the most important meal of the day for restaurants, accounting for virtually all of the industry's growth in the past five years.
Obviously, Taco Bell wasn't going for healthy fare. But as many major chains bring more breakfast to their menus, it's a good idea to know exactly how you're starting the day. Many fast food breakfast menu items are presented as if they are nutritionally sound. But it's a good idea to take a closer look. Here are a few seemingly redeemable 'first meals' that deserve a skeptical eye:
Fast-Food Breakfast Offenders
Oatmeal sure sounds healthy, but as New York Times' food columnist Mark Bittman points out, the McD version is anything but: Incredibly, the McDonald's product contains more sugar than a Snickers bar and only 10 fewer calories than a McDonald's cheeseburger or Egg McMuffin. (Even without the brown sugar it has more calories than a McDonald's hamburger.)

This seemingly healthy wrap sandwich advertises "cage free" eggs, but a quick glance at the ingredient list reveals that the simple egg white is actually made from 12 ingredients: Cage free egg whites, whey powder, unmodified corn starch, nonfat dry milk, salt, butter flavor [sunflower oil, natural flavors, medium chain triglycerides, palm kernel oil], xantham gum, guar gum, liquid pepper extract See the full information here.

Fried chicken is obviously not a healthy breakfast option. But with its multigrain bagel, many consumers might consider it the better breakfast sandwich option. But the term "multigrain" is actually meaningless. Explained the Mayo Clinic's Katherine Zeratsky: Multigrain and whole grain are not interchangeable terms. Whole grain means that all parts of the grain kernel -- the bran, germ and endosperm -- are used. In contrast, multigrain means that a food contains more than one type of grain; it doesn't tell you whether they're whole or refined grains, or a mix of both. In other words, the bagel could be nutritionally interchangeable with a white bagel. What's more, the sandwich provides 20 grams of fat -- nearly two-thirds of the USDA's daily recommendation for most adults -- and 1,230 milligrams of sodium, more than half the recommended daily intake.

You might think you're doing yourself a favor by skipping the refined-wheat bun or butter-drenched biscuit. But with 42 grams of fat, this scramble of eggs, veggies, sausage and cheese provides 120 percent of your daily fat, as recommended by the USDA's Dietary Guidelines for Americans.

A bran muffin might sound like the healthiest option among the muffins on offer at Dunkin Donuts. But let's hope America doesn't run on these: while the honey bran raisin muffin does have five grams of fiber, it also contains 44 grams of sugar. That bears repeating: 44 grams of sugar! That's even more than the McDonald's Oatmeal. In fact, you might be better off ordering a doughnut, many of which have a fraction of the sugar content.

Nutritionist Karen Graham gives you great ideas for a healthier breakfast.