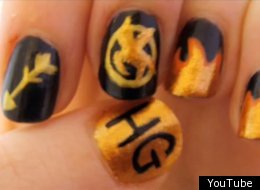 If you're feeling super inspired by the brand new Hunger Games trailer released today (omg!), we have good news: Soon you'll be able to paint your nails with HG-themed nail polish collection by China Glaze, coming out in March.
In the spirit of competition (and beauty), many fans have taken to YouTube to show off their own Hunger Games-inspired nail art using HG logos, Mockingjay symbols, flames, and more. So get in on The Hunger Games craze and show your undying fandom on your fingertips!
Tweet photos of your HG-inspired nails @HuffPostTeen.