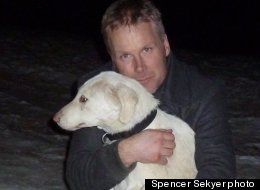 We hear and read stories about these kinds of heroic acts all the time. Whether it's our fellow man helping out man's best friend or people putting aside their differences to come together for our mutual friends of the sea, there's no shortage of spectacular rescue stories.
We've cast our net all across the Net to bring you some of the most inspiring of animal rescues, and while they differ by land, sea, or scale of rescue, they all share one common thread: They represent the best of what we can do for our animal friends, big and small. To celebrate the Teen Impact contest, here are some of the most incredible real-life rescues.
In 1988, an Inuit hunter came across three gray whales trapped in pack ice near Barrow, Alaska. What soon followed was a dramatic rescue attempt that turned into a worldwide media frenzy. After several proposals involving chain saws, skycranes, and 5-ton hammers, a team of icebreakers from the Soviet Union was summoned to aid the U.S. Department of State, finally releasing the whales, while--through their collective efforts--melting the icy relations between America and Russia. This story inspired the film Big Miracle, now playing.

Dog lover Spencer Sekyer didn't have much of a choice when discovering a lot of crying puppies and their mother outside his Afghan residence. But after taking them to school for a bit of show-and-tell for his students, the schoolteacher was able to find owners for only two of the dogs. Finding homes for the rest, dubbed the "Super 7," has since become an incredible journey paved with raising money and awareness by climbing Mount Kilimanjaro just to afford to fly the dogs from Dubai to Frankfurt, and Frankfurt to Calgary. Currently safe in Alberta, these dogs have a come a long way from stray.

There may always be a bigger fish in the sea, but sometimes it's the smaller ones you've got to look out for. A 99-pound loggerhead found that out the hard way, as it was discovered by Florida Keys snorkelers with a puffer fish "logged" in its throat. Spotting the turtle struggling for air, the family of snorkelers alerted the crew of their dive boat, who in turn received permission from Florida Fish and Wildlife Conservation Commission to bring the distressed creature--now named Puffer--aboard. After removing the puffer fish using a bite block, the crew turned the injured turtle over to Jo Ellen Basile of The Turtle Hospital. "I feel certain if they had not intervened," she said, "that turtle would not have made it."

Curiosity strikes more than just cats, as witnessed when a cocker spaniel-poodle cross named "Bobby" chased a seagull only to scamper away from its owners too far--and off a 100ft cliff. Miraculously, Bobby suffered only a broken toe and chipped tooth after allegedly landing on a seaweed bed and being recovered by a lifeboat crew.

When a cyclone wiped out much of Australia's bat-inhabited tree canopies, grounding any of the winged survivors, there didn't look to be much hope for 98 orphaned fruit bats. Also known as spectacled flying foxes, not to mention an important part of their ecosystem's survival, the vulnerable baby bats from Tolga were taken in by an animal hospital in Brisbane, where they will remain until January 2012.

In January of 2010, a Theresa, NY., resident reported hearing a faint howl only to stumble on a hopelessly trapped Labrador struggling to resist the icy current of the frozen Indian River. Once calling upon Theresa Fire Department, what ensued was a desperate struggle to keep head and paws above water as rescuers performed some emergency ice fishing, bringing the otherwise doomed dog, "Charlie," to safety.

Driven by tradition and greed of commerce, some 23,000 dolphins are slaughtered annually in Taiji, Japan for their meat. A long-held secret ignored by the rest of the world only until recently thanks to former dolphin trainer-turned-activist Richard O'Barry (among others, including Hayden Panettiere), the collective efforts to expose the corrupt government and mass killings, despite heavy Japanese resistance, have not gone in vain. With the harsh realities finally captured on film, the Academy Award-winning documentary, The Cove, has since shed a light on the dolphins' plight, bringing worldwide awareness to what could turn into a worldwide problem.

We're still not sure why the chicken crossed the road, but according to this video of a Chilean dog wading through highway traffic, the message is clear. Proving not all heroes stand tall on two feet, the Vespucio Norte Highway was home to a true act of bravery as a homeless dog was struck by a car, left to sit hopelessly in the middle of traffic, while another furry friend came to his rescue, pulling his injured pal to the side of the road where a rescue crew took both in.

After over three hours on Nov. 24, 2011, California firefighters and police gave a little kitten a whole lot to be thankful for. Following numerous attempts, and finally a makeshift catchpole, the rescuers were able to free the kitten that spent hours crying stuck in an electrical plastic pipe. And with new life came a new home, as one of the El Cajon officers decided to adopt her.

For three straight months beginning April 20, 2010, oil gushed into the waters of the Gulf of Mexico due to a Deepwater Horizon oil spill--making for one of the worst marine disasters of all time. Rather than cry over spilled oil, Jay Holcomb, the Executive Director of the International Bird Rescue Research Center (IBRRC), set out to lead in the recovery by cleaning birds afflicted with oil, and was instrumental in their rehabilitation. Rescuing thousands of oiled pelicans made him Oceana's 2010 "Ocean Hero," not to mention an inspiration to all who lent a hand in the marine relief effort.