Bertha And William Garrett, Detroit Residents Who Fought Eviction, Allowed To Buy Back Home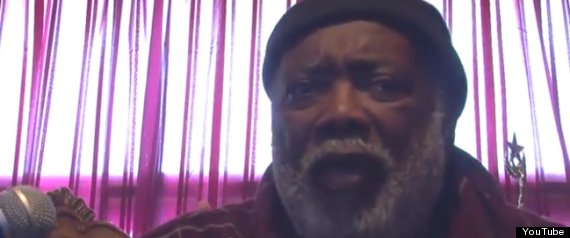 A Detroit husband and wife who have spent months worrying that they might be evicted from their home of 22 years received word on Tuesday morning and learned they will be able to stay.
(CLICK HERE FOR THE LATEST OCCUPY UPDATES)
William and Bertha Garrett, who have lived on Pierson Street in Detroit for more than two decades, have been fighting their bank foreclosure for more than a year. They attempted to buy back their home with no success -- until this week, they said.
Two weeks ago the couple got formal notice of an eviction. On Monday, a contractor attempted to place a dumpster on the Garrett property, a step required before an eviction can take place, according to city code.
But also on Monday, members of Moratorium Now, Occupy Detroit and Homes Before Banks rallied at the Detroit office of the Bank of New York Mellon Trust Co., the trustee of the Garretts' mortgage. The family's supporters also blocked the contractor from placing the dumpster.
On Tuesday morning a representative of Statebridge Co., a servicer for their mortgage, called the family to say the company would accept their offer of $12,000 to buy back their home, said the Garretts' daughter, Michele Finley.
The Bank of New York Mellon Trust Co. has an administrative role as trustee of the mortgage but it is unable to make decisions about the property, said Kevin Heine, a spokesman for the Bank of New York Mellon Trust Co. Statebridge Co. and IA Services are the servicers for the mortgage, Heine said.
Statebridge did not return a request for comment and IA declined to comment on the Pierson Street property.
The Garretts, with the help of several of their children, have the $12,000 ready to buy back their home. The family is waiting for the delivery of a purchase agreement.
"I'm so happy," Finley said. "But until I see a signed piece of paper saying my parents have a house, I won't believe it."
Finley said she is grateful for the support her family received from community members and plans to pay it forward and work with others facing foreclosure.
"My verbal promise [to them] is, I'm in this for the long haul," she said. "I did this for my parents, it wasn't for anyone else. But what I have seen, the stories I have heard … [foreclosure] is an epidemic."
When U.S. state Rep. Hansen Clarke, who represents Detroit, heard of the Garretts' situation, an office staffer reached out to the family.
"We were determined to do anything we could to let them stay in the house," said Winifred Money, who works in Clarke's Detroit office. By the time Money called, the Garretts already knew that they wouldn't be evicted. But Money is glad the issue was brought to the forefront.
"Most of our calls are on foreclosure. There's not a day that goes by that a new person isn't calling," she said.
Also on HuffPost:
Via HuffPost Miami:
When an Occupy Miami member offered evicted protestors vacant apartments in a building he owns in Downtown Miami's Overtown neighborhood, it seemed like the perfect solution: the 'Peace City' space would provide headquarters for the movement and shelter a small faction of the group's most vulnerable members. But it hasn't gone well. Other tenants say the building has become a cesspool of drug use and violence while non-resident Occupy Miami members are trying to distance themselves from the 'radicals' -- all while the two factions are wrestling for control over Occupy Miami's social media sites and future plans.
The feud between the Overtown occupiers and more mainstream members has only gotten worse. The two factions are now battling for control of Occupy Miami's social media sites. The movement's main Twitter account recently announced it had been "hijacked by a small, non-consensus group of radical members." The Occupy Miami Facebook page was also temporarily hacked by someone inside Peace City. Meanwhile, the Overtown occupation is slowly driving away more moderate members.

"This is a black eye on the Occupy movement," says Shannon Reaze, an Overtown community organizer and Occupy Miami supporter who is now helping tenants move out of Paz's building. "The violence and drugs going on here are way outside of what I thought Occupy stood for. This place is destabilized."

...The supposedly hard-core activists here spend their days drinking and getting high. And as Peace City devolves into lawlessness, the most committed occupiers are leaving. Local landowners and politicians want the place shut down, while cops are suspicious. Yet as long as Paz wants the protesters around, nothing short of a demolition order can keep them out.