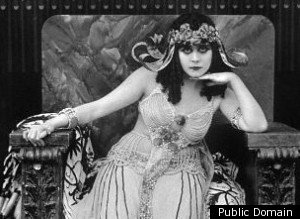 In the age of silent cinema, emotions were dramatized and expressed using the face and body as vehicles. Though today the acting style of early film may appear campy or overdone, there is undeniably an art and a magic to speaking without speaking. Nobody understood this better than the sexy sirens who made silent film what it was. Through their gorgeous faces, alluring expressions and bold body movements these women did not need to talk to make audiences listen.
In the following group of 12 silent film vixens we have stars of all types: dangerous, frail, crazy, sweet and erotic. The collection includes femme fatales, vamps and divas. Sorry, Greta Garbo, but these are the girls who most entranced us, even if they didn't end up achieving mass fame. These are the ladies who dazzled us, scared us, and made us fall in love without ever saying a word.
Theda Bara was called 'The Vamp', referring to vampire, which then spurred vamp and goth styles. She was a notorious femme fatale and possible the first sex symbol due to her desirous and dangerous roles (in revealing costumes!) She played Juliet as well as Cleopatra.

Lyda Borelli combined her Pre-Raphaelite beauty with otherwordly strangeness through contorting her body to look almost supernatural. Girls everywhere strove to be 'Borellisimo.' In this film she plays an old woman who makes a deal with the Devil in return for eternal youth.

Pauline Frederick was married 5 times and had an affair with Clark Gable when she was old enough to be his mother. She was an idol and inspiration for Joan Crawford.

Mae Murray was known as The Girl with the Bee-Stung Lips" and "The Gardenia of the Screen". She reportedly did not take age into account when dressing in her elder years, piling on makeup and squeezing into short dresses with plunging necklines.

Louise Brooks is probably the most well-known silent film star today. She is most remembered for her bob haircut and role in 'Pandora's Box'. Brooks was a heavy drinker since the age of 14 and a big spender who once filed for bankruptcy. She never had children and referred to herself as 'Barren Brooks'.

Nita Naldi followed in Theda Bara's footsteps in becoming known as a 'femme fatale' and 'vamp'. She gained fame through her performance in 'Dr. Jekyll and Mr. Hyde' with John Barrymore, who called her the 'Dumb Duse'.

Lillian Gish is hailed as the greatest silent film star of all time. Her fragile and frail form was often juxtaposed with her emotional intensity and ability to act a convincing mental breakdown. Not surprisingly she played Ophelia in Hamlet. She said of the performance: "I played a lewd Ophelia!"

Vera Kholodnaya was the first starlet of Russian silent film. She got her start in a production of 'Anna Karenina'. It is rumored that died after being poisoned by the French ambassador with whom she had an affair. He thought she was a spy for the Bolsheviks.

Ruan Lingyu was a Chinese film icon and was compared to Greta Garbo and Lillian Gish. She got her start at 16 years old and poisoned herself at 24, along with a death note that read "Gossip is a fearful thing." Three women committed suicide at her funeral.

Betty Compson dropped out of school at a young age to make money for her family. She picked up the violin and later began appearing in silent films. After her career hit a plateau she opened a store on Hollywood Boulevard.

Pina Menichelli was an Italian silent film star who was one of the first women to be called a 'diva'. Her image was erotic, indulgent and dangerous.

Brigitte Helms was a German actress most well-known for her role in Fritz Lang's 'Metropolis'. She later got in trouble for marrying a Jew in Nazi Germany, yet reportedly Hitler himself insisted that manslaughter charges against Helms from an automobile accident were dropped.