The 12 Most Sizzling Starlets Of Silent Film (VIDEO)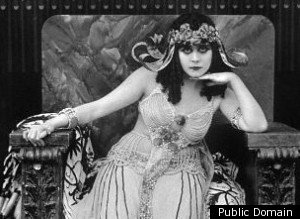 In the age of silent cinema, emotions were dramatized and expressed using the face and body as vehicles. Though today the acting style of early film may appear campy or overdone, there is undeniably an art and a magic to speaking without speaking. Nobody understood this better than the sexy sirens who made silent film what it was. Through their gorgeous faces, alluring expressions and bold body movements these women did not need to talk to make audiences listen.
In the following group of 12 silent film vixens we have stars of all types: dangerous, frail, crazy, sweet and erotic. The collection includes femme fatales, vamps and divas. Sorry, Greta Garbo, but these are the girls who most entranced us, even if they didn't end up achieving mass fame. These are the ladies who dazzled us, scared us, and made us fall in love without ever saying a word.