Former U.S. Senator Rick Santorum trails in the polls heading into Florida's primary election and is turning his attention to upcoming contests in other states.
The AP reports:
Santorum is the first Republican candidate to appear in Missouri in advance of its Feb. 7 primary, which will essentially be a statewide public opinion poll. The Republican Party plans to award its presidential delegates in Missouri through a series of caucuses that begin in mid-March. Gingrich didn't get on Missouri's primary ballot while others who have since dropped out of the race will be listed alongside Romney, Santorum and Ron Paul.

Santorum said he still considers Missouri's primary to be important. Because of Gingrich's absence, it could allow Santorum to test his political strength more directly against that of Romney, who has been building a network of prominent Republican endorsements in Missouri.
Denouncing "Gutter Politics"
The AP reports:
Santorum denounced the "gutter politics" of his opponents Monday as he turned his campaign away from a potentially futile effort in Florida in hopes of regaining momentum in the Midwest.

After spending what he described as a stressful weekend with his sick 3-year-old daughter, Santorum resumed his campaign at a suburban St. Louis community college -- assuring people that his daughter was improving and forecasting a political revival in swing states such as Missouri. He was to appear later Monday at a campaign event in Minnesota, which also is holding its caucuses next week.
The Polls
HuffPost's Mark Blumenthal reports:
Six new polls released late Sunday or Monday found that Mitt Romney's lead over Newt Gingrich ranges from five to 20 percentage points.

Some of the largest margins came from four polls that reached voters over both landline and mobile phones, including three surveys released on Monday.

...

Voter uncertainty, a hallmark of the Republican primary campaign for months, remains a potential factor in the outcome of the Florida contest. The latest Quinnipiac survey finds that more than a quarter of the likely Republican primary voters in that state either are completely undecided (7 percent) or say they might still change their minds about the candidate they are supporting (24 percent of those with a preference).

Florida election officials reported on Monday that 591,666 votes had already been cast in early and absentee voting, a number that would represent roughly 30 percent of the votes cast in the state's 2008 Republican primary. Needless to say, those who have already cast ballots can no longer change their minds.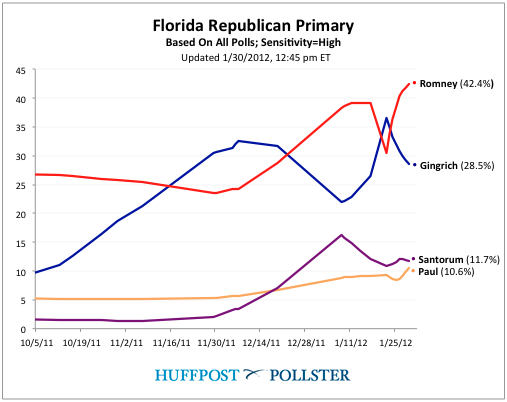 Check out the slideshow below for more on the Santorum campaign.
Rick Santorum picked up bragging rights and nine more delegates with a win in Louisiana, but still lags far behind Mitt Romney. The Red, White & Blue Fund, which supports him, has laid out a memo showing how he still hopes to take the nomination. Santorum's next important battlegrounds come in Wisconsin and his home state of Pennsylvania.

Rick Santorum took another beating from frontrunner Mitt Romney in Illinois, where the former Massachusetts governor led Santorum by over 10 points. Despite the loss, Santorum soldiered on, giving an election night speech that showed no indication of giving up. Santorum pressed the message of "freedom," stating that America doesn't "need a manger. We need someone who is going to pull up government by the roots and throw it out and do something to liberate the private sector in America." "We're feeling very, very good about winning Louisiana on Saturday," he added. However, with a Romney nomination looking increasingly inevitable, Santorum's time to win over voters is running out.

After a disappointing Super Tuesday, Rick Santorum won double victories in Alabama and Mississippi, surpassing expectations. Mark Blumenthal reports that polling consistently underestimated Santorum's support in those states: While Rick Santorum won the headlines with his victories in the Alabama and Mississippi primaries, pollsters were among the night's losers. Pre-election surveys in both states consistently understated Santorum's support. The reasons for that error are hard to pinpoint, but they suggest caution in interpreting future polls in Republican primaries that typically draw large numbers of evangelical voters. Santorum's focus has now turned to a delegate fight with Mitt Romney. While campaigning in Puerto Rico, he faced criticism for saying the commonwealth should adopt English as a primary language as a criterion for statehood.

Rick Santorum's campaign faced a setback on Feb. 20 when he lost to Mitt Romney in both Arizona and Michigan, after briefly polling ahead in the latter. Yet the results in Michigan still netted Santorum almost as many delegates as Romney. Now, Santorum says, he's turning to Washington, Ohio, Oklahoma and Tennessee to continue his campaign. Recent polling shows him neck-and-neck with Romney in Ohio.

Rick Santorum's first brief surge to frontrunner came so close to the Iowa caucuses that his rivals had no time to attack him in debates. Mesa, Arizona was a different story, Elise Foley reports: Rick Santorum received another lesson Wednesday on why it's not easy to be at the top. With strong poll numbers in Michigan and Arizona, the two upcoming primaries, Santorum faced a barrage of attacks during the debate here from fellow front-runner Mitt Romney and his unlikely ally, Ron Paul. "He's fake," Paul said of Santorum early in CNN debate, hosted by John King. "I think his record's so bad as a politician." Santorum has also come under recent scrutiny for some of his past comments, including a 1995 article in which he said, "I was basically pro-choice all my life, until I ran for Congress," and a 2008 speech where he claimed Satan was attacking America. And HuffPost's Jason Cherkis uncovered evidence of Santorum's college days as a beer-chugging frat boy nicknamed "Rooster." Santorum's fraternity brothers don't remember him as being ostracized for his conservatism: Early this week,The New Republic interviewed Bob O'Connor, one of Santorum's old political science professors who taught Santorum in four different classes. O'Connor objected to Santorum's persecution charge. "He really has a rich fantasy life," O'Connor told TNR in an email. "PSU in the 1970s was not exactly Berkeley. I resent this sort of accusation [that] I and my colleagues graded students on the basis of their political attitudes. Ridiculous." Santorum's fraternity brothers were fairly shocked by their friend's assertions. Was there any kind of oppression at the frat house? "Not the group that I hung with," Elliehausen says. "I wasn't aware of any oppression of any sort," Vondercrone says. "He seemed like a happy guy."

New polling shows Rick Santorum gaining on Mitt Romney nationally after his victories in Colorado, Minnesota and Missouri. Mark Blumenthal reports: Five new national polls released on Monday or Tuesday all confirm that former Pennsylvania Sen. Rick Santorum has gained significant support in the wake of his victories in last week's caucuses and primaries and now runs roughly even with former Massachusetts Gov. Mitt Romney among Republicans nationwide. The latest national surveys add up to a consistent snapshot of the Republican race. When asked who they prefer as a nominee, Republicans divide almost evenly between Santorum and Romney, with Rep. Ron Paul (R-Texas) and former House Speaker Newt Gingrich (R-Ga.) running far behind.

Following his triple wins in Minnesota, Missouri, and Colorado, Rick Santorum's campaign got another boost as controversy over including contraception in health coverage created a renewed focus on social issues, one of his hallmark topics. At CPAC, Santorum won a warm reception: The audience rose to its feet and gave Santorum -- who is resurgent in the Republican presidential primary following his victories in three states on Tuesday -- a rousing greeting. It was an extended standing ovation from the crowd at the Conservative Political Action Conference, but not an overwhelming one. Santorum, who had his wife and five of his seven children stand beside him on stage, wasted no time in drawing contrasts between himself and former Massachusetts Gov. Mitt Romney, telling the crowd that Republicans should not settle for a candidate whose argument is that the party "need[s] to compromise" and "do what's politically reasonable and go out and push someone forward who can win." "We will no longer abandon and apologize for the policies and principles that made this country great for a hollow victory in November," Santorum said. It wasn't a perfect week for Santorum, though. Besides a poor showing in the Maine caucus and CPAC straw poll, he also faced criticism over his comments about women serving in the military.

After a long stretch of disappointing results, starting with a fifth-place finish in New Hampshire, Santorum's campaign saw a resurgence on Jan. 7. Santorum won all three contests - non-binding caucuses in Colorado and Minnesota and an entirely symbolic primary in Missouri. His victory in Colorado, where Romney had been expected to win even as voting began, was especially surprising. While no delegates were technically up for grabs, the wins are enough to keep Santorum in the game and expose Romney's weakness as a frontrunner, as the primary calendar heads toward Super Tuesday.

Santorum's string of tough results continued with a distant fourth-place finish in the Nevada caucuses. Entering the Feb. 7 caucuses and non-binding primary, polls showed Rick Santorum poised to pick up delegates in states where his socially conservative platform resonated well with voters. Santorum, who had not won a contest since narrowly edging out Mitt Romney in Iowa, hoped to capitalize on the lull between January's hectic schedule and March's delegate-heavy Super Tuesday. He campaigned more heavily in Colorado, Missouri and Minnesota than his rivals, and continued to brand himself as the true conservative alternative to frontrunner Romney.

After placing third in the Florida primary, Rick Santorum has continued to flounder in the polls. Heading into Saturday's Nevada caucus, he appeared poised for another third place finish. Despite this, he continued to push his campaign forward, repeatedly stating that he has no plans to end his run. Santorum also attempted to position himself as the true conservative alternative to Mitt Romney, taking swipes at rival Newt Gingrich in the process. "Newt Gingrich had his chance, had his shot," Santorum told CNN after the Florida primary results came in. "...He couldn't deliver Florida. I think [voters] will be looking for a different conservative as an alternative to Mitt Romney now." The former senator also released an ad in Nevada and Colorado comparing Gingrich to liberal politicians like Barack Obama and Nancy Pelosi.

Rick Santorum continued to lose traction as the race became more focused on the competition between Mitt Romney and Newt Gingrich. The latest polls show Santorum hovering around 13 percent in Florida. He left the Sunshine State for a day to retrieve his tax returns, and was further stalled when his 3-year-old daughter, Bella, was hospitalized with pneumonia. Bella suffers from Trisomy 18, a genetic disorder that has put her life at risk. When Bella's health took a turn for the better, Santorum returned to the trail. However, he decided to forgo further campaigning in Florida, instead skipping ahead to host events in Minnesota, Missouri, Colorado and Nevada.

Santorum has had difficulty transforming the success he had in Iowa with a shoestring campaign into a strong candidacy nationwide. After a distant fifth-place finish in New Hampshire, he headed to South Carolina, where voter-meet-and-greets took a backseat to often brutal attack ads. Santorum hit back with attacks of his own, comparing Mitt Romney to Barack Obama and accusing Newt Gingrich of inconsistency. On voting day, he still took third place behind both candidates. The Huffington Post's Howard Fineman thinks he may be floundering because he's too blue-collar: In both style and substance, there simply may be too much Western PA in the former senator to get beyond the "Final Four" of the GOP playoffs, as he put it during the CNN debate on Thursday. When Santorum criticized Newt Gingrich for being "grandiose," he was not only stating the truth. He was expressing a deep-seated prejudice of Pittsburghers, whose creed requires them to despise show-offs, showboats, braggarts and anyone who doesn't display the chesty, steel-mill-union-bred sense that no one is above anyone else.

Santorum's candidacy is largely staked on an appeal to the GOP's right wing. This means that he's pushed fiscal policies such supporting immediate cuts to Social Security, but it's also guided his campaign's focus on social conservatives. Although Santorum is Catholic, his views align with many Evangelical voters: Plenty of evangelicals know Santorum is a practicing Catholic; it's just that it doesn't matter the way it once did. What's really important is that Santorum espouses their values, because in a multi-front culture war, an "ecumenism of the trenches" prevails over Reformation-era disputes about doctrine. So when Santorum makes full-throated opposition to gay marriage and abortion his signature issues, he is effectively singing from the evangelical hymnal. "Rick Santorum may technically not call himself an evangelical but he is definitely one when it comes to social issues, so don't get too caught up in the title of 'Roman Catholic,'" David Brody, chief political correspondent for Pat Robertson's Christian Broadcasting Network, wrote after the Iowa vote. "Santorum is an evangelical at heart." He has expressed fervent opposition toward gay marriage, which he called "unhealthy," and abortion, even in cases of rape, saying in an interview that women should "make the best out of a bad situation." Some of his positions have attracted controversy, including his apparent statement that, "I don't want to make black people's lives better by giving them somebody else's money. I want to give them the opportunity to go out and earn the money." Santorum later claimed that he didn't use the word 'black.'

After struggling for months to gain traction with Iowans before the nation's first caucus, Santorum finally broke through, thanks to a grassroots campaign of small-scale, retail politics. On Jan. 3, a strong showing among Tea Party and Evangelical voters helped Santorum rise to a strong second-place finish - only eight votes behind frontrunner Mitt Romney. Then, more than two weeks later, the Republican Party of Iowa revised their results, declaring Santorum the official winner. The reversal came as a needed boost for Santorum, who could claim to have won one of the vital first three contests, but he likely would have benefitted more if he could have campaigned in New Hampshire having taken the Iowa title.

While his Republican rivals saw surges in poll numbers one after another, Santorum got off to a slow start. But he did attract notice with his penchant for sweater vests, which became an emblem of his plain-spoken campaign persona. The vests became part of a fundraising effort -- every donor of $100 or more received one -- and even picked up an unofficial Twitter account, @fearricksvest. They also gave the candidate an excuse for a really, really bad Second Amendment joke.

Santorum kicked off his presidential run in June 2011 during an appearance on "Good Morning America," four days after rival Mitt Romney entered the race. Although polls showed him having little name recognition, he defended himself as a "tortoise" who would gain traction and appeal to social conservatives.

Rick Santorum didn't mourn his 2006 Senate loss very long. In fact, his income has more than quadrupled since leaving the public sector. In 2006, the Republican presidential hopeful earned about $200,000 from his Senate salary and book royalties. From January 2010 to August 2011, he earned at least $1.3 million as he cashed in on his 16 years in Congress by working as a corporate consultant, political pundit and board member.

Terri Schiavo, a 41-year-old Floridian who had been in a vegetative state for years, made national headlines in 2005, when a judge ordered the removal of her feeding tube. Rick Santorum, while still serving as senator from Pennsylvania, advocated for the state to intervene and keep Schiavo alive despite the wishes of her husband. Santorum even visited Schiavo in the hospital. Voters in Pennsylvania, the home state of Schiavo's parents, opposed the idea of Congress intervening in the case. They voted Santorum out in the 2006 election.

Before he was a presidential hopeful, Rick Santorum was the third-ranking Republican in the Senate. The Pennsylvania Republican served two terms in the Senate after having served two terms in the House. During that time the presidential hopeful earned a reputation for using earmarks to bring dollars to his home state. On the campaign trail, Santorum now blasts the practice, but says it had a purpose back in the day.

When Santorum's high school yearbook photo made its way onto the Internet, people started to notice a striking resemblance to McLovin, a character from the 2007 movie SuperBad.