Tariq Of 'The Roots' Demos Black Bean Explosion Dip (VIDEO)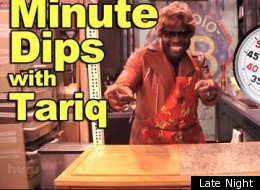 Donning a leather jacket and an apron on "Late Night With Jimmy Fallon," Tariq Trotter (aka Black Thought) of The Roots demonstrated that he's more than a musician -- he can also whip up a mean black bean explosion dip. His dip has all the familiar ingredients for Super Bowl fare: Velveeta, cream cheese, salsa, black beans and lime. But he also recommends Pepto Bismol and Tums.
The best thing about this clip is definitely the last line. Tariq's phone rings at the end of his demo. "Somebody's blowing me up," he says, "It's the dip!"
Check out Tariq's black bean explosion below: