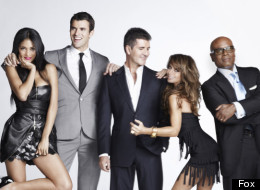 UPDATE 3: Although Fox has still not had an official comment, Paula Abdul has now confirmed her departure from "X Factor." Her statement:

"Yes, it's true; I won't be returning to The X Factor next season. I've learned through my longevity in this industry that business decisions often times override personal considerations. Simon and I, along with Fox and Fremantle, have been communicating about this for a while now, and I have absolute understanding of the situation. Simon is, and will remain a dear friend of mine and I've treasured my experience working this past season with my extended family at Fox and Fremantle. I want nothing more than for The X Factor to exceed ALL of their wildest dreams. This truly has been a blessing and I am most grateful."
UPDATE 2: Sources confirmed to E! Online that judge Paula Abdul will also not be returning to "The X Factor," leaving Simon Cowell and L.A. Reid as the only original members of the judging panel for Season 2. "She found out today," a show source told E! Online.
UPDATE 1: E! is now reporting that Nicole Scherzinger will not be returning as judge for Season 2 of "The X Factor."

"She wants to focus on her music career," their source said. "She's spoken to Simon [Cowell] and he's given her his blessing ... 'X Factor' took a lot more of her time than she ever expected. She didn't have any time really to work on her music. She was doing 'X Factor' six days a week."

This comes right after our earlier breaking news report that Steve Jones was out as "X Factor" host.
ORIGINAL: It's been rumored for a while, but now Steve Jones' future as the host of "The X Factor" is known: The Brit tweeted on Monday, definitively and quite politely, that he will not be returning for Season 2.
Back in December 2011, news of Jones' demise was a little premature, and his reps shot down the rumors immediately. But they surfaced again at the Television Critics Association press tour earlier in January 2012, when Kevin Reilly, head of Fox Entertainment, said, "Whether Steve's the guy or not, it comes under the heading of growth in general, so there will be some tweaks to the show." Reilly then added, "Hosting, as we know, it is a much harder job than meets the eye. I think everybody now has come to realize the value of Ryan Seacrest."
Earlier on Monday, Jones' now-former boss Simon Cowell was quoted in London's Daily Mirror saying: "I don't think he did a bad job but, like 'America's Got Talent,' there is a Brit limit on the show." A few hours later, Jones' tweet made it official.
@SteveJones

Steve Jones
I wont be hosting next seasons XFactor which is a shame but I cant complain as I've had a great time. Good luck to everyone on the show.
Now the question is: Who should replace Jones as host and Abdul and Scherzinger as judges? And are there any other changes you think they should make?
Check out our casting suggestions in this gallery, and share your own in the comments.

Who Should Join 'The X Factor'?
The voluptuous R&B singer would be a bombshell addition to "The X Factor" judges panel, an A-list acquisition that could provide the same kind of buzz that "American Idol" enjoyed after J.Lo came on board. Carey, who's been a long-rumored target on Simon Cowell's "X Factor" short-list, could capably fill the flightiness void left by Paula Abdul's departure. As Wendy Williams quipped, "Mariah's crazy 24/7 ... and I love it."

Sure, he's going to appeal to the older crowd who remember his long reign as the king of accessible piano pop, but Sir Elton is so mega-rich and successful that he doesn't have to mince words or mind his manners. Yes, "X Factor" already has one acerbic Brit, but how about adding one with an eye-popping wardrobe and an actual musical talent?

Reege! Let's face facts, "X Factor" has been a ratings disappointment and can't be picky about who its viewers are. Why not blatantly appeal to the aunt-and-granny brigade by adding one of our favorite daytime dudes to the mix! Regis is a lively pro who knows how to add a bit of fun to whatever he's part of, and since he left daytime TV, it's not like he's fully booked up.

If "X Factor" wants to compete with the current artists judging and mentoring over at "The Voice," Lady Gaga would be an amazing get. After all, who else better to walk the wide-eyed contestants through the glamming-up process that comes with fame?

Need a judge who brings star power, has a glam presence and likes to stir things up? Her Madgesty fits the bill in every respect. Still mega-competitive after all these years, Madonna wouldn't let those trying to usurp her pop-diva throne get away with shoddy performances, and her putdowns would likely be a thing of beauty.

Mike Rowe is one of the most genuinely entertaining hosts on TV, and after this "X Factor" bloodbath, they'll need someone used to cleaning up "Dirty Jobs" to help steer the ship. Bonus: He's a classically-trained opera singer, so he can offer musical expertise on top of his sense of humor, timing and handsome good looks.

If Simon Cowell wants to put a pop megastar behind the judges' table, then look no further than the princess of pop, Britney Spears. Sure, she's had a rough couple of years, but Brit Brit never stopped selling albums. Now, she's healthy, happy and in need of a serious pop culture comeback of epic proportions. What better way than to be a judge on "The X Factor?" We can't see the Femme Fatale being too critical, but she'll bring a nice positive balance to the mix. Think Paula Abdul on Season 1 of "American Idol." Also, the Britney Spears vs. Christina Aguilera rivalry would live on, with Xtina on the NBC's "The Voice." We love some good smack talk.

This could be just the thing to break Seal out of his post-marriage-breakup doldrums. He's familiar with the music biz, too, so he may be able to provide some actual insight.

Lance Bass would have a lot going for him as a judge on "The X Factor." The former member of *NYSNC knows what it takes to make it in the music business, and after getting extensive NASA training for a space mission that never happened, he'll have the skills to deal with Simon Cowell's planet-sized ego.

Can you imagine Cher and Simon Cowell clashing on a twice-weekly basis? Think about it. Plus, Cher's working on a new album, "The X Factor" would be a perfect way for old and new fans to get a sample of what Cher has to offer.

Rachel Crow's run as a contestant "The X Factor" ended with the 14-year-old singer collapsed on the stage in tears, raising questions about whether the rigors of reality talent competitions should be inflicted upon minors. What better way to answer those criticisms than to have Crow herself return as a judge and kids' coach?

When "American Idol" auditions hit Savannah, GA. on the current season, Sean Kraisman emerged as Ryan Seacrest 2.0. He could have easily won the role of America's New Top Ryan so why not give him a hosting opportunity, especially if "The X Factor" really wants to compete with "Idol"? His voice could trick someone into thinking he was Seacrest, even though his singing was god-awful.

This teen troublemaker would contribute something essential to the 'X-Factor' judging panel: youth. Not to mention she's been straying towards the 'bad girl' side of things lately, and hey, every show needs a bit of controversy.

We would tune in every week if Queen Latifah could provide a little taste of her own individual sass on the judging panel. Isn't it about time we had a strong female judge with something definitive to say instead of endless, pointless rambling?

Blake Shelton may be the country king of NBC's "The Voice," but his wife Miranda Lambert, a country superstar herself, is just as hysterical and twangy as him. We'd love to see a healthy rivalry between husband and wife. Also, it's about time for Simon Cowell to start embracing country music, and Miranda would be the perfect judge to show him just how tough -- and stubborn -- country girls can be. Something tell us that she wouldn't put up with Simon and L.A.'s cattiness.

The legendary diva would bring a lot of cred to "The X Factor" judges table. With her years of experience and countless hits under her belt, something tells us Tina wouldn't be afraid to tell contestants like it is.

If "The X Factor" wants to crush it's competition in the demo (and appeal to a younger audience), then they need to enlist some help from the ultimate teen charmer, Darren Criss. We know that he can sing and dance -- any self-described Gleek will tell you that -- but Darren also has enough charisma to outshine Ryan Seacrest any day of the week. He's goofy, incredibly good-looking and he's already on Fox! Not to mention he'll attract millions of young fans to the somewhat stale reality show. Simon would be a fool not to let Darren host.

JBJ has been rocking for almost three decades -- with 11 Bon Jovi albums and two solo albums under his belt -- and he's dabbled in acting over the years as well. We think he could bring that wisdom to "X Factor," and maybe help impart the idea of stage presence to the performers before this show goes down in an inglorious blaze.