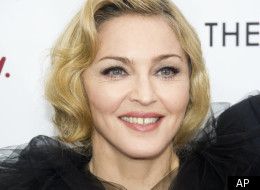 The Super Bowl is still a few days away, but speculation among fans over just about every aspect of Madonna's highly-anticipated halftime performance -- from which of her many pop classics she'll perform to the guest performers who will appear alongside her onstage to the exact shade of lip gloss she'll wear -- is at fever pitch.
Of course, not everyone is thrilled about the choice of the Material Girl. Fellow icon Elton John just can't seem to stop re-igniting his long-standing feud with Madge (offering his sniffy advice to "lip-sync good") and a quick search on Twitter will uncover any number of horrifically sexist and ageist remarks.
Still, she seems to have found favor among fellow female stars -- Britney Spears, Kim Kardashian and Celine Dion are among those who've voiced their support, on Twitter or elsewhere.
Take a look below: