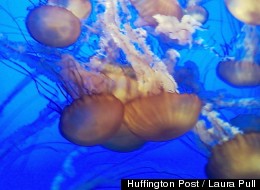 We asked HuffPost editors and reporters to describe what was sacred to them -- by using photographs, not words. These amazing images reflect the range of definitions of the sacred: from iconic religious images, to people in action, to the natural world. Enjoy these and upload your own photographs of the sacred (images must be your own).
Click through the slideshow to view the photos:
Even though I always feel most spiritual in nature, I wasn't prepared for how much that was heightened when I went to India for the first time and visited the Lodi Gardens. -- Kimberly Brooks, Senior Arts Editor

dtyukody:Hogback Lake, Angola IN

The Saturday night Jewish ritual of Havdalah, which marks the transition from the holiness of the Sabbath to the mundanity of the week. I think the light of this ritual infuses the mundane with sacred energy. -- Josh Fleet, Associate Editor, HuffPost Religion

Growing up in an Italian Catholic family, I immediately rebelled against my religion and all symbols associated with it. But, the more I travel, the more comfortable I am with the classic image of the Christ. It means so many different things to so many different cultures and it's difficult to be angry with all that variety. -- Annemarie Dooling, Community Editor

In Kataragama, Sri Lanka a woman burns a coconut moments before she smashes it on the ground. Buddhist followers in Sri Lanka give thanks to God this way. -- Neil Katz, Executive News Editor

Jellyfish -- Surely one of the purest life forms on earth: energy, breath, pulse. -- Laura Paull, Supervising Editor for Citizen Journalism / Off the Bus 2012

Heavenly quiet in Olympic National Park, Washington. -- Lynne Peeples, Environment and Public Health Reporter, HuffPost Green

The most beautiful deities, Sri Sri Radha and Muralidhara housed at the Bhakti Center in the East Village, NYC. -- Jahnabi Barooah, Assistant Editor, HuffPost Religion

The Other Good Book. -- John Stephens, Trends Editor

Mount Mansfield, VT. -- Danielle Rochford, Swing-Shift Supervisor

My grandparent's land in Peru -- Cindy Rodriguez, Associate Editor, Latino Voices

Muir Woods, a redwood forest in the mountains just north of San Francisco, is my most sacred place on earth. -- Carly Schwartz, San Francisco Editor

Parc Jeanne-Mance in Montreal during the winter. -- Carolyn Gregoire, Associate Editor, HuffPost High School

Really, the entire four months I spent living in France is sacred to me, but one moment that particularly took my breath away was walking around the grounds of the Chateau de Chenonceau in Touraine, France where I snapped this shot. -- Sarah Klein, Associate Editor, Healthy Living

How kids are the same wherever you go. -- Claire Gordon

Even the subway is sacred. -- Katherine Tasheff, Editor, MarloThomas.com

La Guajira, Colombia. Magical. -- Laura Steiner, Intern, HuffPost Latino Voices

The Anderson Barngrover Walnut Ranch, AKA, my backyard out in California's San Joaquin Valley. In the family since 1927. -- Chris Anderson, Senior Editor

San Pietro, Rome -- Jan Ryan, Morning Shift Supervisor

Thumb Buttle, Arizona. A spring sunrise, when the trees are just greening again. -- Paige Harmes, Weekend Overnight Shift Supervisor

The ultimate sacred act? Being an individual. -- Sydney Levin, Senior Editor, AOL

J Manny Santiago:A Methodist Church in the town of Guanabacoa, Cuba.

HuffPost Blogger Daniela Perdomo:The Great Buddha in Kamakura, Japan is humbling in its size and the peacefulness it induces in all who visit it. -- Daniela Perdomo, HuffPost Social Impact

BlueOnBlue:Sunrise over the Great Smoky Mountains National Park, as seen from the cabin we rented in Townsend, TN.

This was taken at Portage de Sioux, MO; this is near the confluence of the Missouri and Mississippi Rivers; they do a "Blessing of the Fleet" every summer. -- Melissa Hapke, Moderation QA Specialist

mad poet:The tiny figure to the left is me, on my birthday, on a mountain in Iceland. The sense of beauty, combined with my own smallness before Nature, speaks volumes to me about my place in this universe.

Maura Bank:Isla Mujeres Mexico Jan 2012.

RVreeland:kitchen counter buddha altar

Essael Bosch:I came here the first time I ever took a holiday alone. I was going through a tough time and the beauty of the area just washed it all away. I go back as often as I can and will always see it as 'my place'.

Flamingo4:The Divine is as sacred as it gets. In the host consecrated by a Catholic priest at Mass, Jesus becomes present, body, blood, soul and divinity. It is the most sacred image to me.

HuffPost Blogger Mallika Rao:How we're all a little different, but basically the same. -- Mallika Rao, assoc. culture ed.

larmarch5:Simple Abundance

JudyJudy:Perfection.

Very challenging flower to grow. It only blooms at night.

waynesworld55:What's your problem, just doing my cat thing !

waynesworld55:First light in Boston Harbor

waynesworld55:Mother Nature's unique beauty

waynesworld55:Sunrise on Boston Harbor, always stunning !

harsha sharma:This picture was taken at an NGO I volunteered at for elderly residents of slum villages in Jaipur (India). Receiving the blessing of any elder person is sacred to me but there was something so humbling and touching about this particular lady. The affection and positivity she showed despite all her hardships is unforgettable.

Bonnie L Wilcox:My great-great grandfather's headstone in Klinger, Iowa, with the corn that surrounded my childhood. This is one of my 'thin places.' Bonnie (Hesse) Wilcox

CyndiVickers:After a summer storm on the Gulf.

waynesworld55:Simple pleasures along the trail

waynesworld55:Sailing on the wind

waynesworld55:A touch of golden sun

waynesworld55:Sunrise on board the ship presents wonders

CountryViscountess:The power of the ancient is felt here.

CountryViscountess:The joy of Easter at York Minster (England)

mikevab:Episcopal Church

Eric Tank:Easter Vigil at the Cathedral of Saint Andrew, Grand Rapids Michigan

aaronwilliams50:The streets of New York City are always bustling, but my walk from the East side to the West side is one that calms my nerves and readies me for the day.

AccidentalHindu:My 2 year old helped with me pick the flowers, light the candles for her first puja with Mummy. Hearing her first chant of Om Namah Shivaya will always be sacred to me.

crystalseedling:Fort Worth Botanical Gardens, September 2011.

Stacy Scherf Dieterlen:Sunrise Over Barren River Lake,KY February 3, 2012 6:35am

morninglorydlc:Prayer garden, at Holy Cross Episcopal Church,Sanford, FL

Carrie Gubsch:I work at the church I attend, making it difficult to find a place to worship. In the sanctuary there's always another slide to fix or a photo to perfect. But our chapel provides me a spot to forget that I work in ministry and remember that I am a child of God.

LiberalMormon:A grove of trees where Joseph Smith prayed to God and God called Joseph by name.

Cheryl Westman:End of the Gunflint Trail, Northern Minnesota

deborahehill:While hiking, if I remember to bring my camera, I usually take a lot of shots of the Sun through the trees or halfway covered by clouds to get a different point of view.