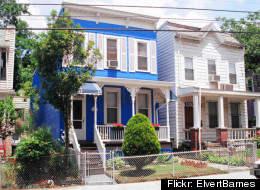 WASHINGTON -- Where is Anacostia? That should be a relatively easy question to answer. (It's a District of Columbia neighborhood in Ward 8 roughly centered on the intersection of Good Hope Road SE and Martin Luther King Jr. Avenue.)
But with D.C.'s sometimes complicated local identity politics, Anacostia can be used as an easy blanket reference for every neighborhood east of the Anacostia River -- a place where poverty, high unemployment and crime often overshadow other news stories.
To some, Anacostia can also include a cluster of surrounding neighborhoods, including Fairlawn to the northeast and Barry Farm -- sometimes called Barry Farms -- to the southwest. To others, Anacostia is just, well, Anacostia, the neighborhood with the big chair.
How "Anacostia" is used and in what context can be a touchy subject to residents east of the Anacostia River and elsewhere.
This was demonstrated Wednesday on Congress Heights on the Rise, a blog that covers Congress Heights, a Ward 8 neighborhood that sits to the south of Anacostia beyond the campus of St. Elizabeths Hospital. The blog took The Washington Post to task for using the following local reference, "Anacostia's historic Barry Farm neighborhood" in a recent article about a new affordable housing development:
Can someone please explain to me how one neighborhood (Barry Farm) can be inside of another neighborhood (Anacostia)? While you are at it can you explain how something can be "historic" but named after a HOUSING PROJECT built in 1954? Perhaps Barry Farm got it's "historic" status (which it doesn't officially have but still) from something a little farther back in DC's timeline? Just a guess.
This discussion spilled over to Twitter during the course of Wednesday.
@TheAdvoc8te

The Advoc8te
The "historic" Barry Farm neighborhood is NOT located in Anacostia and it was NOT named after…
http://t.co/eFjAOAVJ
Nate Bennett-Fleming, who is running for D.C. shadow representative, noted that the Green Line's Anacostia Metrorail station sits much closer to Barry Farm than Anacostia's historic core.
@NateforDC

Nate Bennett-Fleming
@TheAdvoc8te
Barry Farm is definitely in Anacostia....you can throw a rock from Barry Farms and hit the Anacostia Metro station..
Local blogger-geographer Geoff Hatchard, who tweets from @IMGoph, then jumped in.
@NateforDC

Nate Bennett-Fleming
@IMGoph
It's subjective. Anacostia is the broad term to me. (Woodland, my neighborhood Hillsdale are other examples of sub neighborhoods).
@NateforDC

Nate Bennett-Fleming
@IMGoph
I think the whole Ana thing comes from the Ana metro servicing entire area 4 such a long time. So Ana is larger than its "borders".
@IMGoph

say 'Eye Em Gōph'
@NateforDC
we'll have to agree to disagree on the whole "extent of neighborhoods" thing. :)
Next up in D.C. locality wars: Who will settle the DCist vs. WAMU controversy on how is McPherson Square pronounced?
Photo by Flickr user Elvert Barnes