New York Subway Wedding Actually A Skit By Northern Manhattan UP Theater Company (VIDEO)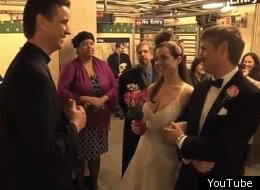 This is believable for the first few minutes, even eliciting warm feelings and an "Only in New York"-type of pride. Awww, you think, what a beautiful thing: a couple getting married in the subway and some women singing a pretty song. Maybe the bride and groom met on a train? Fell in love listening to the sweet sounds of busker Damon Scott?
But no, it's just a flash mob-y performance piece from Northern Manhattan UP Theater Company called "The Blessed Event" with a full cast including bride, groom, bride's father, flower girls, singers, and a "random" man who ruins the whole ceremony.
And amazingly, a crowd of curious straphangers think it's all real: