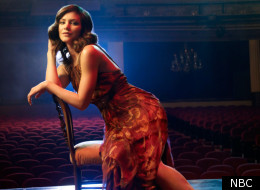 You've seen the commercials; you've read the articles; and you may have even seen the first episode.
There seems to be no escaping "Smash," NBC's new musical drama about the creation of a Broadway show.
The Peacock network has been touting the debut of the new series, which is backed by Steven Spielberg, for months now and critics have been singing its praises; but all of that puts some pressure on the people whose job is to make the show a success.
"You know something? You can't really escape the pressure, whether it's direct or implied or just kind of omnipresent," Neil Meron, "Smash" executive producer, told The Huffington Post on set. "You just try and not think about it because the show is so massive just in terms of its day-to-day schedule. There's enough pressure in terms of producing the show. Everything else kind of falls by the wayside when you have the show as your first priority."
Meron, who has produced numerous TV and movie musicals, including "Chicago" and "Hairspray," said that stress has been around since the pilot first made the media rounds.
"People have said that they saw the pilot before the [other episodes] were ready to be seen and it was one of those things: 'Great pilot. The series is going to be mediocre,'" he said. "We kind of felt that we needed to keep up the quality of the pilot and also, prove that there are legs here. That was the big question."
"Smash" tells the story of the creation of a Broadway musical based on the life of film icon Marilyn Monroe. There's the producer (Anjelica Huston), lyricists (Debra Messing and Christian Borle), director (Jack Davenport) and potential stage stars (Megan Hilty and Katharine McPhee), all of whom interweave into the creation of the stage show.
Many viewers will remember McPhee from her time on Fox's "American Idol," where she placed second, behind winner Taylor Hicks, during the singing competition's fifth season. But for other audience members, this is McPhee's breakout role: The network's heavy promo has even been billing "Smash" as her introduction to viewers.
"Obviously, it wasn't in my rider by any means," McPhee told The Huffington Post on set with a laugh. Since "Idol," McPhee has made guest appearances on "CSI: NY" and "Community" and co-starred in movies like "Shark Night 3D" and "House Bunny."
"I've gotten Twitter people who are like, 'How can they write her as 'introducing?' We've known her for six years,'" she said. "People get really defensive. I don't take it as an offensive thing at all. I think it's a great thing. NBC has the opportunity to really introduce me as an actress to people."
McPhee, who has been singled out for her impressive work on "Smash," said she's keeping her head down and trying to avoid the attention.
"I've been in this for a while now and I have very high expectations for the show, but I'm also really realistic and kind of don't pay attention," she said. "Everyone is like, 'Did you see The New York Times? Did you see this? Did you see all the press?' I kind of really keep myself sheltered and don't pay attention too much to it because right now has to be about the work because I just don't want to be disappointed by everyone else's excitement for what the show could do for me or whatever.
"I'm just grateful to be on the show and grateful for the people involved," McPhee added. "I'm just kind of living in the moment, that's what I'm going for."
"Smash" premieres on Mon., Feb. 6 at 10 p.m. EST on NBC.
Check out more from the cast and producers here:

Megan Hilty on playing Ivy Lynn: "She is fantastic! She's a girl who knows what she wants, and she'll do anything she can to get it."

Debra Messing on Julia and Tom's working relationship: "We're brilliant! [Laughs] Our characters are so brilliant at writing these songs. Those songs are genius, right? I feel like I'm sitting fifth row center at the best Broadway show, to be able to sit behind that table and just watch Megan Hilty and Kat McPhee sing for eight hours straight, and all this intricate choreography, these great dancers ... it's heaven."

Christian Borle on Tom's past with director Derek Wills: "For the sake of good drama, they draw it out a little bit, but we do get to see what it is. They kept telling us, 'We're gonna get there -- it's all going to come out and you're gonna have a big kind of knock-down, drag-out fight.' They kept teasing us. It happens ... later. But we were both very satisfied and excited for it. We were like giddy little schoolboys on the day we got to shoot it."

Jack Davenport on playing director Derek Wills: "He's not a creep exactly ... he's a little sociopathic. [Laughs.] In truth, the job of a director, especially working with that kind of very big canvas, you do have to be slightly Machiavellian and slightly manipulative and make yourself heard. Would I do it like that if it was me? Maybe not. But do I know directors like that? Yeah, sure! It's not that uncommon. He's not an asshole for the sake of it -- he's trying to achieve something. I'm kind of fond of him."

Jaime Cepero on playing Tom's crafty assistant, Ellis, who helped come up with the idea for "Marilyn" the musical: "It's a really fun character to play -- I don't usually get to play such layered characters. Ellis definitely wants to have a hand in this musical, and he's not that innocent. I think he's going to do whatever it takes to make sure that he has a hand in it, to make sure that he's part of the process, regardless of how it's starting out."

Raza Jaffrey on playing Karen's boyfriend, Dev: "Dev is in the mayor's office, and that's not a world that you'd imagine with Marilyn's kind of world. The clever thing is, by giving him ambition and making him a career character, it's not the kind of role where it will be easy between the two of them. It would be very easy to have the character sitting at home, waiting for his actress girlfriend to come home every night, and wondering where she's been. And actually there might be stuff coming up where it's actually Dev pulling the other way. So it's not what you imagine necessarily."

Katharine McPhee on getting to sing original songs and cover songs on the show: "I'm usually singing songs that I'm hearing for the first time, and it's such a fast pace that we're on, and you don't get a whole lot of time to sit with the songs and perfect them, as much as I would love to perfect [their] masterpieces. It is different because, for me, I think of myself as more of a pop artist, and Megan here has got, like, the big Broadway voice, so I'm always trying to balance the two so that they kind of are cohesive together, so that it makes sense in terms of the show."

Anjelica Huston on why she chose to make this show her first TV series regular role: "Because it's beautifully written. It's a fantastic cast of actors, a phenomenal team of people behind the scenes. We're working with the best of the best. I'd be a fool not to participate."

Megan Hilty on the characters of "Smash": "All of the characters on the show are written so brilliantly. You love them for the great things they do, and you love them despite the awful things that they do. Everybody's part villain and part hero."

Jack Davenport on the two actresses vying to play Marilyn: "The thing I found really thrilling about the pilot was the two girls, Megan [Hilty] and Kat [McPhee], were so well cast. They're both brilliant, but they're brilliant for completely different reasons, and both have completely legitimate claims on that role, again for completely different reasons. It's not as cut-and-dry as one is experienced and the other isn't -- it's an essence thing. As such, it's something that can go back and forth for some time. Speaking from the point of view of my character, I believe that one choice makes me, Derek, look smarter. But that's ... all I'll say about that."

On guest star Bernadette Peters, who'll play Ivy's mom: Megan Hilty: "Let me tell you -- Bernadette Peters has been my life-long idol. She's pretty much the whole reason why I wanted to go into this business. I wanted to be her. And then they told me that she was going to play my mother, and it's like, I don't know what I've done or how I'm going to pay for this, but I feel so lucky." Christian Borle: "She's unbelievable." Debra Messing: "Unbelievable! She sang a capella. I mean, that was insane."

On guest star Nick Jonas: Christian Borle: "We all got to enjoy sweet Nick Jonas, who was the most adorable guy in the world." Debra Messing: "He's lovely. I did not know the Jonases until he was cast, but we had these three nights of night shoots together where we all got very giddy."

Raza Jaffrey on Uma Thurman's role: "I've been delighted by how much the role has kind of surprised me. Like the Uma Thurman character coming in means whoever's got it doesn't necessarily have it for long ... and I'm really glad that they've made it complicated. And I kind of knew they wouldn't just make it the obvious choice -- I knew they'd throw some curveballs."

Executive producers and original song writers Scott Wittman and Marc Shaiman on plans to get the entire cast singing: Shaiman: "This cast ... they are the dream. We cannot believe our good fortune. Believe me, if you're a songwriter, to hear Kat or Megan sing your song ... and then we're also exploring things with some of the other characters ... it is our hope that by the end of the season, everyone sings! In a natural way. We're even trying to get some of the actors and actresses who never did it before ... " Wittman: "Who maybe aren't known for their singing ... Debra and Anjelica ... " Shaiman: "We have our eyes set on them."

Jack Davenport on whether or not he'll be singing and dancing: "Thankfully for everyone, I'm doing no singing at all. I am, I think, the only person in the cast who can't sing. And believe me, it's a relief for all, the dogs of America as well, that would be howling in protest. I've done a little bit of dancing though."

Debra Messing and Christian Borle being coy about if and when their characters will be getting in on the singing and dancing: Messing: "He's a legitimate Broadway star, so I think they're going to have to find a place for him to do his thing." Borle: "They're being very clever about it. They do want it to be real world, they don't want anybody to sing when people wouldn't naturally sing. I'm hoping to kind of do a little something, that would be fun. There's something coming up." Messing: "I'm a part of ... some things."

Raza Jaffrey on whether or not Dev will be singing anytime soon: "There might be some moves in that direction. What's funny is I don't think they knew that I sang and danced before I joined, but I'd done musicals in the West End before I came to 'Smash,' and I think it was a bit of a surprise. So maybe there's some demands on us in those directions that you'll see soon."

"Smash" creator and executive producer Theresa Rebeck on where the show's headed: "The first season, the plan is to take 'Marilyn' all the way to an out-of-town tryout, so it's her first really public presentation. And then the second season -- if we're lucky enough to get there -- would be 'Marilyn' comes to Broadway. How does 'Marilyn' fare in New York?"

Jack Davenport on Season 1: "By the end of the season, we'll be out of town, you know, doing the tryout. And again, a work in progress means exactly as it sounds. I think I have a line about nobody's anybody until ... until we've really settled on whatever it is, it's all up for grabs."

Megan Hilty on the rollercoaster competition to get the part of Marilyn: "I was glad that you know who gets the part really soon -- you can only draw that out for so long. But there are so many other things that we will be competing for. And just like it is in reality when you do these big shows: It doesn't matter who gets it initially because things change and people get replaced like that. [Snaps.] And that's just the reality of the business."

Debra Messing on the excitement surrounding the show: "It's a new place for me to be in -- I've never gone into a new show with the network behind it, with there being goodwill and excitement about the concept. So it feels good."