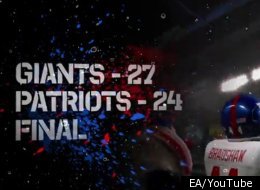 With Super Bowl XLVI coming up on Sunday, February 5, the players of both the New York Giants and the New England Patriots are ready to take the field to decide which was the best team in football the past season.
But what if the winner has already been determined, and each team's effort is nothing more than a crude bodily enactment of scientific inevitability?
Many web outlets have attempted to predict the winner of the Super Bowl using varying levels of science, statistics, and technology. Some have turned to Giants-Patriots video game results; others have dug into the numbers and used their computers to run thousands of statistical simulations; and one company is leaning on nothing but a simple web popularity contest.
So who does the classic Nintendo game Super Tecmo Bowl think will win this Sunday's big game? What about Xbox 360's Madden NFL '12? How about two super-cute monkeys from the Portland Zoo? Click through the slideshow (below) to find out.
Super Bowl Computer Simulations
Released in 1991 for the original Nintendo Entertainment System, Tecmo Super Bowl is a classic football video game that, twenty years later, still has a dedicated, albeit deliciously nerdy, cult following. It's got a .org domain name for its official website for some reason, and a league of Tecmo Bowl players still meet up to clash in tournaments every once in a while (see you in Waterloo, Iowa for the February 4th tourney, suckers!). Tecmobowl.org has also released its official Super Bowl XLVI simulation, and if you have 26 minutes to spare, you can watch pixellated Jean Paul-Pierre clash with pixellated Tom Brady in the Tecmo Dome. SPOILER ALERT: Tecmo predicts a wild 49-42 victory for the New York Giants, with a game-ending sack of Tom Brady by the Giants' Justin Tuck. (Screenshot of final score above.)

The mega-popular Madden games have picked the correct winner of the Super Bowl 6 out of 8 times since the EA property began doing so in 2004. The ones they missed: Packers-Steelers last year, and -- wait for it -- Giants-Patriots in 2007. Will Madden get New York vs. New England right this time? Its simulation ends with the Giants winning 27-24 on a game-winning field goal by Lawrence Tynes. Worth noting: The Madden franchise predicted that New England would win their 2007 Super Bowl against the Giants by 3, and the Pats ended up losing by 3. Watch the highlights of this year's Madden simulation -- including Tom Brady getting picked off in the end zone -- on YouTube.

WhatIfSports is "Your Sports Simulation Destination," per its own motto; the site houses a simulation engine that can pit teams from any year, in any sport, on any planet, against each other in simulated match-ups. WhatIfSports did just this with the 2011 Giants and 2011 Patriots and found that, in 55 percent of simulations, the Patriots won, with an average score of 27 to 25. In other words, the Giants Defensive Live should be trying extra hard to get a safety on Tom Brady this Sunday. Visit WhatIfSport's official Super Bowl XLVI page (here).

The mobile web browser Opera Mini has been tracking searches related to the NFL Playoffs since the first round matchups, and it has unearthed an intriguing factoid: Of the 6 games of the playoffs starting with the Divisional round, the NFL team whose website was visited more often on the Opera Mini browser has won 5 out of 6 times. Based on these numbers, Opera predicts that the Patriots will win the Super Bowl, as the team's website has garnered far more visits than the Giants in the lead-up to this year's Super Bowl. (The one time it didn't work out: When the Giants played the Packers three weeks ago. Green Bay's official website was visited more often than New York's, but the Giants went on to win their game handily.) Is this a popularity contest? Yes, it is. But in a Playoff year that has seen the more popular team prevail 5 out of 6 times, perhaps this is the year that popularity happens to predict success.

Statistics-based sports betting engine AccuScore ran 1,000 simulations of Super Bowl XLVI and found the Patriots winning 61 percent of the time. ESPN.com's Prim Siripipat breaks down the simulations and what could go wrong for the Pats in a video here.

This isn't a computer simulation, per se, but being that it is a YouTube video of adorable monkeys doing adorable things, we'll file it under the umbrella of "web culture" and present it as a prognostication. These two orangs from the Portland Zoo have apparently been making Super Bowl picks for seven years, going 5 of 7 in that time span; I'm not quite sure who they pick this time, but one thing is for sure: This video features orangutans putting on a lot of t-shirts.