13 Super Creepy Children's Toys (PHOTOS)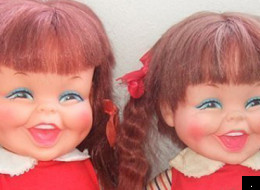 Every parent knows that there are some toys that are just inappropriate for children of certain age groups. Once in a while, however, a toy comes along that is inappropriate for kids of any age because it was probably designed by a group of homicidal patients in a mental asylum.
With that in mind, we put together a list of the 13 most disturbing children's toys we could find on the internet. Don't forget to vote for the creepiest ones!
Simply turn the lever and out pops a HOLY CRAP WHAT THE HELL IS THAT THING? (Via cracked)

What kid wouldn't want their fingers inside a gigantic praying mantis? (Via Amazon)

It stares at you with dead eyes while it eats your money. (Via squidoo)

Direct quote: "Just like real brain cells only bigger and more cuddly." (Via Amazon)

A mutant hybrid of all your favorite zoo animals. (Via smilorama)

A man with 1000 faces, most notably psychotic serial killer. (Via cracked)

Comes with kitchen knife accessories for when it comes alive and tries to murder you in your sleep. (Via Banana Spiel)

Little Erwin smiles at you while you open up his chest cavity and remove his organs. (Via cracked)

Sometimes art and children's toys shouldn't mix. (Via Amazon)

The Laws of Robotics don't forbid scaring the hell out of people with a disturbing smile. (Via cracked)

And we're quoting directly from the website here: "You've got a friend in meat" (Via Think Geek)

A mechanical rat with glowing red eyes. Only $16! (Via Amazon)

There's something so off-putting about one of these things holding a baby and both of them staring at you with completely dilated, dead eyes. (Via Sing-a-ma-jigs)